ユーキューホルダー! 魔法先生 ネギま!2 Manga Review
UQ Holder! Mahou Sensei Negima 2
UQ Holder!: Magister Negi Magi! 2 Chapter 149
UQ Holder Chapter 149

SPOILER Summary/Synopsis: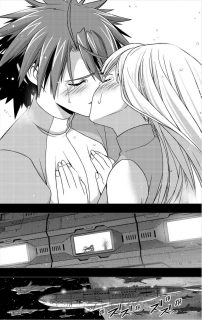 Eva observes the sleeping Negi and gets teased by Chachazero as a result. Chachamaru removes Chachazero as a result. Negi wakes up and attempts to leave so as not to impose on Eva, but his former Master stops him since he's so weak. Negi collapses, causing Eva to realize that Negi has magical poisoning from battling the Mage of the Beginning, Ialda. When Negi awakes, Eva is making him breakfast and forbids Negi from leaving until he's well.
Negi and Eva talk, where Negi shows how with time, he could release Eva from her curse. She wonders if releasing an evil wizard on the world is a good thing. Negi rejects that notion, despite her past. That night, Negi attempts to get out of bed, but has no strength. Eva is irritated and forbids him from leaving for three months. As such, Negi is attended to by Eva, Chachamaru, and even Chachazero throughout the winter and into the spring.
Eva adopts the Yukihime form, which Negi initially sees as his mother, Arika. She uses this size to help Negi with his rehab in walking. The two go for a walk among the sakura and chat. Negi vows to save his father Nagi, also for Eva's sake. Eva teases him about him treating her as leftovers, but subtlety suggests that now that he's immortal, they could be together. Negi realizes what she's saying, hugs her, and thanks her. He won't abandon humanity and he won't waste more time doing nothing.
That night, Negi shows Eva how Ialda gains her power through the suffering on Earth. So Negi is going to reduce that suffering on Earth, thus weakening the MotB. Thus Negi spends 40 years doing work, with Ayaka helping him on the political front. On the night before the battle with the Mage of the Beginning, Eva and Negi talk. Eva discovers his cloning plans, since Negi can't have children.
Eva realizes Negi is not planning on coming back and gets angry. She demands to know how he's going to save Nagi, since without Asuna, that shouldn't be possible. He reveals that he's going to use the 9th spell he learned as a boy–Manus Jaldae, the Hand of Ialda. As her descendant, he believes he can use it. As soon as Negi defeats Nagi and Ialda possesses Negi, the spell will activate inside him, destroying him and Ialda. Eva storms away angry.
Sometime later, Negi teleports to her room on the spaceship they are traveling on, easily bypassing locks and barriers. She angrily and tearfully attacks him, pinning him on the floor, demanding to know why he has never done anything for himself. To further push the point, she demands to know in the name of his former students. Negi says this is what he wants and that he wants Eva and Nagi to be together. Negi starts crying as well, then he and Eva kiss.
Thoughts/Review:
UQ Holder Chapter 149 may be the best UQ Holder chapter to date. And if figures, it would not feature Touta and company.

What Might Have Been
One of the things that made this chapter so good and filled with emotion is that it gives us a look at how things might have been for Eva and Negi, had they become a couple. You have Eva making meals for Negi, doing his laundry, and just enjoying being with Negi. You had Chachazero as their "kid." And Chachamaru as the ever faithful maid who loves and adores them all.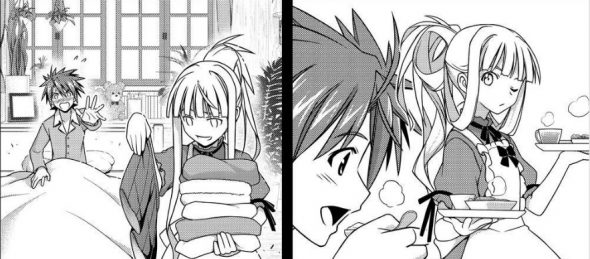 Twice during Negi's convalescence at Eva's cabin, Eva hinted that Negi could just stay and be with her. Over the years, her interest in Negi grew to where she cared about him, and then fell in love with him as a member of the "monster's club" as she called it. I never sensed this was her using Negi as a replacement for Nagi. Had Negi chosen to be with Eva, I believe they would have had a happy life. Negi would have freed Eva from the curse, and the two could do whatever with Chachamaru and Chachazero in tow.
For me, it was sad seeing Negi reject happiness for himself, and frustrating that Negi believed Eva would find happiness with Nagi. Eva loved Nagi and no doubt still has feelings there, but she had moved on. Negi never allowed himself to see this due to his ultimate plan to defeat the Mage of the Beginning. And yet at the end of the chapter, Eva has forced him to see this, as evidenced by his tears and the fact that he doesn't reject Eva's kiss. Oh, the feels!
Negi's Plan
In Negima!, we never did see what the ninth spell was that young Negi had learned. Akamatsu-sensei took advantage of this chapter to finally fill in that blank and name the spell–Manus Jaldae. As I recall things, in Negima!, Negi learned these nine spells to fight the mazoku/youkai/whatever that had attacked his village. So presumably, this is some kind of obliteration spell, possibly with a negative effect on the caster as well.
I doubt the spell was intended for use the way Negi is using it as there were no entities that Negi had seen who could possess someone. (Well, at least not that we know of.) But Negi is a master in theorycrafting, only with magic instead of video games. I hope we learn more about the spell.
Still, even at the end when it became clear that Negi planned to sacrifice himself, he's still spouting about having Eva be happy with Nagi, even though Negi would in theory have to kill Nagi in order to be possessed by her. So I'm curious as to how Negi would have saved Nagi. I wonder if there is a clue in the fact that we've seen Nagi with Negi in some encounters with Ialda. Also, since Ialda apparently absorbed the humans Yue and Nodoka, but we've seen them alive and kicking, maybe there's a clue there as to how Nagi could be saved. We'll see.
Chachazero is Awesome
One thing that will annoy me is if Chachazero isn't restored to life in the present day of UQ Holder. I know she's a massive scene stealer, but she is so freaking awesome. I love it when she trolls Eva.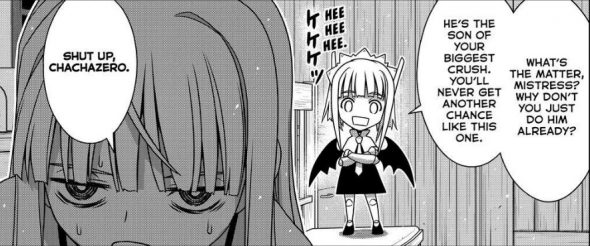 And yet, she can be just part of the family, like so.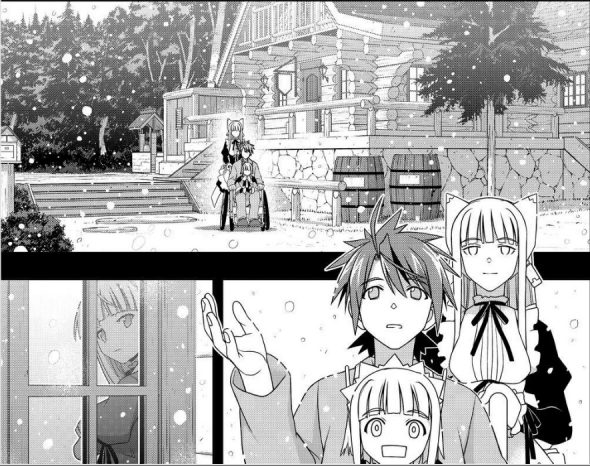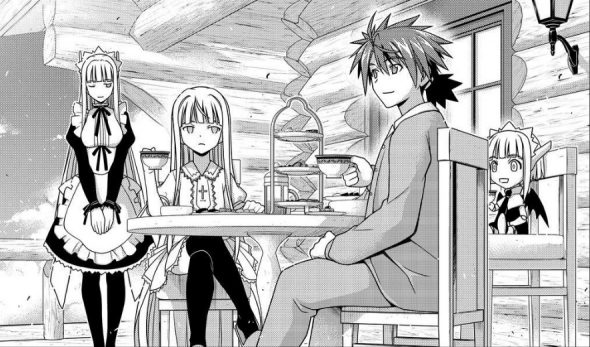 The one real laugh I got was Chachamaru removing Chachazero from the room so that Eva and Negi could talk in private.

Great stuff.
Final Thoughts and Conclusion
Time to wrap up the review of UQ Holder Chapter 149.
It is a shame that UQ Holder is best when it doesn't have Touta and company in it. Don't get me wrong, I love Karin, Kuroumaru, Mizore, and Shinobu, but because Akamatsu-sensei never went to the lengths to have us care about them like we do Eva, Asuna, Chachamaru, Chachazero, etc., it is only natural that a story with Eva, Chachamaru, and Chachazero would fare better. I hope Akamatsu-sensei gives us reason to care about the UQ Holder characters.
I wonder if we are going to get the implication that Eva and Negi had sex before the final battle. Maybe that's what Chinese and Japanese fans have been buzzing about when they are talking NTR.
Interesting that Akamatsu-sensei decided to remind us of Arika by drawing an image of her. She's still a massive retcon as far as I'm concerned, but maybe Akamatsu-sensei has come up with a solution for the retcon problem.
I'm disappointed we didn't learn why Eva chose the Yukihime look when she already had an adult form in Negima! Even if that form was not the right height to assist Negi's rehab, it could have been made taller. But I doubt we'll ever know why the Yukihime appearance.
In the end, UQ Holder Chapter 149 may end up being the best chapter of UQ Holder to date. I loved seeing Eva's character growth and a glimpse at what might have been between Negi and Eva. Also, Chachazero for the win!