#fmpivFull Metal Panic! Invisible Victory 11
フルメタル・パニック!Invisible Victory episode 11
SPOILER Summary/Synopsis: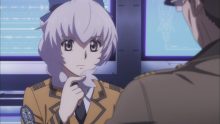 Sousuke finishes training with Lemon's men as Lieutenant Colonel Courtney has an army friend (and Tessa-chan fan) bring in a special forces M-6 Arm Slave for Sousuke to use in the upcoming Mexican mission to attack Nicelo. Elsewhere, Tessa plans her own assault on this Amalgam stronghold. Kalinin shows up with the Mithril M-9 unit and its A.I. that he took and shows it to Leonard, who's noncommittal. Leonard tells Kaname to prepare to leave, but won't say more than that.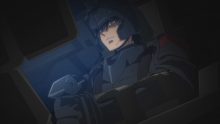 Meanwhile, Sousuke begins his assault. Fortunately for him, the Americans had launched their own assault, giving Sousuke an advantage. Amalgam doesn't seem to have trouble with the American forces, but some M-9s come to assist Sousuke. They turn out to be Mao, Kurz, and Ben. Mao reports that Sousuke is alive, pleasing Tessa. Sousuke reports that Kaname is being held here and wants to rescue her. Souske's advance on the main building is halted as Fowler shows up with two more Amalgam AS units. Kalinin appears with Leonard to reveal his treachery to Sousuke.
Thoughts/Review:
Good thing there was so much convenient things going on in Full Metal Panic! Invisible Victory 11 so that Sousuke could hook back up with Mithril.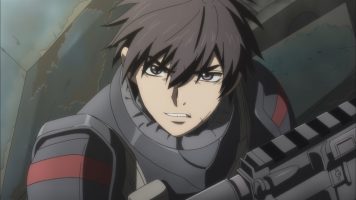 Mithril's Mystery Arm Slave
As I expected, the AS unit that Kalinin captured was a decoy. Wraith showing up in Mexico with the real AS unit is proof of that. But how the frack did she know to go to Mexico to meet up with Sousuke? While in northern Florida, Sousuke isn't broadcasting his whereabouts nor his plans. So it is just way too contrived for Wraith to be there with what I presume is Al. I'm guessing the anime is cutting a ton of stuff that would better explain things.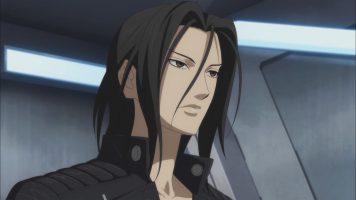 Meanwhile, Leonard seems to know that the AS unit Kalinin captured is not the real McCoy. If that's the case, then what's his play? He seems to be doing his own thing rather than an Amalgam thing.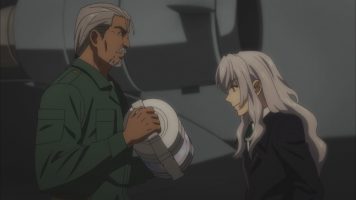 Convenient is Convenient
I've already mentioned how convenient it was to have Wraith show up in Mexico with a new Arm Slave (and likely Al) in tow. At the same time that Lemon's DGSE (French) forces are going after Leonard's compound in Mexico, the American's send a special forces AS attack on the compound. And at the same time, Tessa sends her best AS pilots to attack the compound. Is this some weird Whispered thing at work? Again, I think the anime adaptation has likely been forced to cut valuable information to squeeze everything into 12 episodes.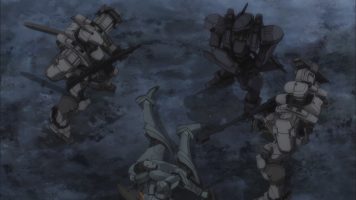 Don't get me wrong — I am glad Sousuke hooked back up with Mao, Kurz, and Ben. And no doubt, somehow Sousuke will hook up with Wraith and reunite with Al. I just wish things had been done in a better way so that even if convenient, there was a logical reason for all of these parties to show up at Leonard's Mexican compound.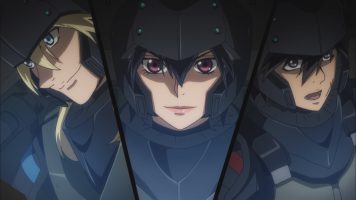 Final Thoughts and Conclusion
Since I'm having a tough time finding things to discuss about Full Metal Panic! Invisible Victory 11, I'll wrap up my review.
I still don't know what purpose Kaname serves for Amalgam. For Leonard, it is to NTR her from Sousuke. But there's got to be some reason beyond that.
I wonder if Sousuke kills Kalinin.
With Fowler having some apparent custom AS unit, I guess it makes even more sense that Tessa wanted to nab him.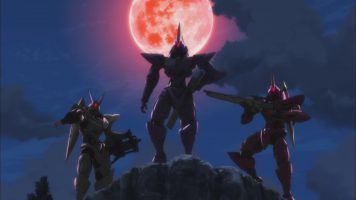 In the end, Full Metal Panic! Invisible Victory 11 was an enjoyable episode. However, it does appear that there was stuff cut, meaning all parties arrive at the same place at the same time with the same objective 'cause "reasons".