Back to the Vaults: Love Hina (Anime)
Back when I first got into anime, the first two titles I watched were the 5-episode Ah! My Goddess OVA (or as it was Americanized — Oh My Goddess!) and the 11-episode Hand Maid May. Both of these titles had the harem element in them, so I decided that I would next rent a longer harem series that folks were talking about. That series was Love Hina. For some reason, it came to my mind to pull this anime series off the shelf and give it a rewatch.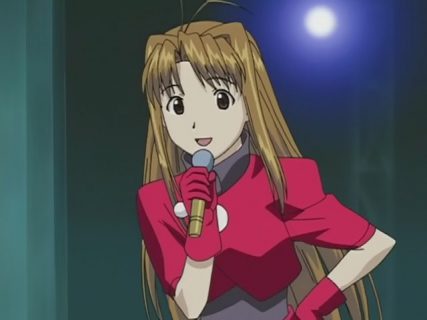 The Story, In Brief
For those who aren't aware, the Love Hina TV anime series is very loosely based on the manga of the same name. The anime keeps the same basic plot of a two time rounin (someone who's failed their college entrance exams) URASHIMA Keitaro, who's tricked by his grandmother into taking over as manager of Hinata Inn. Unbeknownst to Keitaro, the Inn, complete with an outdoor onsen, has been converted to a girl's dorm. As such, when he decides to take a soak in the onsen, he's discovered by one of the residents, NARUSEGAWA Naru, who assumes he's some pervert.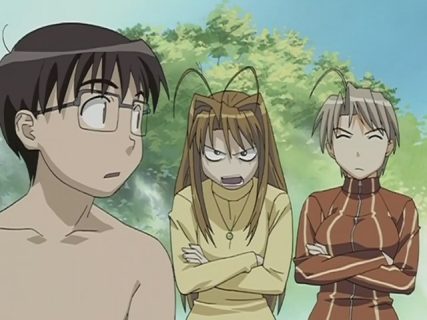 Keitaro is attempting to get into Todai (Tokyo University) due to a promise he made to a girl when he was a child. Initially, the residents think he's a Todai student, thanks to his cousin/aunt Haruka, who runs the local tea house restaurant. He's soon found out, but the residents reluctantly allow him to continue as manager. Even when the man hating, "kendo girl" AOYAMA Motoko returns to the dorm, she too eventually concedes to allowing Keitaro to stay.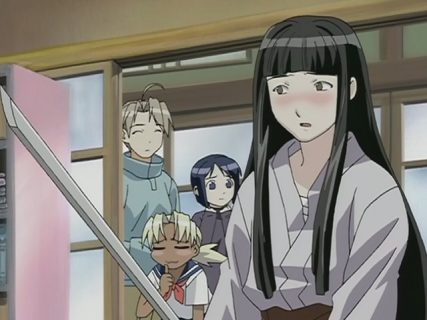 While he's supposed to be studying with Naru to get into Todai, Keitaro manages to help get junior high school girl MAEHARA Shinobu a place in the dorm, after her parent's troubled divorce. Keitaro helps exchange student resident Kaolla Su deal with her family issues. He finds himself conflicted with his feelings for Naru as they clash with his dream of being with the promise girl. Keitaro also has to deal with other issues, including rich male rival Kentaro, Naru's former tutor and crush Seta, and the his and Naru's fellow study partner, OTOHIME Mutsumi, appears to like him.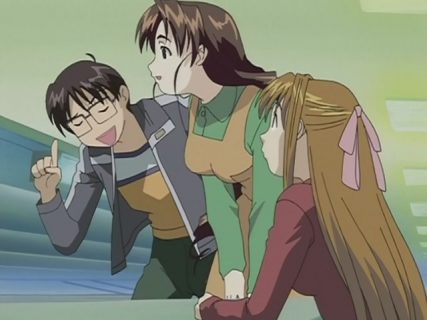 Anime Adaptation Changes: New Characters
The anime production team at Xebec only used the core of the Love Hina manga, and the various supporting characters to create their own version of Love Hina. To that end, a large number of new characters are added to the TV series. First, there are a group of elderly men who show up and mumble about dreams. This is because Xebec apparently decided that just having Keitaro try to get into Todai was too boring. So changing things to include a dream theme was their solution. Frankly, I found these guys annoying.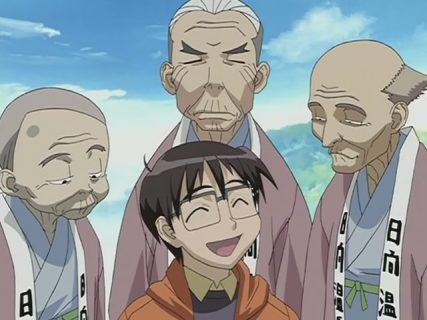 Cliched rich male rival Kentaro comes in to add a second love triangle and provide comic relief. Motoko is given a group of adoring fangirls, who don't want to see her grow out of her man hating ways. Naru is given a step-sister named Mei. (Akamatsu-sensei would later add her into the manga at its end. He appears to have included her in the Negima! manga as well.) Kaolla Su's brother is shown (in the manga, he's only referenced). Her sister is also there, though I don't remember her being mentioned at all in the manga.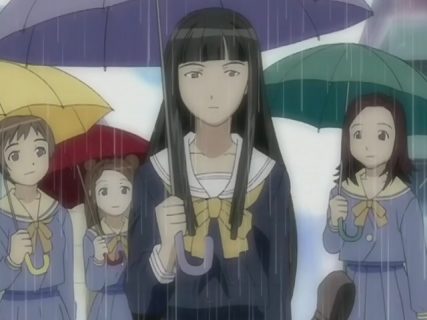 If you've never read the source manga, these other additional characters serve the purpose they are designed for. Mostly, that's to provide filler. If you've read the manga, characters like Kentaro can be eye-rolling. This is because he's a cliched character. Further, as the manga shows, there's zero need for him to be added, other than for more laughs. Su's brother Lamba is given Keitaro's appearance and one of his manga stories as well. As a manga fan, that annoyed me greatly.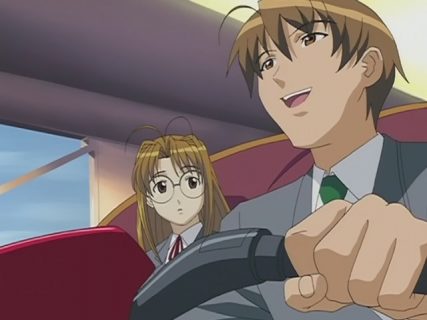 Anime Adaptation Changes: Different Stories

Many of the anime's stories are original to the anime. For example, in the manga, Shinobu is already a resident of Hinata Inn when Keitaro arrives. In the anime, she's just some depressed, lonely, friendless girl who's parents are going through a bad divorce. Because the plot demands it, Shinobu is allowed to move into the Inn. I think this is one of the least offensive story additions.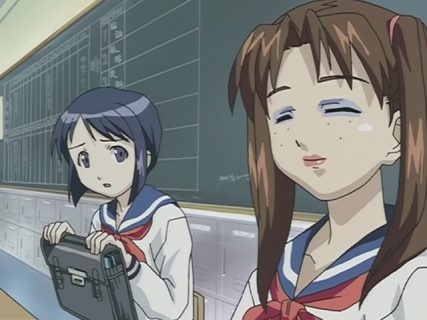 Some stories are modified from the manga. For example, in the manga, Keitaro ends up having a fevered dream he's in an RPG and the other characters in the manga have roles in it. In the anime, this story is switched to be Motoko's dream to force it to fit the dream motif Xebec wanted to do. (At the end of the anime, Haruka mentions that the town of Hinata is a place where reality and dreams collide.)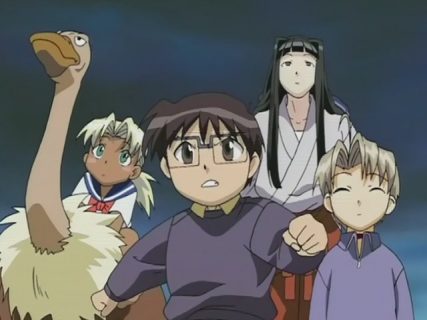 Motoko's journey as a swordwoman and high school student is modified. Rather than flee to try to clear her head (where Keitaro follows her and earns her respect when she trains with him to master a new sword technique), Motoko takes a job to exorcise an evil spirit to earn her sister's respect. Said spirit possesses Naru at one point, then one of Motoko's fangirls. The problem here is that for the OVA episode 25, Xebec decided to more faithfully adapt the manga. Thus the Naru possession story has to be retold, only from the manga's perspective and not the silly one in the anime.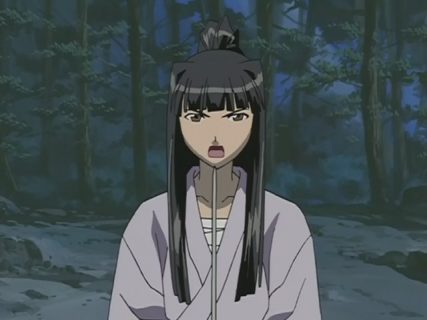 Episode 25
Speaking of episode 25, for the original broadcast, only 24 episodes were aired. Episode 25 is actually an OVA episode. As such, Xebec made an unusual decision to be more faithful to the original manga story. One of the immediate impacts of this decision is a higher level of fanservice to match that of the manga.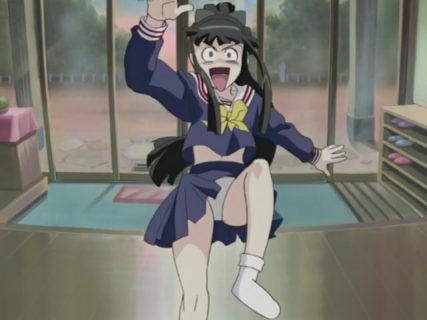 There are some modifications to link it to the TV series. In the manga, the story comes from when Keitaro broke his leg and thus couldn't go to school. In the anime, Keitaro is still a rounin. Kentaro gets a cameo in this episode, replacing the truck that nearly runs Keitaro over. Mei also returns, so she gets to occupy a fourth space, but she doesn't really serve a purpose in the story except to be there.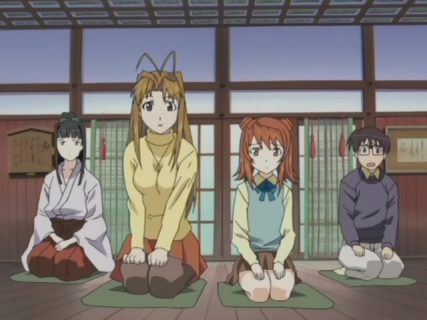 Originally, I didn't like this episode as much because of how different it is from the TV series. Plus, the story had Naru possessed again (which I mentioned earlier). But after reading the manga, I wish that Xebec had just done a proper adaptation of the manga rather than doing their own thing.  Yes, it has the manga's ecchi levels included, but as a story, it is quite good.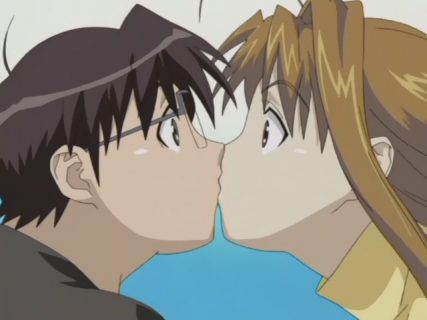 How the Anime Impacted AstroNerdBoy
Its funny, but Love Hina had two major impacts on me. Both remain with me to this day.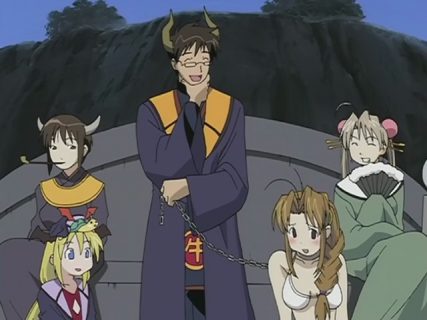 The first impact was the horrendous English dub used. By the time I started renting Love Hina, I had started watching anime on Cartoon Network's Adult Swim. So I was watching English dubbed anime, and indeed had done so for Ah! My Goddess OVA and Hand Maid May. (I also watched them in Japanese with subtitles, just to get my money's worth out of renting them.) With Love Hina, I could not get through the dubbed version. Try as I might, the dubs just made my ears "bleed." ? I finished the series in Japanese with subtitles. After that, English dubs were suspect and eventually, I stopped bothering with them at all.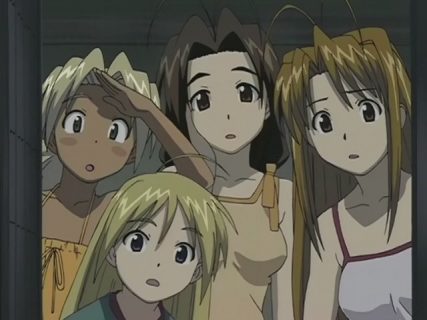 The second impact was "anime as an advertisement for the source material." While I was introduced to this concept with Ah! My Goddess, it didn't have that big of an impact on me. That's because I already knew that a 5-episode anime series would be radically different from the source manga. But with Love Hina, I had figured that the anime adaptation should be about the same as the manga. My main reason for buying TokyoPop's manga releases was to get the story that continued AFTER the anime.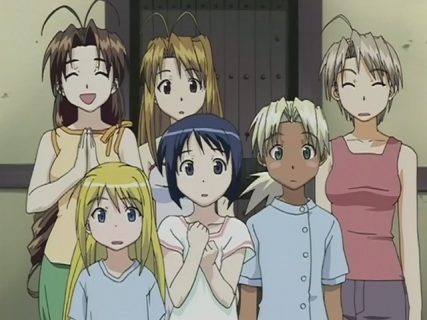 The Manga is Superior
Man, was I surprised when I first read the manga. The story there was so superior to the anime. The manga's story flowed so much better for what the TV series went through. For example, Motoko gets a rather nice character arc over the course of the Love Hina manga. And it helps that she's not some man-hater in the manga, even if she has a strong dislike for men she perceives as weak. In the anime, Motoko's arc doesn't flow that well, as I mentioned earlier, thus making the events of episode 25 seem more out of place.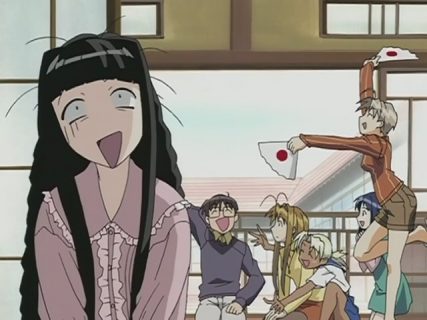 There weren't parody stories or other stories inserted into the manga just to kill time. Don't get me wrong, I love parody tales. Some of the funniest anime episodes in existence for any series are parody stories. In the case of Love Hina, these stories are just filler so that the anime doesn't have to deal with things it doesn't want to from the manga. I liked the story of Moe (and I suspect Akamatsu-sensei got the idea for Chachazero from Moe's story), but it seems out of place, more so considering what happened to the doll at the end of the episode.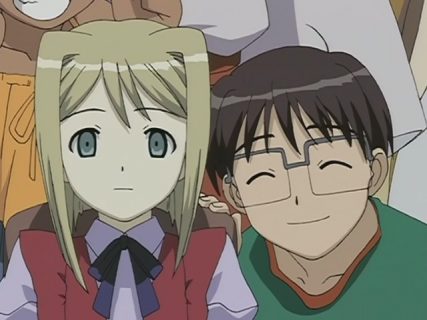 Finally, the Love Hina anime really downplays Keitaro's efforts to get into Todai. Yes, it is there, but it is often pushed to the side. We see glimpses of Keitaro studying, sometimes with Naru, and sometimes with both Naru and Mutsumi. But the anime treats it as some side thing that is more of a nuisance to the stories Xebec wants to tell.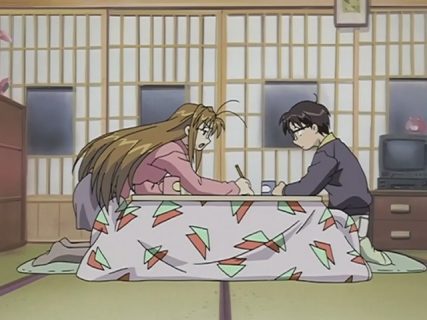 The DVD Release
OK, time to talk about FUNimation's DVD release. Originally, the Love Hina anime franchise was licensed by Bandai. However, when they left the business, FUNimation rescued the TV series. (I had thought they'd rescued the entire franchise, but it doesn't appear that the two movies or Love Hina Again were licensed by them.) I've already mentioned how bad Love Hina's dubs are. FUNimation retained the same dubs.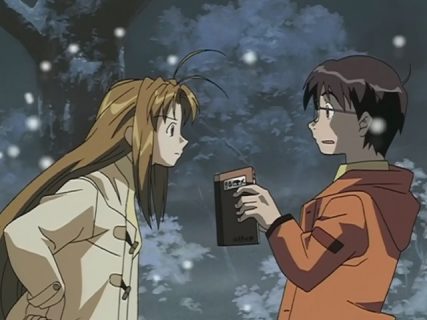 As a watcher of anime in Japanese with subtitles, FUNimation told me after they announced the license for Love Hina that they were going to completely redo the subtitles. (Back then, I had semi-professional relationships with numerous FUNimation employees.) Since FUNimation's subtitle policy back then was to retain all Japanese honorifics, I was elated. FUNimation even put out an ad for Love Hina, saying the same thing.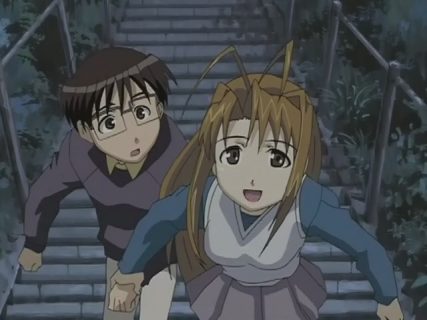 Then FUNimation sent me a copy of their original release. I was horrified to see Bandai's original, crappy subtitles still there. FUNimation wouldn't tell me why (I suspect costs), but they decided not to redo the subs. As a result, we get the lovely Bandai subs where consistency is NOT the name of the game. Lack of honorifics aside, if Naru's character was addressed as Narusegawa (her family name), the subs might show that, or might just go with Naru 'cause "reasons." This happened quite a lot with multiple characters. I won't bore you with other subtitle issues.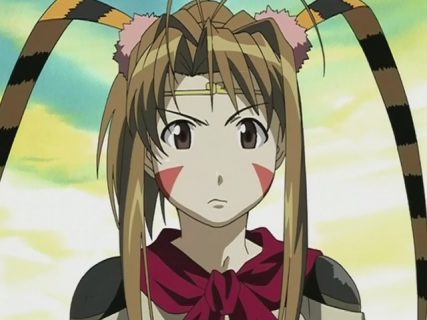 For FUNimation's current release, my understanding is that there are no improvements over previous releases.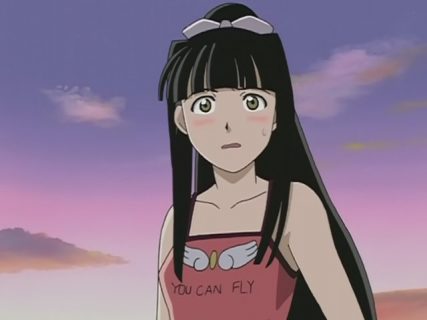 Final Thoughts and Conclusion
If I'm really honest, when taken as a stand alone title divorced from the source manga, Love Hina is a lot of fun. If you've never read the manga, I would highly recommend watching the anime first. That way you can get maximum enjoyment out of what Xebec has to offer.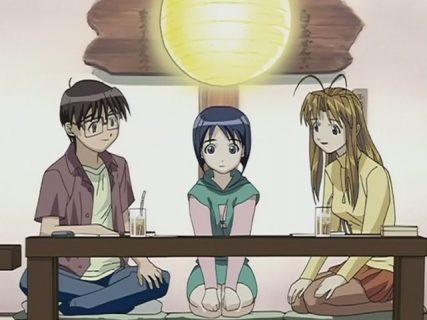 However, as an adaptation of the source manga, the Love Hina anime fails. It sacrifices a lot of what made the manga great so that Xebec could just do their own version of Love Hina. In comparison, Xebec's version is a shambling Frankenstein.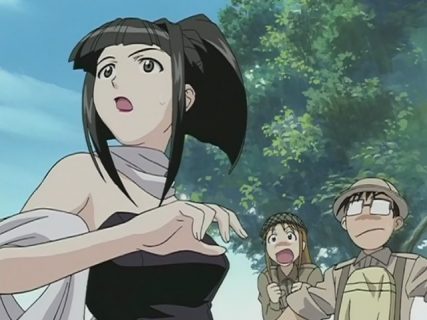 So what are your thoughts on the Love Hina anime? Did you like it? If you've read the manga, do you still like it? Let me know in the comment section below.