ユーキューホルダー! 魔法先生 ネギま!2 Manga Review
UQ Holder! Mahou Sensei Negima 2
UQ Holder!: Magister Negi Magi! 2 Chapter 155
UQ Holder Chapter 155

SPOILER Summary/Synopsis: 
Karin continues her tale. She reveals that Eva passed on forming a pactio with Karin. At that moment, Ba'al arrives after a 120 year absence. He had been observing Eva to see what she'd become. Eva's powers are on par with actual shinso vampires, but Ba'al notes that Eva's spirit is still that of a little girl. Ba'al easily overcomes Karin's barrier and plants a World Tree seed in her. Thanks to Ba'al's power, the seed immediately grows and Karin is sealed inside as part of the tree.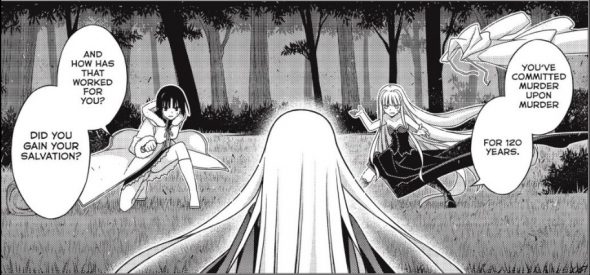 For the next 140 years, Karin has no memories. She is rescued by Juuzou Shishimi. He has a message for Karin, but does not know where Eva is. He asks Karin to come with him. Following that, Karin did not see Eva until ten years ago when she created UQ Holder.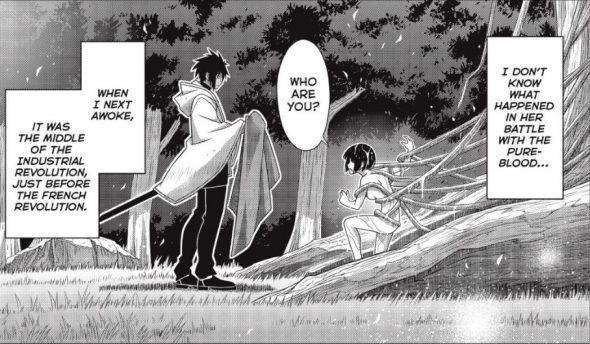 Karin tells Touta how her Grace of God powers rejected the pactio from Eva. Touta embraces the weeping Karin. As it is late and raining, she then has them go to her former residence in the city. After Touta makes tea, he uses a Pactio Circle App to attempt a surprise pactio on Karin. The negative reaction from Grace of God is more severe this time. Touta does not believe this means Karin is rejected. In his mind, no one knows who's going to be saved until Judgement Day.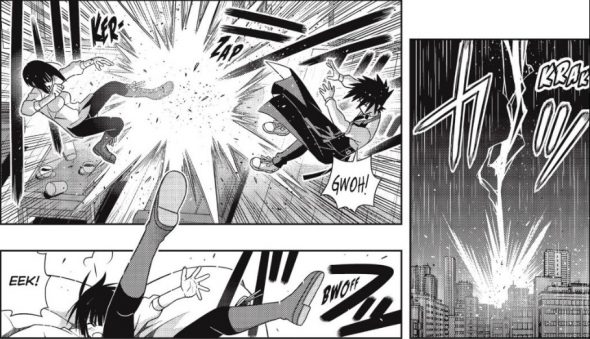 Touta believes he can overcome this human power, so Karin decides to let him have a second go at her lips. He again activates a Pactio Circle App, and again, the rejection reaction happens. Touta uses his power to negate it, so the negative reaction power increases. After some time, Touta becomes concerned about hurting Karin, but she wraps her arms and legs around him. Their clothes are disintegrated in the process. However, this time, Touta is able to use all of his power and form a pactio.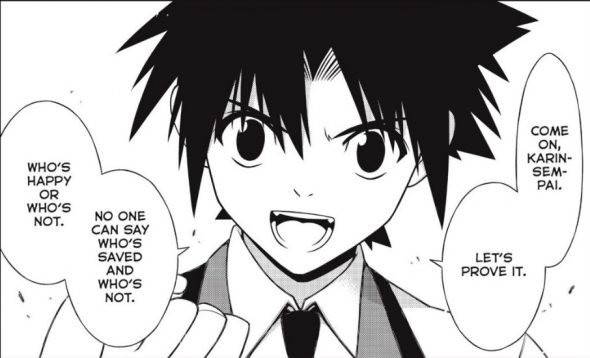 As Touta lays unconscious on the floor, Karin sees her pactio card and is genuinely happy. She kneels beside him as Jinbee and Gengorou enter. Since both Karin and Touta are nude, Karin realizes how bad this looks. Sure enough, Jinbee and Gengorou assume the two have had animal sex, based on the clothing and pillow debris.

Thoughts/Review:
Heh-heh-heh! Well, since the chapter came out early (but not on Crunchyroll), I decided to go ahead and write my review now. Welcome to the harem, Karin!
Removing Karin From Eva's Story
I had wondered how Akamatsu-sensei was going to separate Karin and Eva. If Karin was prepared to follow Eva around for 120 years, she'd never leave Eva's side. Having Ba'al seal Karin inside of a World Tree by making it grow within her did the trick for sure. ?
So now, Eva can wander around for however many years sans Karin. What bothers me is that it was implied that Eva saved Karin from being burned at the stake. I was disappointed we haven't seen that story yet.
Also, why didn't Karin go find Eva after being rescued? In her story, Karin just took off after Juuzou. Granted, Karin cannot be with Eva 'cause that would be a MASSIVE retcon to Eva's story. Eva has to do whatever things Touta saw her do in her time of despair, then hang out with Ala Rubra for a while (all the while being blissfully ignorant of Arika), then have Nagi curse her, then have her return to the light side, then have her freed from the curse, then have her form UQ Holder. Whew! Did I get it all?
Still, I would love to see more of what Karin did in those intervening years.
Holy Magic
Speaking of Karin, I'm still not happy that shinso vampires can basically ignore it. So far, it is only Karin's immortality that causes them problems. She can't be physically injured, even if she feels the pain. So they can't easily kill her. But I'd still like to see this Grace of God magic cause shinso more problems.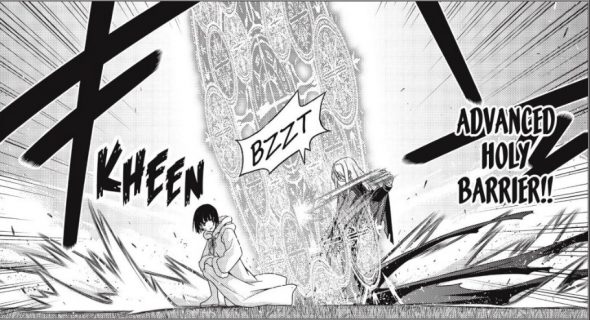 Nevertheless, sealing Karin within a World Tree by making it grow from within her seems extreme. Karin is all flash when it comes to her powers and the shinso. So what threat is she to Ba'al? I guess he wasn't worried about the threat, but just wanted to see what would happen when he planted a World Tree seed in her.
The World Tree
I almost get the sense that this is the World Tree featured in Negima. The only thing against this as a theory is that while there were mountainous areas around the World Tree, they weren't as rugged as what we saw in UQ Holder chapter 155. But I kinda like the idea that maybe Karin and Eva were in Japan.
Still, it is interesting that a World Tree was used to seal Karin. It made me think of why MotB (I presume in Nagi's form) was sealed at the World Tree in Japan. That's something I don't believe was ever explained. (Not that it really mattered since Nagi somehow regained control himself to visit his son. And then Nagi came and resurrected CE on the Magic World. And then got killed by the Asuna-Negi combo. But hey, what do I know?)
Karin's Pactio
Shifting to the present, I'm still not keen on non-mages being able to perform pactiones. And Akamatsu-sensei decided to have the "I can't use magic apps" Touta suddenly be able to use magic apps 'cause "reasons." ?
Still, seeing Karin look all cute clutching a pillow and giving consent for Touta to kiss her a second time was kinda worth it, I guess. ?
The actual pactio attempt reminded me of Negi forcing a successful pactio with Chachamaru in Negima. Here, Touta keeps pouring on the power until he succeeds, just like Negi did back then.
The difference here is that Touta's and Karin's pactio attempt and kiss was just about like sex. Karin certainly gripped Touta like a lover. I think the only reason Akamatsu-sensei didn't have her leg lock his whole body was because UQ Holder is in a shounen manga. ?
Interesting that Karin's pactio card shows her with nothing new in terms of gear. I really do think her mallet is a pactio artifact. Maybe she had a pactio with someone else in the past.
Welcome to the Harem, Karin-chan!
With this successful pactio, I think it is safe to say that Karin is now in Touta's battle harem. She's been showing signs of falling for Touta for a while now. Usually, she's fully tsun about it. She has previously stated that she'd rather die than kiss Touta for a pactio. However, the fact that she told Touta that long backstory about herself and her time with Eva (and Jinbee) was the start of her giving into her dere side.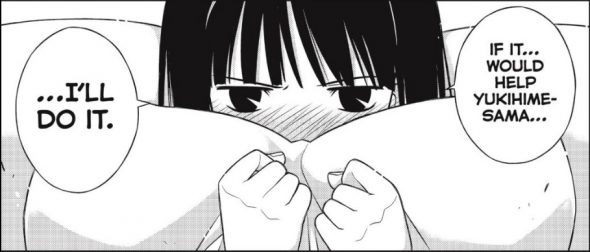 In UQ Holder chapter 155, Karen does some interesting things that mark the complete shift in how she sees Touta. For starters, she invites him over to her old place. When Touta does a surprise kiss on her, she doesn't seriously try to hurt him. And then when Touta spells out his idea, she volunteers to be kissed by Touta, even after Touta gives her an out.
But more than this, it is when Touta is about to break off the kiss for fear of hurting Karin that she goes all out for Touta. Her gripping him like a lover so he won't break the kiss spoke volumes to me. She wants Touta to succeed. And then when she gets her pactio card, she is genuinely happy.
Frankly, I hope we see a change in Karin's attitude toward Touta, so that the other girls in Touta's harem sit up and take notice.
Final Thoughts and Conclusion
Well, I wasted time raging again about WP forcing us to their hideous, anti-blogging editor known as Gutenberg. And since I need to go to bed now, I'll wrap up my review of UQ Holder chapter 155.
Juuzou's cameo was a nice one, and unexpected too.
I have to admit that I laughed out loud at Jinbee's and Gengorou's reaction to seeing the naked Touta and Karin amongst the piles of destroyed clothing and pillows.
As ecchi as this chapter was, I couldn't help but think that Akamatsu-sensei wants to see some UQ Holder hentai. ?
In the end, UQ Holder chapter 155 is VERY ecchi, but is a very good chapter nevertheless. I still want to see the rest of Karin's time after her rescue explored. Also, I want so see some exploration of Kuroumaru's history and tribe.
So what are your thoughts? Did you like the chapter or hate it? Respond in the comments section as I'd love to hear what all of you think.