Tenchi Muyo! Ryo-0hki OVA 5 News From C95
Hey gang! Well, if you didn't know, Comiket 95 is in full swing. That means that Kajishima-sensei has published two new doujinshi titles. Here's Tenchi_Zin with his copies, that he received from Kajishima-sensei as part of a courtesy doujinshi exchange. (Tenchi_Zin is also an artist at C95, as well as a Tenchi Muyo! fan. If you've read Genshiken, you'll know that at Comiket, doujinshi artists will sometimes exchange their work with other artists.)
梶島先生にご献本交換していただけました(゚∀゚) pic.twitter.com/sdbPhpJ2Z6

— たけるん@1日目東D-51b (@tenchi_zin) December 29, 2018
Since Kajishima-sensei ALWAYS provides some sort of news communication on his current or future projects, we already knew that Tenchi Muyo! Ryo-ohki OVA 5 was in pre-production (first announced in C92). Then Tenchi_Zin hit us with the C95 news about Tenchi Muyo! Ryo-ohki OVA 5.
【朗報】天地OVA五期は6話構成で制作中 #天地無用

— たけるん@1日目東D-51b (@tenchi_zin) December 29, 2018
Basically, this says that Tenchi Muyo! Ryo-ohki OVA 5 will have six episodes. This is major news, since Tenchi Muyo! Ryo-ohki OVA 4 only had four episodes. And though I have major problems with OVA 4 from a Western perspective (meaning, OVA 4 is expecting the viewer has been reading the GPX novels and has watched the Tenchi Muyo! War in Geminar series).
Anyway, when someone asked Tenchi_Zin if this was really true, he responded thusly.
らしいです!(新刊のあとがきに書いてありました

— たけるん@1日目東D-51b (@tenchi_zin) December 29, 2018
So he confirmed that Kajishima-sensei's news note did state OVA 5 will be six episodes.
So What Will OVA 5 Be About?
Here's a little of what we know so far (subject to change with updated information).
It will take place PRIOR to Tenchi Muyo! War on Geminar.
It will take place AFTER the birth of Tenchi's two daughters. (See image from the first IF doujinshi.)
Kenshi from War on Geminar looks to have a major role.
For those interested in Tenchi's daughters (and Seina's boy as well), here's a page from Kajishima-sensei's IF doujishin.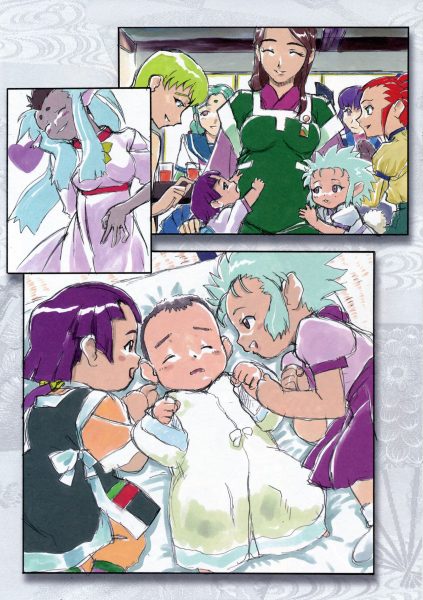 I believe Kajishima-sensei wanted to do an anime off of his IF doujinshi line (there are several published at this point). They are done like color storyboards with no text. So it will be interesting to see if that turns out to be the case. Normally, Kajishima-sensei seems to not be interested in animating anything he's already done in some other form. But the IF doujinshi seem to be the exception.
Was OVA 4 Really That Popular in Japan?
While the Tenchi Muyo! franchise as a whole may be seen as something old and obsolete in the West (outside of us hardcore fans, of course), in Japan, the canon Tenchi Muyo! Ryo-ohki stuff is very popular. Fans eagerly look forward to the bi-yearly doujinshi publications from Kajishima-sensei. Kajishima-sensei's GXP novels are still being created and continue to sell well.
I'll be the first to admit that OVA 4 has a VERY high wall for Western fans to overcome, more so for casual fans. While OVA 3 did allow many new folks to enter the canon TM!R universe, OVA 4 would not. That's because in typical Japanese fashion, OVA 4 expects that the viewer is a fan who's reading the GXP novels and who's watched Tenchi Muyo! War on Geminar. Having watched the GXP anime will only give you some name recognition as Kajishima-sensei used the GXP novels to "fix" what Nabeshin broke. And then he just kept going. ?
But as I understand it, OVA 4 sales were quite good. And certainly, they were good enough for the skittish AIC to decide to grant OVA 5 six episodes.
More News, If It Comes
Now that things are on a more firmer path concerning OVA 5, I'm going to start more closely watching for news. And should anything arise, I'll make a post. ?