Lupin the Third Part 5 – 24
Lupin III Part 5 24
ルパン三世 PART5
SPOILER Summary/Synopsis: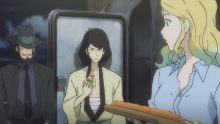 Various governments attack Hito-log (PeopleLog) due to Enzo's refusal to take down Lupin's posts. Meanwhile, Lupin is fishing off of a trawler. Rebecca emerges from below decks with a fresh pizza for Lupin, Jigen, and Goemon to consume. Lupin then gets a "bite" as a submarine surfaces. Back in Padar, Fujiko is wearing a wedding dress and veil. Ami wants to know why Fujiko and Lupin split. Fujiko recounts her time with Lupin, even when she lived with him. However, a normal life like that was not to her tastes.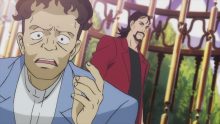 Albert breaks his agreement with Ling Bo, which causes the Americans to brand Shake Hanz as a terrorist organization. As such, they launch a cruise missile attack on the Shake Hanz HQ building as well as other facilities in Padar. Meanwhile, the gold submarine, piloted by Diana, deposits Lupin, Jigen, and Goemon in Padar. They race to the Shake Hanz HQ, where Jigen and Goemon hold off the American invasion force. Lupin races inside to save Ami and Fujiko.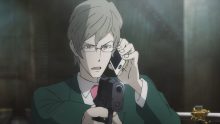 Elsewhere, Albert snags Ling Bo, who was attempting to escape the attack. At the same time, Lupin emerges at the penthouse level of the building. Enzo demands to know Lupin's secret that no one else knows. Ami defends Lupin, but Lupin assures her Enzo won't harm him. Lupin confesses his love to an unimpressed Fujiko. She wants to know what she is to him. He asks who is Lupin III. Fujiko thinks he's going to avoid the question. Instead, to her amazement (Ami's and Enzo's as well), Lupin reveals his infamous face is but a mask.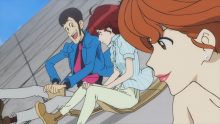 Fujiko lets herself out of her cage. Lupin lifts her veil and kisses her on the lips. The building is starting to collapse from damage taken, so Lupin has Ami calculate how much time they have. Lupin, Ami, and Fujiko leap out and slide down the side of the building on large cardboard pieces. Enzo joins them, promising to recover from this. Enzo saves his daughter, so when Lupin offers Ami a chance to join his gang, she elects to stay with her dad. Lupin, Fujiko, Goemon, and Jigen flee on foot as Zenigata gives chase.
Thoughts/Review:
And so ends the Lupin the Third Part 5 series with Lupin the Third Part 5 – 24. While this was certainly a good episode with a massive twist, it did have a few flaws.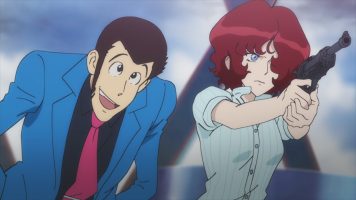 Rebecca Returns!
Gah! I have been wanting Rebecca to return for this entire series. Finally, TMS gives me what I and many other fans craved–Rebecca's return to the franchise.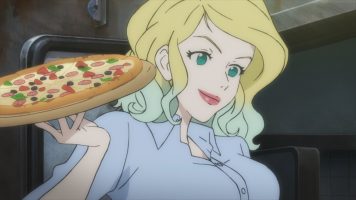 Sadly, Rebecca's role is mainly a fanservice cameo. Yeah, she serves a purpose to a degree, but it is a shame she didn't serve a greater purpose. For example, I would have loved to have seen Lupin, Jigen, Goemon, and Fujiko actually escape to Rebecca's trawler during the end credits. And then have Rebecca and Fujiko have one of those, "He's my man" moments. That would have been great.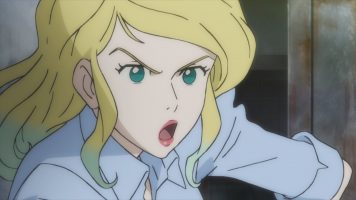 To be honest, I think Rebecca should have been used earlier on. She could have helped with the Fujiko storyline. But I'll take what I got and hope that if there's a Lupin III Part 6, TMS will make good use of Rebecca.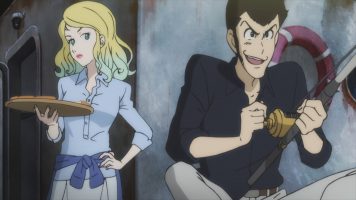 Fujiko's Wedding
I think the reason Fujiko wore a wedding dress was because she expected Lupin to rescue her that day. And she expected that Lupin would finally answer the only question she had for him–what does she mean to him?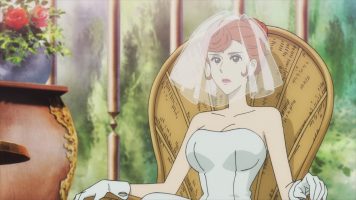 When Ami questioned Fujiko about her relationship with Lupin, I loved how open and honest Fujiko was. It is clear that a part of Fujiko enjoyed living with Lupin. However, there was no excitement for her in a normal life. What doesn't make sense is why she and Lupin didn't make excitement? Seriously, what was stopping them from doing major scores together?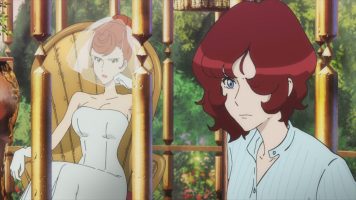 I suppose we are to infer that Fujiko just enjoyed being chased by Lupin. But if that's the case, then Fujiko can't very well get jealous when Lupin marries Rebecca, or bangs some other girl.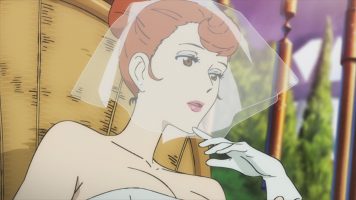 Still, with Lupin revealing his greatest secret to her, it was better than Lupin giving her a wedding ring. Thus Lupin got to raise her veil and kiss the bride, as it were.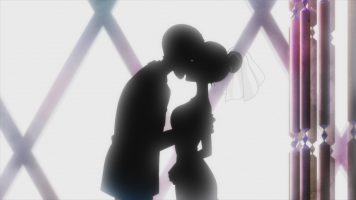 Lupin's Secret
This is where Lupin the Third Part 5 – 24 pulled off the most unexpected twist I've ever seen. His Lupin face was a mask as well! Naturally, we never see Lupin's face during this unmasking until the Shake Hanz building is about to fall. There's one tiny frame that could suggest Lupin is putting a mask back on. But considering he tossed it away, I'm not sure how he got it back without moving.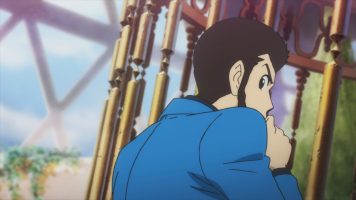 I've seen theories galore on this twist. One suggests that maybe the man under the mask is Yasuo from Lupin III: Green vs. Red OVA. I don't think that's the case. That was a weird anime to be sure and as I recall, really difficult to force into the canon.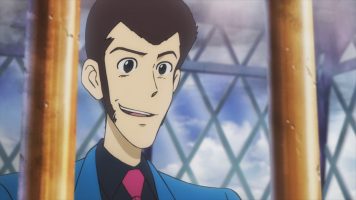 That said, Lupin III Part V did imply that Lupin is akin to a title that is passed on. So it is possible that this is someone from the Lupin family, but not the original Lupin III. Or it may be any number of other things.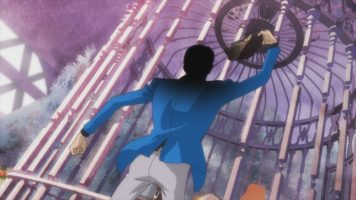 The problem with Lupin apparently always wearing a mask is that there have been moments in previous Lupin III titles where Lupin has been captured and grown a beard. So it doesn't really jive to me that Lupin has always worn a mask.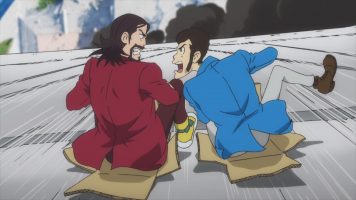 Final Thoughts and Conclusion
As always, it is late at night as I write this, and I'm desperate for sleep. So I'll wrap up my review of Lupin the Third Part 5 – 24.
The American attack on Shake Hanz was so stupid and so over the top. The writers came up with this BS reason that the company was a "terrorist" organization. ? Clearly, they have zero clue on how there's no way in hell we'd attack some businesses 'cause "reasons." (Although I'm reminded that President Clinton did bomb an aspirin factory in Sudan.)
Although not surprising, I'm disappointed that Ami isn't part of Lupin's crew.
Enzo's sudden decision to be a father to Ami was sudden. Let's face it, the only reason this happened was so that Ami would have a reason NOT to join Lupin and to have a happy end. But story-wise, there's NOTHING to show that Enzo would have this 180º change of attitude toward his daughter after being cold to her all along.
I was surprised to see Diane show up from Lupin III: The Pursuit of Harimao's Treasure. I don't remember much about the special, but apparently I liked it a lot according to C.A.R. There were other cameos as well, but Diane's stood out.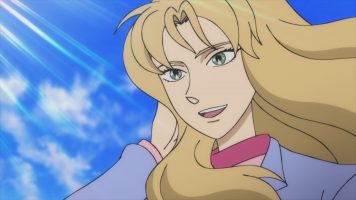 In the end, Lupin the Third Part 5 – 24 is a pretty good episode that nicely wraps up a pretty good series. There are a few minor quibbles, but I'm letting those pass.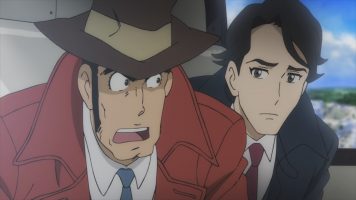 So what did you think? Let me know in the comments below. ?