Lupin the Third Part 5 – 23
Lupin III Part 5 23
ルパン三世 PART5
SPOILER Summary/Synopsis: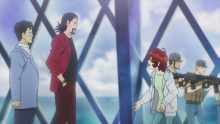 Enzo gloats over Lupin's capture. Ami attempts to reach out to her father, but he has no interest in her, despite starting Hito-log (PeopleLog) because of her kidnapping. Fujiko accepts Ling Bo's offer to remain in Padar in order to give Lupin an incentive to steal her. After Lupin and Goemon are carted off, Ami again attempts to reach out to her father, but again is rebuffed. Lupin and Goemon are put into a customized cargo container on board a ship.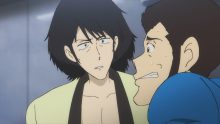 Meanwhile, Jigen is on the run in his mascot outfit. The French police demand he reveal his face, which he refuses to do. Just when Jigen finds himself cornered, Albert rescues him. Elsewhere, the cargo container containing Lupin and Goemon is transferred to a truck. Multiple Armored Personnel Carriers and police vehicles escort the truck. The convoy makes it to the country, where Jigen has set up a roadblock using a yellow, Mercedes-Benz SSK.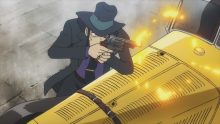 The ICPO chief is angry about this and fires at Jigen. This is all the excuse Jigen needs to go to war. He has an arsenal of weapons in the car, including an M32  Grenade Launcher. In the end, every helicopter, APC, and police car are destroyed. The only apparent survivors are Zenigata and Yata, whom are trapped in their car. Jigen frees Goemon and Lupin. He then suggests that maybe it is time to retire as times have changed. Lupin poetically rejects this.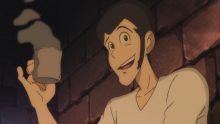 Lupin goes into hiding for a month, frustrating many of his former opponents. Ami and Fujiko talk about Lupin when Lupin makes a post on Hito-log. He begins posting secrets from various governments all over the world. Hito-log rates every one of his posts with an A letter score. Meanwhile, Lupin, Goemon, and Jigen are holed up in the dungeon of Cagliostro Castle. Jigen has a note from Rebecca, signalling that it is time for Lupin to go after Enzo.
Thoughts/Review:
Man, Lupin the Third Part 5 – 23 really poured on the tributes to the Lupin III franchise. At the same time, it managed to reflect on the state of anime today.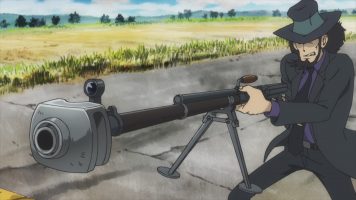 The Plot Elements
Before I get into the more interesting elements of Lupin the Third Part 5 – 23, lets talk plot. I had questioned why Enzo didn't know about Ami and the like. With this episode, we learn that Enzo really doesn't care about Ami. It seems rather strange that he'd be so cold and distant. But then Enzo is warped.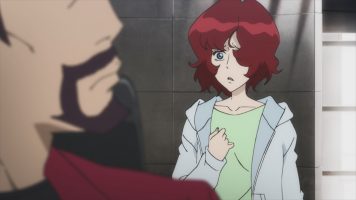 I had no problems with them using a modified cargo container to transport Lupin and Goemon to prison. It had power and A/C as well as a couple of cots. But Lupin had been seriously injured and bled out a lot. As such, where were the medical staff in the container? Furthermore, where were the police inside to make sure nothing happened during transport?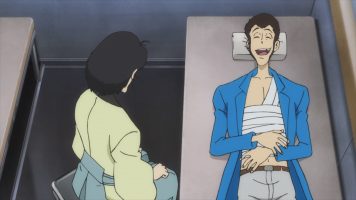 I liked how Fujiko made herself bait to entice Lupin to steal her after he escaped from captivity. One really got the feeling that Fujiko does love Lupin more than she'd ever actually admit.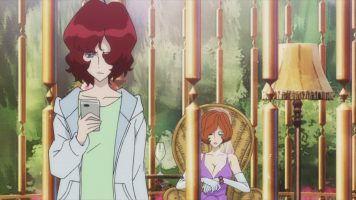 Finally, there's Jigen's slaughter of the cops. To be honest, I was a bit shocked by this. To my knowledge, Lupin and company have never slaughtered cops. Granted, they fired first, but still. ?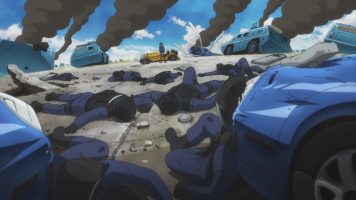 The Tribute Elements
Lupin the Third Part 5 – 23 continued the tributes to previous Lupin III titles. We've seen former villains show up. We've had Lupin or the like briefly mention adventures in earlier series. And we've seen clips from earlier series and movies. In that regard, Lupin the Third Part 5 has served a large dish of non-ecchi fanservice to longtime fans of the franchise. At the same time, I don't believe they've alienated new viewers of the series.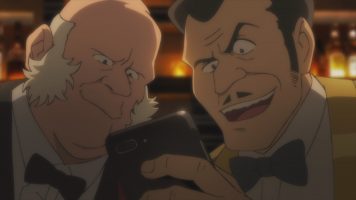 Still, Lupin the Third Part 5 – 23 had to take the cake on tributes by having Lupin and company actually return to Cagliostro Castle. KYAAAAAA!!!! ?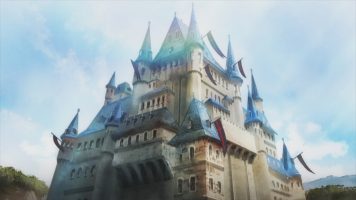 Until now, we'd had the one clip from Lupin III: Castle of Cagliostro. There had been moments when things reminded me of Castle of Cagliostro, and we'd had the instrumental version of Honoo no Takaramono, the theme song of Lupin III: Castle of Cagliostro in episode 17. Indeed, when Lupin the Third Part 5 – 23 played that theme music, I smiled, but never in my wildest dreams did I expect Lupin's gang to go there.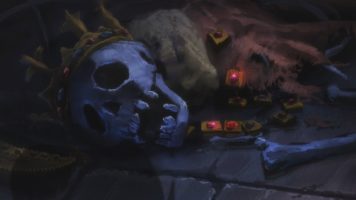 I wish we had gotten so see Clarisse, even in a non-speaking role. I like to think she knows they are in her dungeon.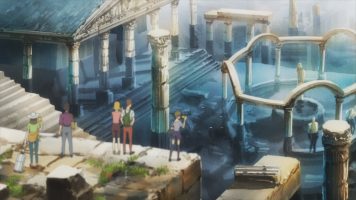 The Reflection Elements
For me, one of the most interesting elements in Lupin the Third Part 5 – 23 is the way the production team examines where Lupin III fits in the modern day anime landscape. This is reflected in Jigen's remarks to Lupin that maybe it is time to retire. There's irony there, considering that Jigen's seiyuu, KOBAYASHI Kiyoshi, is not only 85 years old, but is the only original Lupin III seiyuu in the series.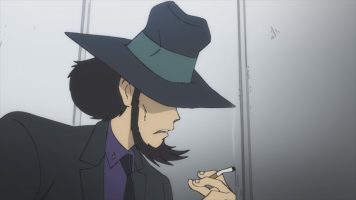 That aside, Jigen remarks on how times have changed for them with modern technology like Hito-log. The Lupin III franchise is an old one, and it certainly isn't the kind of series modern anime fans flock to. In a sea of ecchi harem titles, many being of the "Isekai" variety, whereby our MC is taken to another world, where does Lupin III fit in?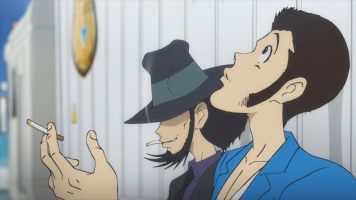 Lupin's response to Jigen's remarks represents what TMS (and probably Monkey Punch as well) think. Lupin compares what they are going through to a TV show. Jigen's responses represent what hardcore Lupin III fans fear — the franchise will one day be retired for good. By having Lupin state that until the day his story ends, he wants to keep being Lupin, TMS is basically saying that they will continue to produce Lupin III content. And I for one am VERY happy for this.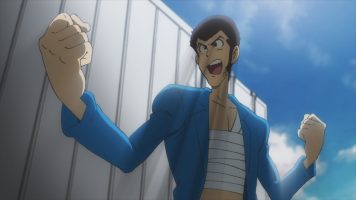 Final Thoughts and Conclusion
OK, time to wrap up my review of Lupin the Third Part 5 – 23.
I didn't mention it before, but I liked seeing how the Grand Duchy of Cagliostro has become a tourist attraction, thanks to the Roman ruins Lupin uncovered in the movie.
Rebecca got a name drop at the end of the episode. I've been longing for her to return to the franchise, so I REALLY hope she does return.
I had to smile at Zenigata's wish to have a drink with Lupin, after Lupin serves his time in prison.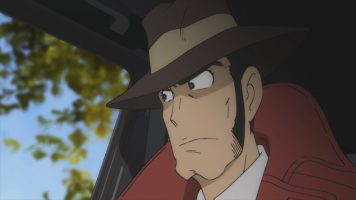 In the end, Lupin the Third Part 5 – 23 ended up being an incredible episode for this longtime fan of the franchise. Not only do the writers begin to wind down the story to its conclusion, they also provide plenty of non-ecchi fanservice as well. And to top it all off, the production team sent us a message. Long live Lupin III!