The Helpful Fox Senko-san Anime Review
Sewayaki Kitsune no Senko-san Review
世話やきキツネの仙狐さ
I follow a number of manga artists on Twitter. I think that I came upon The Helpful Fox Senko-san's creator Rimukoro-sensei though some other artist retweeting Sensei's art. Then I started reading the manga and enjoyed it. So when an anime series was announced, I was pretty excited to see it. Sadly, it didn't quite live up the the awesomeness of the source manga.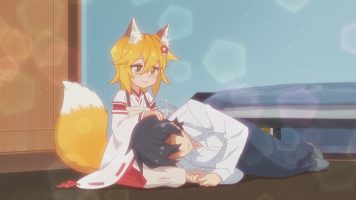 The Helpful Fox Senko-san: Story (In Brief)
For those who don't know, The Helpful Fox Senko-san centers around a salaryman named Nakano. He's plagued by overwork and such, which causes him to have a miasma cloud. The loli-babaa divine kitsune (an 800 year old woman with the body of an underage teen girl, who has fox ears, a fox tail, and fox magic) named Senko (Senko-san for politeness) decides to assist and pamper Nakano as a wife and mother.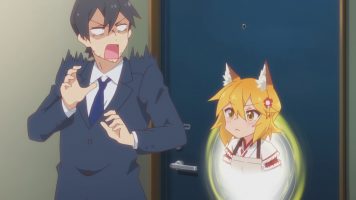 After some period of adjustment, Nakano comes to accept and enjoy Senko-san's presence in his life. Because of Senko-san, he meets his young, female college neighbor named Koenji. She is a manga author when she's not in school. Koenji becomes friends with Senko-san and Nakano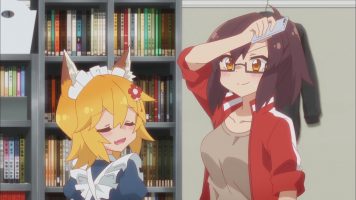 Also in the cast is another loli-babaa divine kitsune named Shiro. While Senko-san is more of a traditional housewife, Shiro is more of a kid at heart. As such, she forms a good friendship with Koenji in order to play video games and such.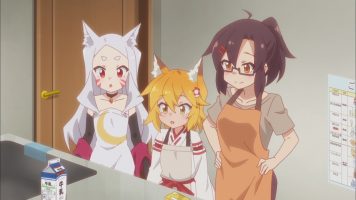 Rounding out the cast is another divine kitsune named Sora-dono. She rules the domain where the divine kitsune live.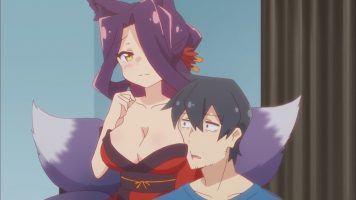 The anime takes Nakano and Senko-san through multiple adventures, culminating in Nakano coming to realize just how much Senko-san means to him.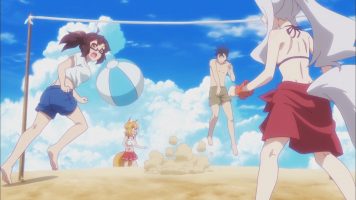 Changes to the Source Material Overview

Anime adaptations generally fall into three major categories. The first is a faithful adaptation of the source material, where changes are kept to an absolute minimum. The second is to use the source material as a basis for something that basically is a brand new work. (As an example, the various Slayers anime series fall into this category.) And the final category is a hybrid. The Helpful Fox Senko-san falls into this last category.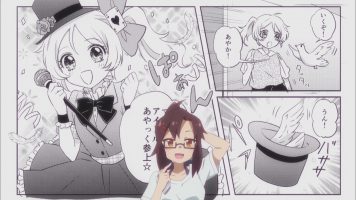 For each anime episode, the production team took two chapters from the manga. Then they expanded upon these chapters in order to fill time. However, the production team at Doga Kobo decides to use random chapters and string them together. If you've never read the source manga, it probably doesn't matter much. However, if you have read the manga, this random chapter pull was quite jarring at times.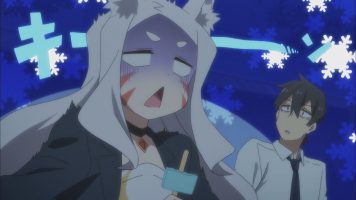 In order to have a cliched ending to The Helpful Fox Senko-san, Doga Kobo added their own subplot with Nakano and Senko-san. I understand the thinking process behind doing this. But to be honest, I just don't care for changing a story to add drama (or worse, melodrama) or conflict that didn't exist in the source material.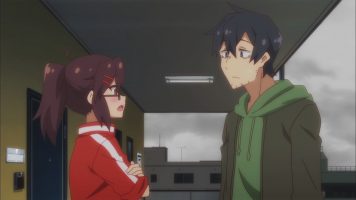 As to the filler, sometimes it worked fine and sometimes if felt like filler. And that doesn't take into account the "virtual" filler material at the end, where the audience becomes a character for Senko-san to pamper.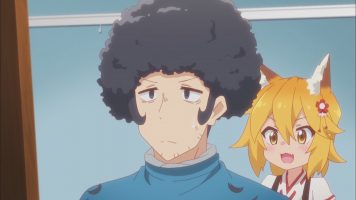 So for me, at times the anime episodes would be fun. At other times, not so much.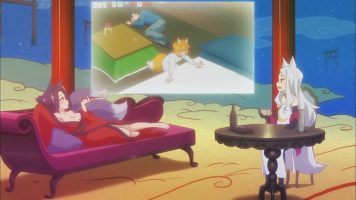 FUNimation's Subtitles: No Honorifics!
I don't know whom FUNimation had translate and/or adapt The Helpful Fox Senko-san. It may have been someone forced on them by Japan for all I know. Hopefully I'm not slamming someone I know. That aside, I hated many of the adaptation choices made in the name of "localization." To me, "localization" is the removal of as much Japanese flavor as possible from the translation in favor of making the text have a more Western flavor at all costs. Thus rather than go for accurate but readable subtitles, localization trumps all.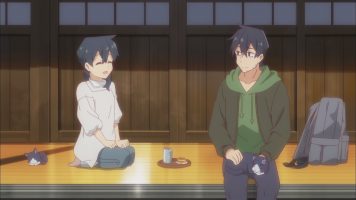 For The Helpful Fox Senko-san, even though FUNimation is using the -san honorific in their OFFICIAL English title, all honorifics were purged from the subtitles, save for translating the title cards. This makes ZERO sense to me and felt like a bait-and-switch move. It's possible that FUNimation's DVD/BD release could include honorifics in the subtitles. But considering they abandoned the Japanese honorifics policy around the time they became a publicly traded company, I kinda doubt honorifics survive a physical release.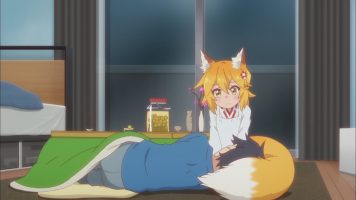 FUNimation's Subtitles: An Enraging Localization

While this was irritating to the extreme, what enraged me was the adaptation deciding to change how Senko-san addresses Nakano. Since she considers herself Nakano's wife and mother, and because she's 800 years old, she uses the archaic word "Onushi" (お主) to address Nakano. Much like the word "anata," this is a way of saying "you." Onushi also means "husband" or "head of a household."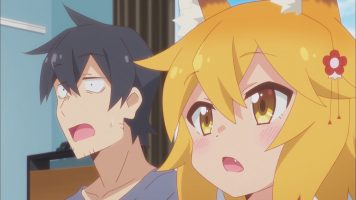 When a wife addresses her husband as "Anata," using the literal "you" makes things unreadable. However, since a wife is using the word as a term of endearment, adapting the term as "dear" is perfectly acceptable in the "accurate but readable" philosophy. In this light, when Senko-san addresses Nakano as "Onushi," having this adapted as "Dear" would have been good. Or possibly using some archaic term of endearment might have worked better (My Dear, for example).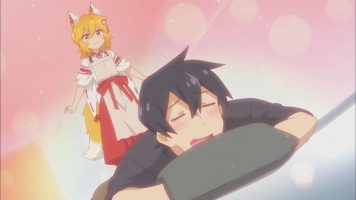 Instead, the subtitles for The Helpful Fox Senko-san displayed Senko-san as addressing Nakano as "Kuroto." This is a made up, given name for the anime. Until the end of the series, it was only used once during a flashback scene. But according to FUNimation's subtitles, Senko-san was using "Kuroto" all the time, and even some other characters did as well. That had me pounding my fists in rage, which is totally stupid, but hey, that's how I roll. 😅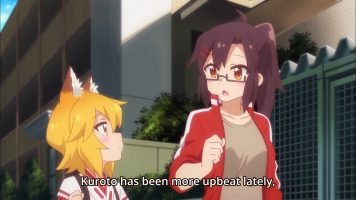 I can't understand why the FUNimation subtitles were so bad here. Were they afraid of having a loli-looking fox woman addressing a man as "dear" or "darling?" If so, they were stupid because the story even had the characters get into a bath together as well as share a bed.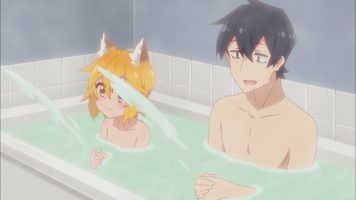 FUNimation's Subtitles: Weird Non-Localization Choices
I've already ranted on FUNimation's refusal to use Japanese honorifics in the subtitles, and their 100% incorrect usage of the name "Kuroto" when addressing Nakano. For me, the real puzzler was how many Japanese terms were left in the subtitles.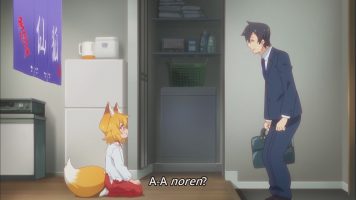 I'm 100% for leaving Japanese food names untranslated. That's because I sometimes want to try out a dish that I've seen in an anime. So when I'm at an authentic Japanese restaurant, I want the actual name of the dish, not some BS localized name. (Don't get me started on the use of the term "rice balls.") Also, I don't want any names or nicknames translated. And I'm cool with leaving Japanese words or terms in the subtitles where it makes sense. (The use of the word "mazoku" in the Slayers franchise springs to mind.)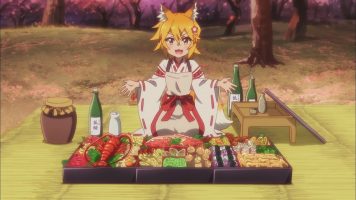 For The Helpful Fox Senko-san, there were frequent uses of Japanese terms in the subtitles. I never objected to their usage because I was learning something new. However, it didn't make sense to leave in a bunch of Japanese terms, but remove all of the Japanese honorifics.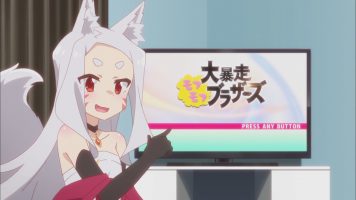 Final Thoughts and Concusion
In the end, The Helpful Fox Senko-san is a series that I can't say I hated in terms of story. However, by the end of the series, Doga Kobo's adaptation decisions made me like the anime less and less. FUNimation's poor adaptation choices didn't help matters at all. If you've never read the manga, I think you'll get the most enjoyment out of the series. But if you haven't read the manga, I highly recommend it as the story and flow are superior to the anime.