Tenchi Muyo! Ryo-Ohki OVA 5 Officially Confirmed
Hey gang! As most of you are probably aware of by now, AIC has officially confirmed that Tenchi Muyo! Ryo-Ohki OVA 5 is officially a go! As seen on the official Twitter feed…
天地無用!伍期HPはこちらです。https://t.co/7OHwBLG54X#天地無用

— 天地無用!魎皇鬼 四期公式 (@tenchi4th) July 12, 2019
And the official Tenchi Muyo! Ryo-Ohki OVA 5 site is now up and running.
And there's a bit more information at the Japanese website Comic Natalie.
Wasn't OVA 5 Already Confirmed?
When news hit, someone asked me if this wasn't old news. In a sense, it is old news. During Comiket 95, series creator Kajishima-sensei informed us that OVA 5 was coming and that it would have six episodes. Indeed, I reported about this earlier on this blog. 😁
However, it is one thing for Kajishima-sensei to let fans on the doujinshi circuit know what's going on. It is another for AIC to officially announce it. Now that this has happened, the series will happen (short of AIC going bankrupt or the like).
What Is Known About OVA 5?
Thus far, we don't have a great deal of information as to what Tenchi Muyo! Ryo-Ohki OVA 5 will be about. However, as I previously reported, this is what we believe will happen.
It will take place PRIOR to Tenchi Muyo! War on Geminar.
It will take place AFTER the birth of Tenchi's two daughters.
Kenshi from War on Geminar looks to have a major role.
Who Is the Girl in the Official Promo?
This is Jovia Jovis. She originates from the GXP novels during what is known as the Renza Arc. And she's shown with Kenshi of War on Geminar fame, who is Tenchi's half-brother.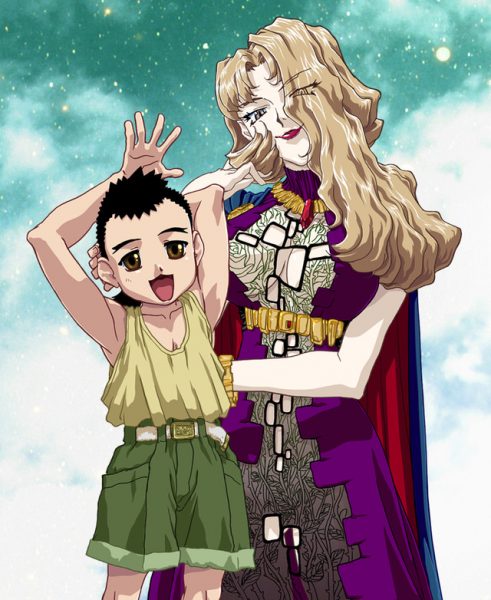 We're pretty sure she will be one of Kenshi's instructors for martial arts training.
I believe the first time Kajishima-sensei drew her was for the doujin title Omatsuri Zenjitsu no Yoru – Tenchi Ban 18.08. I've included the cover and a translated page of text, where Kajishima-sensei has her speak.
Anyway, if there is more news, I'll be sure to share it. And if any of you become aware of something, feel free to hit me up on Twitter or on Facebook and let me know. I'll make sure you get credit for tipping me off. 😄