Tonikaku Cawaii Chapter 79
Tonikaku Kawaii Fly Me to the Moon 79
トニカクカワイイ 79
Spoiler Summary/Synopsis:
Nasa returns the tools he borrowed to Nakiri. While at her shop, he tells her all about the things he's learned about women via his wife.
Meanwhile, Tsukasa learns of a festival. A girl comes in to talk to Kaname about someone named Shiba-san. Although Tsukasa isn't Kaname, the girl decides to unload about Shiba-san to Tsukasa.
Thoughts/Review:
Nakiri shows up again in Tonikaku Cawaii Chapter 79. And some new girl as well.
The Wonderful Husband
The one thing that amused me about the chapter is how Nasa gushes over Tsukasa to another girl. It is really nice reading a manga where the male MC doesn't give into the normal Japanese trope about being embarrassed or the like. Nasa doesn't give a care. He loves his wife, and that includes everything about her.
I was also amused by certain specifics Nasa mentioned. Why? Because I suspect these are things Hata-sensei has experienced with his own wife. I specifically think of the purchasing of cookies. 😂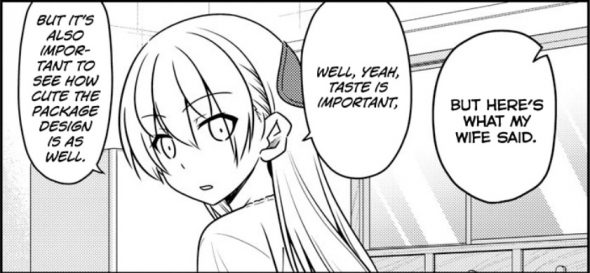 The New Girl
The cast grew by another girl in this latest chapter. But instead of her being someone known to Nasa, it is a friend of Kaname's. And now Tsukasa deals with her. The new girl is kind of amusing. I admit that I got a kick out of her ability to just roll with the situation, so much so that she sucks Tsukasa in.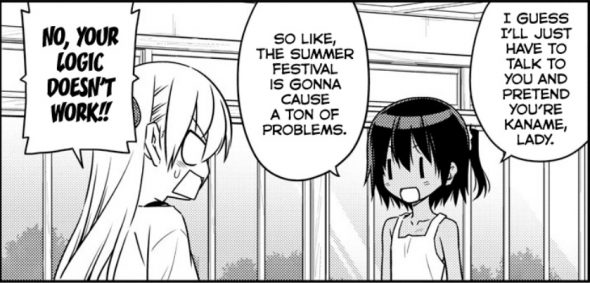 Final Thoughts and Conclusion
In the end, Tonikaku Cawaii Chapter 79 was a fun and amusing chapter.