Azur Lane 02
アズールレーン episode 02
SPOILER Summary/Synopsis
The Union and Royal ship-girls begin repair work after the damage taken in the fight against Sakura Empire carrier Akagi and Kaga. Battleship Prince of Wales and carrier Illustrious discuss the situation and how Union carrier Enterprise saved them. Illustrious worries about how tightly wound Enterprise is. Meanwhile, light cruiser Cleveland speaks with Enterprise and expresses her concern that Enterprise isn't getting rest.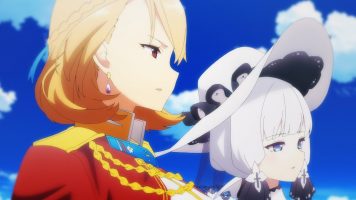 At sea, Akagi tends to Kaga's wounds. They are joined by Iron Blood heavy cruiser Prinz Eugen. She teases her allies regarding their recent loss. Akagi deflects the loss as merely toying with the enemy. To that end, Akagi has the 5th Carrier Division move to intercept an Azur Lane fleet lead by carrier Hornet, the sister of Enterprise, and battleship Arizona. Akagi baits Prinz Eugen into helping. She agrees, taking Iron Blood destroyer Z23 and Sakura destroyer Ayanami with her.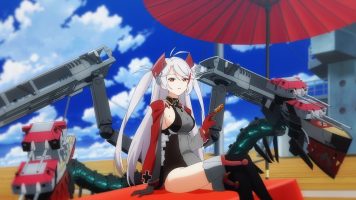 Back at the Azur Lane base, Union destroyer Laffey is eating lunch outdoors with Royal destroyer Javelin. Enterprise comes by and chats with the girls, who are concerned for her health. Meanwhile, the Union fleet heading to the Azur Lane base has destroyer Hammann taking point, followed closely by heavy cruiser Northampton, light cruiser Helena, light carrier Long Island, the battleship Arizona, and the carrier Hornet. Helena detects enemies as the fleet is intercepted by Sakura 5th Carrier Division carriers Shoukaku and sister Zuikaku.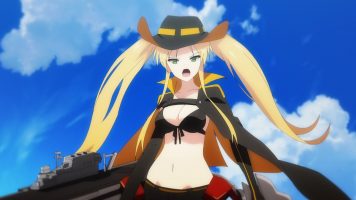 At the Azur Lane base, Prince of Wales learns of the attack. Before she can order reinforcements, Enterprise has already departed. Joining her are Cleveland, Laffey, and Javelin. The 5th Carrier Division with Prinz Eugen overpower the Union fleet, but Enterprise's arrival thwarts them. Unfortunately, Enterprise's damages catch up to her. But, before the Sakura can take advantage of the, the Royal Navy battleship Queen Elizabeth and her fleet reinforce their allies.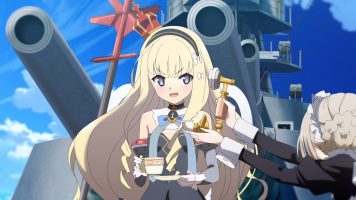 Thoughts/Review
With Azur Lane 02, a little exposition at the start of the episode certainly helped clear things up a bit more.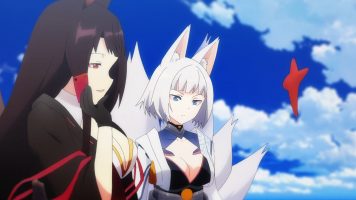 Ship Girls Explained
I liked that the prelude to Azur Lane 02 took the time to have some narration exposition. I figured the ship-girls could be a technological creation. We are told that "magical" Mental Cube crystal substance that was introduced to Earth due to the Sirens allowed humanity to create said ship-girls. So at least I have my explanation. However, I do wonder, "Where are the actual humans at?"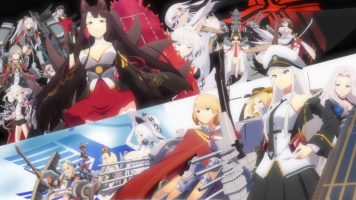 What still has to be revealed is why Azur Lane and Red Axis based their ship-girls on World War II ships.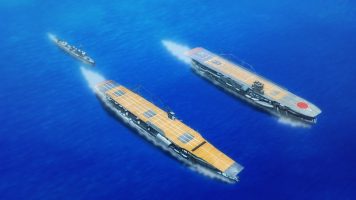 Also, I'm hoping the Siren threat is gone into more as the series goes on.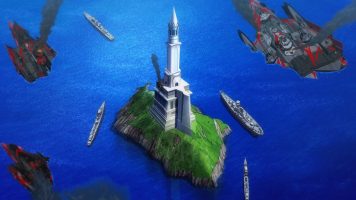 Battle Babes At Sea!
I admit, I've kinda gotten into the battle aspect of the series. Although some battle stuff really wearies me, I find that the fights to date in Azur Lane have been visually interesting. And I don't just mean because we have battle babes at sea. 😉 But I do find the animation from Bibury to be pretty good.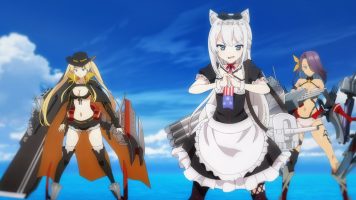 Also, I like that the fights do have a feel of tension to them. I'm not sure if these ship-girls can die, based on how Enterprise shot Kaga at point-blank range. But that said, seeing Enterprise in battle and her bow weapon break due to the damage from the previous battle wasn't something I expected. As such, I liked it.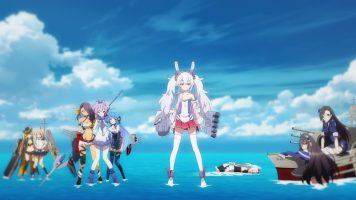 Of course, there were two, cliched "just in the nick of time" moments in Azur Lane 02 to stop the villains from landing finishing blows. But I found myself enjoying things enough to where I didn't mind the cliches.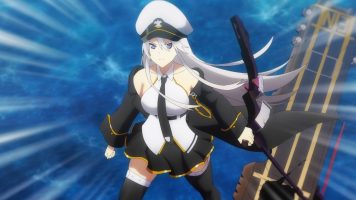 Final Thoughts and Conclusion
Time to wrap up my review of Azur Lane 02 with some bullet point thoughts.
I really didn't need the ecchi content that was thrown into the episode 'cause "reasons."
I did appreciate the little moments of levity in the series.
The series point of drama will seemingly originate with Ayanami not wanting to fight the enemy ship-girls she's come to respect, and vice versa. We'll see where that goes.
Why do some ship girls travel on their ship, in FULL ship form while others just travel in their battle-clad human form?
Giant bird chicks as crew? 😂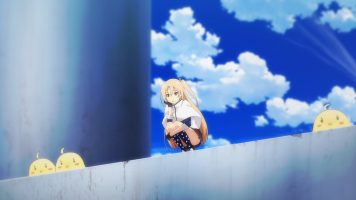 In the end, Azur Lane 02 was much more enjoyable than I had expected. And so far, the folks in charge here aren't giving folks the middle finger like the folks did in Fate/Grand Order.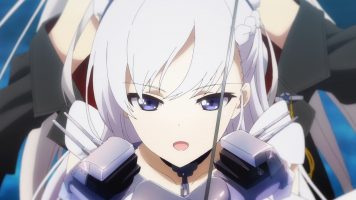 So what did you think about the episode, if you are watching? Let me know in the comments.