Fate/Grand Order Absolute Demonic Front: Babylonia 03
#FGO_ep7 #FGOBabylonia
Fate/Grand Order -絶対魔獣戦線バビロニア- Episode 03
Fate/Grand Order: Zettai Majū Sensen Babylonia ep. 03
SPOILER Summary/Synopsis
King Gilgamesh engages Mash, Ritsuka, and Ana in combat. However, he quickly bores of it and dismisses them. Ritsuka attempts to plead their case, but Gilgamesh already knows everything about them. He reveals he owns the Holy Grail they seek in this era. Ritsuka offers to handle the Three Goddess Alliance problem for Gilgamesh, which amuses him greatly. A man arrives with news that the goddess Ishtar is inbound.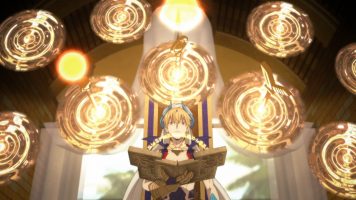 Ishtar arrives, crashing through the ceiling. Ritsuka and Mash recognize her. She attacks Gilgamesh, but Mash defends him. Mash and Ana attack Ishtar. She easily puts Mash and Ana on the ground. However, when Ritsuka defends Ana from getting a finishing blow, Ishtar has a change of heart. She inspects Ana, then comes to understand the situation to be more complicated.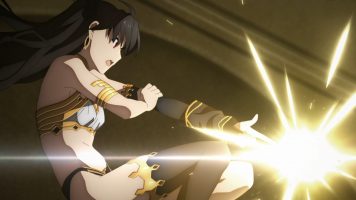 After she leaves, Gilgamesh dismisses Ritsuka and company. Siduri meets them outside with an offer to win favor with Gilgamesh. She provides them a house to stay in and they will do jobs around Uruk to help the citizens. They agree and Merlin decides to live with them as well. After a video conference with Dr. Romani and Da Vinci, three more Servants show up at the house for a party. They are Ushiwakamaru, MUSASHIBOU Benkei, and King Leonidas I. During the party, they discuss the Enkidu problem.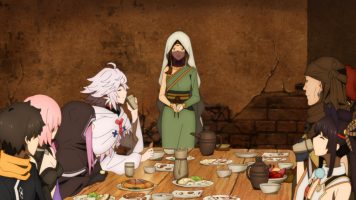 The next day, Mash, Ana, and Ritsuka are given their first job, making mud bricks. Merlin goofs off. This is repeated over multiple days. They even train with Leonidas. Sometime later, Siduri gives them a day off. As such, Ana hires them to purge passages under Uruk from evil spirits. Ana explains there's an issue where people are falling into eternal slumber.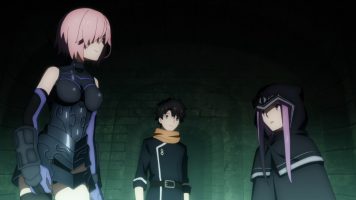 Meanwhile, a giant, naga-like entity named Mother slaughters a human in a cavern with Enkidu present.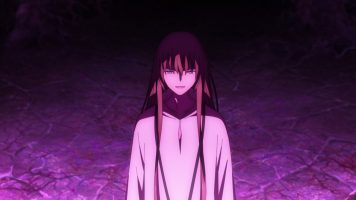 Thoughts/Review
And so we have another good episode with Fate/Grand Order Absolute Demonic Front: Babylonia 03. The anime is certainly better than the game, that's for sure.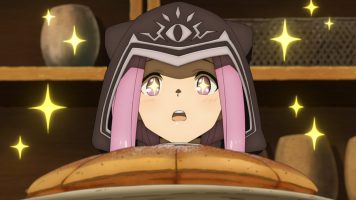 New Servants
I'm not sure how future episodes will handle these three new Servants that arrives. There's this asinine thought process that says knowing the identities and such of a Servant is a spoiler. That's utter rubbish, so I'm not wrapping this info in spoiler tags. Knowing who they are and their Servant class has ZERO impact on the story.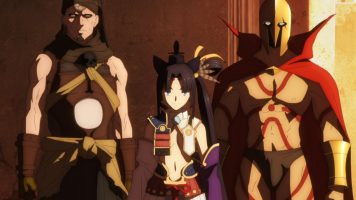 The new Servants are Ushiwakamaru, a female, Rider-class Servant who was a legendary Japanese military commander; MUSASHIBOU Benkei, a Lancer-class Servant who was a famous monk who worked with Ushiwakamaru; and King Leonidas I, a Lancer-class Servant who was the king of Sparta. In the FGO game, Benki is a trash 2* Servant. Leonidas is a 2* Servant who's only use is to be a pawn sacrifice for players "soloing" a fight. Ushiwakamaru is a decent 3* Servant.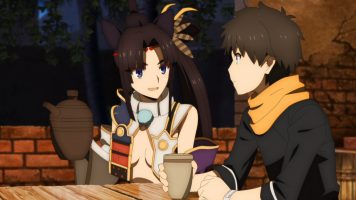 The Problem with the FGO Game
While there are countless problems with the Fate/Grand Order game, one of the things that annoyed me while playing was the "do jobs" part of Fate/Grand Order Absolute Demonic Front: Babylonia 03. From a story perspective, it makes perfect sense. And that's why it works as a collage in the episode. But in the game, if you go to make bricks, "Oh! Monsters! Fight!"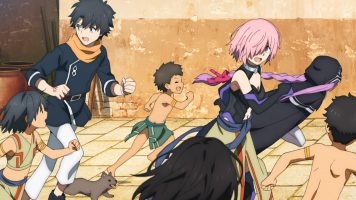 Ditto for all of the other jobs seen in the episode. I wondered how the anime would deal with that bit of irritation. I'm glad to see that except for Ana's job, none of the jobs had any fights attached. And that's how it should be.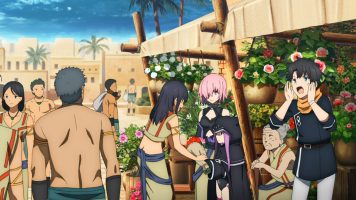 Ishtar
Because I mostly skip stories in Fate/Grand Order, I don't know when an explanation of why Ishtar looks like TOHSAKA Rin happens. I was kind of hoping it would be Fate/Grand Order Absolute Demonic Front: Babylonia 03, but that was not the case. I know the reason, but I don't know all the details.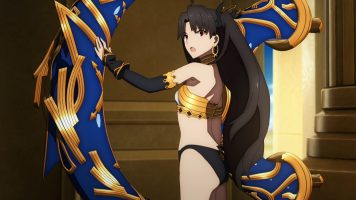 Still, it is fun seeing "Rin" in this new form. And I look forward to more of her fun antics as the series progresses.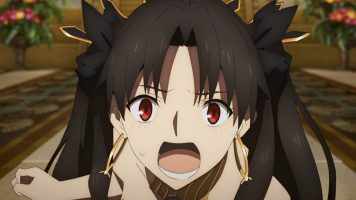 FUNimation/Aniplex USA
I realize Aniplex USA is probably calling the shots on not using Japanese honorifics in the subtitles. However, I find it LAUGHABLE that most of the time, honorifics are ignored. Ah, but I forget–ignoring honorifics is a VALID adaptation choice 'cause "reasons." So while I think the subtitles should use Japanese honorifics, I don't get why sometimes they are acknowledged and other times, ignored.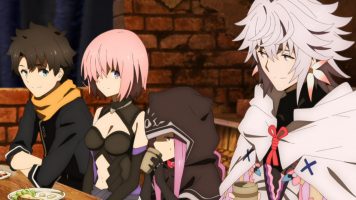 Final Thoughts and Conclusion
In the end, Fate/Grand Order Absolute Demonic Front: Babylonia 03 is a pretty enjoyable episode. The ground continues to be lain for future story elements while providing a bit of local color.
Note: For those interested, I do have some videos on YouTube created for the Fate/Grand Order mobile game. I'm looking to hit 1000 subscribers on YouTube, so click this link to help me reach my goal. 😁