Tonikaku Cawaii Chapter 80
Tonikaku Kawaii Fly Me to the Moon 80
トニカクカワイイ 80
Spoiler Summary/Synopsis:
Tsukasa wants Nasa to look the other way while she changes into her yukata for the summer festival. Nasa complies and plays with Toast, but since they are married, he feels he should be allowed to look. As such, he asks for permission to look. She's somewhat amazed at his straight forward request, but grants him permission. She gently scolds him for staring at her, but his reasoning being her cuteness ends that. They begin kissing before Tsukasa is forced to stop him so that he'll get changed as well.
Nasa puts on his yukata and the two head to the festival. Their first stop is to purchase takoyaki. Tsukasa is determined to visit as many festival stands as possible. When they come to the goldfish scooping stand, Tsukasa warns Nasa that she's very good at it. She respects his request to go easy, but still gets a bag full of fish. As such, she teases him on how bad he was with the flimsy, paper scoop. But, she tells him that in front of a PC, he's really cool.
The fireworks show starts. With that, the two share thoughts of doing this year after year since they are married.
Thoughts/Review:
Hata-sensei does the summer festival story in Tonikaku Cawaii Chapter 80. And I for one really enjoyed it.

Nasa the Bold
One of the fun things about Tonikaku Cawaii is that Nasa isn't the normal, foundering male MC when it comes to women. Because of this, I got a kick out of Nasa boldly asking his wife if he can watch her change clothing. After all, he does have a point–they are married, so it shouldn't be a big deal.
And Nasa isn't afraid to start the kissing game for his cute wife. I had to laugh 'cause he was all male in that instance. It was Tsukasa who had to keep him grounded since they were going to the festival, not have a make out session.
Summer Festival
While the traditional, Japanese summer festival is often done, Tonikaku Cawaii Chapter 80's version reminded me of two series. The first was Hand Maid May, where I believe Cyberdoll Kei managed to score a ton of goldfish, much like Tsukasa.
The other series I was reminded of was A Certain Scientific Railgun. While this isn't associated with summer festivals, Tsukasa's look and remarks reminded me of how the various Imouto clones would act when teasing.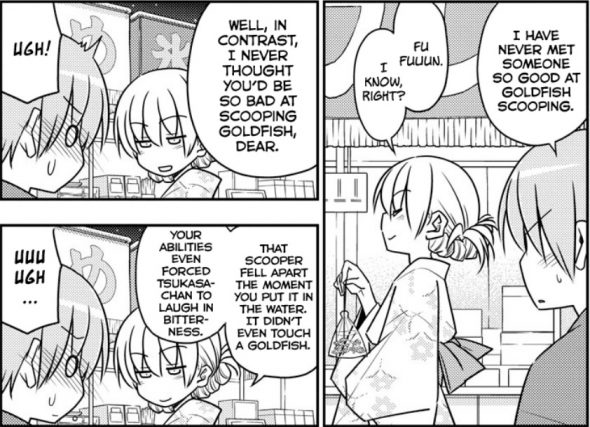 Regardless, it was all good fun, even if we didn't get to see the couple doing other festival stands.
Final Thoughts and Conclusion
In the end, Tonikaku Cawaii Chapter 80 is a fun chapter, giving a glimpse of our happy couple at a summer festival.