Fate/Grand Order Absolute Demonic Front: Babylonia 05
#FGO_ep7 #FGOBabylonia
Fate/Grand Order -絶対魔獣戦線バビロニア- Episode 05
Fate/Grand Order: Zettai Majū Sensen Babylonia ep. 05
SPOILER Summary/Synopsis
King Gilgamesh arrives at the Chaldea residence in Uruk to personally give Mash and Ritsuka their new mission. That take a covered wagon to the Persian Gulf with Gilgamesh in the back. When they stop for lunch, Gilgamesh has them tell him tales of their adventures. He finds them boring as he wasn't there, but he acknowledges they had a great journey.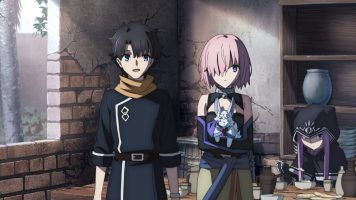 The trio eventually arrives at the observatory at the Persian Gulf, where they load large jars of water onto the wagon. When they are done, Mash and Ritsuka take a break by the sea. Dr. Romani and Da Vinci warn them of incoming danger. Mash erects a shield as Enkidu comes in rapidly and attacks. From Chaldea, Romani recognizes Enkidu's attack style as being similar to Gilgamesh's.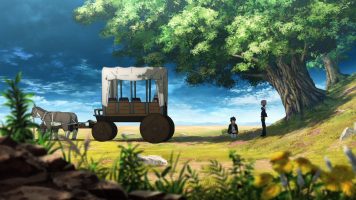 Mash is defeated, but Gilgamesh comes in and saves her. Enkidu and Gilgamesh engage in combat. Mash informs Gilgamesh that this Enkidu is a fake. Gilgamesh is impressed with how close to real person fake Enkidu is. As their fight continues, Enkidu becomes enraged. Enkidu and Gilgamesh appear to activate their Noble Phantasms. A vision causes Enkidu to abort an attack at the last second and retreat.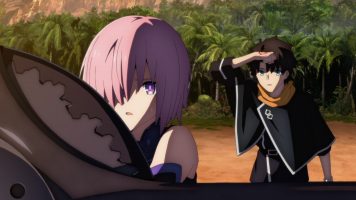 Mash thanks Gilgamesh for saving her. He responds that he had nothing to do with it as Enkidu could have easily killed all of them. He then orders their return to Uruk. Meanwhile, Enkidu is in anguish and having electronic visions of time spent with Gilgamesh.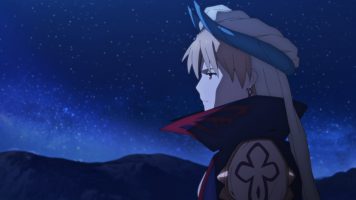 Thoughts/Review
We have a somewhat slower, character episode in Fate/Grand Order Absolute Demonic Front: Babylonia 05, but it was not boring, especially at the end.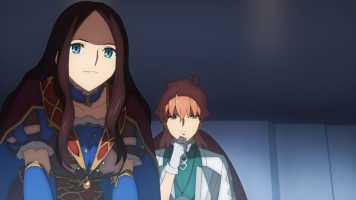 Gilgamesh and Enkidu
Hilariously, the first time I heard of Gilgamesh and Enkidu was via the Star Trek: The Next Generation episode "Darmok". So it is kind of fun getting these two friend's updated story.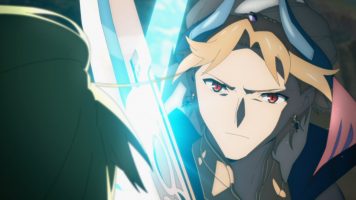 The battle between Enkidu and Gilgamesh was fun. I don't think that the anime series has stated that both of these characters are Servants. But it was fun seeing them both about to go full bore.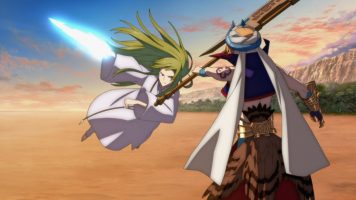 I've said this before, but it is also fun seeing Caster Gilgamesh in this go-around. He's such a bastard in Fate/stay night and in Fate/Zero . But for Fate/Grand Order Absolute Demonic Front: Babylonia 05, it is nice seeing him be arrogant, but still good king.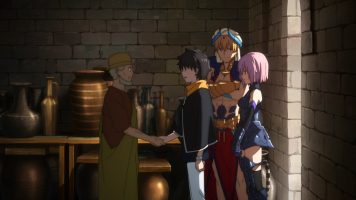 Another Flashback
Once again, Mash's story lacks emotional impact because the earlier Singularity stories weren't animated. I appreciate the effort though.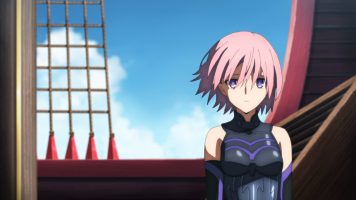 I did like seeing Francis Drake (Rider) in the flashback. But then I'm fond of her from the Fate/Grand Order game.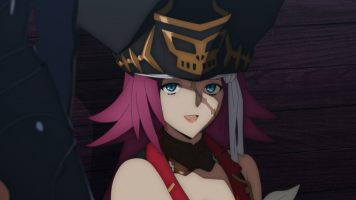 Final Thoughts and Conclusion
In the end, Fate/Grand Order Absolute Demonic Front: Babylonia 05 is a slower, character episode with battle at the end.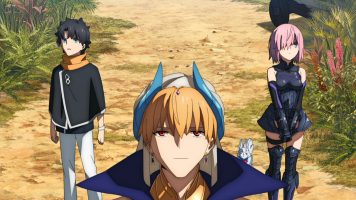 Note: For those interested, I do have some videos on YouTube created for the Fate/Grand Order mobile game. I'm looking to hit 1000 subscribers on YouTube, so click this link to help me reach my goal. 😁