Fate/Grand Order Absolute Demonic Front: Babylonia 08
#FGO_ep7 #FGOBabylonia
Fate/Grand Order -絶対魔獣戦線バビロニア- Episode 08
Fate/Grand Order: Zettai Majū Sensen Babylonia ep. 08
SPOILER Summary/Synopsis
Merlin is going to cover Mash and Ritsuka escaping, but upon learning that Tiamat can use Mystic Eyes of Petrification, he changes his mind. Mash uses her shield to defend them, but it isn't enough. Rider Ushiwakamaru enters the fray to give the group cover to flee. Ushiwakamaru attacks Tiamat with her Noble Phantasm while Ritsuka and company reach Uruk. However, it is not enough as the defeated Ushiwakamaru is brought by Tiamat to the gates of the city.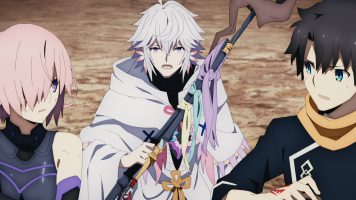 Lancer Leonidas emerges to battle the giant naga. He uses his Nobel Phantasm to summon an army of spirit warriors who attack, but to no avail. They form a shield wall against Tiamat's attacks. Leonidas reveals he knows Tiamat to in fact be the legendary Gorgon. He is defeated, but Ushiwakamaru revives enough to get off her most powerful Nobel Phantasm attack. It is to no avail as Gorgon has a Holy Grail within her.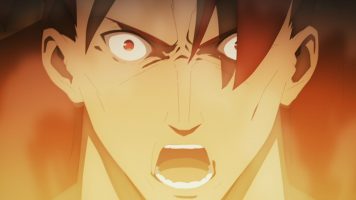 Gorgon is about to wipe the city out. However, Enkidu advises against this as it would break the Three Goddess Alliance. Gorgon backs down, but gives the humans ten days. Enkidu is revealed to be a prototype of the entities that will take the place of humans on Earth. Further, his true name is Kingu. After Kingu leaves, Benkei departs, stating he's not the real Benkei. He brands himself a coward and leaves to fight the demonic beasts alone for redemption.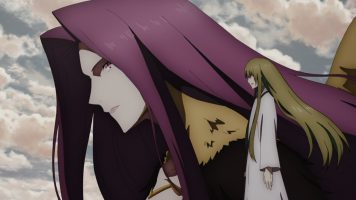 The loss of three Servants decimates troop moral. Ritsuka takes it upon himself to start repairs on the wall and inspires the men to do the same. Meanwhile, Kingu allows captive human children to leave their underground lair, where humans are converted to monsters. Ushiwakamaru awakes to find herself captive. Kingu tortures her a bit, but then decides that Ushiwakamaru will be bathed in Black Mud and converted.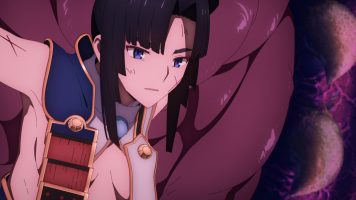 Thoughts/Review
My job may have delayed me from watching Fate/Grand Order Absolute Demonic Front: Babylonia 08, but now I have and things are going down.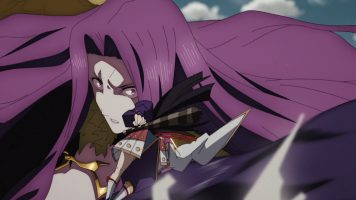 Servants Exit Stage Left

I like Ushiwakamaru as a character. In the Fate/Grand Order game, she is one of the few three-star Servants I actually use. As such, I did like seeing her in the anime series. That said, there was no logical reason for her to have all of this extra interest in Ritsuka, who's not her Master.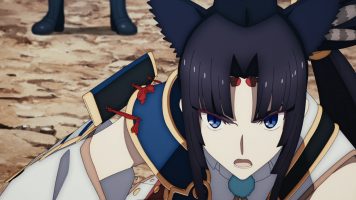 Unfortunately, Fate/Grand Order Absolute Demonic Front: Babylonia 08 shows us why she kept being pushed to the front. The writers of this story needed for the audience to like her so that in typical TYPE-MOON fashion, they could make her suffer in brutal, horrific ways. And though I skip the stories in the game, I do know what's coming for her, and I'm not looking forward to it.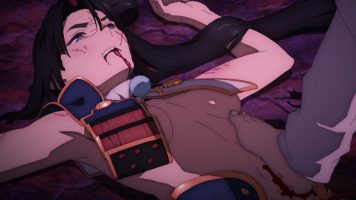 I never use Leonidas in the game, and he's certainly not as cool there as he was in this episode. But his sacrifice felt legitimate and not forced. The episode almost made me want to level him up. (I can't waste the resources though.)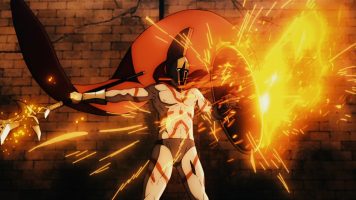 As for Benkei, I actually had to laugh at his departure. Why? In addition to being two-star Servant, he's utter rubbish in the game. So it was as if the story is making an in-joke about the character in the game.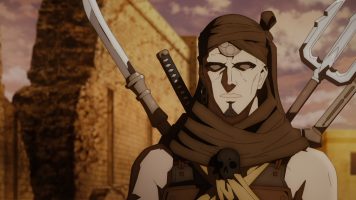 Ritsuka
As an MC, Ritsuka doesn't have a ton to do, especially in combat. And because the entire Fate/Grand Order game story isn't being adapted, we've not been able to see his growth as a character. However, Fate/Grand Order Absolute Demonic Front: Babylonia 08 allowed us to see a good side of Ritsuka.  His actions at resuming the work Leonidas had him do earlier in the series spoke louder than any speech he could have made. I liked how this simple act of honoring Leonidas helped raise troop moral.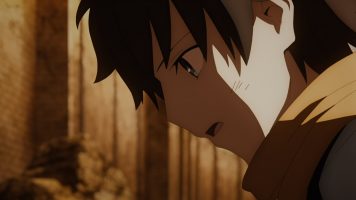 Tiamat is Gorgon; Enkidu is Kingu
Since I skipped the FGO story, I have no idea why Gorgon was being called Tiamat. Dr. Romani and the folks at Chaldea determined she was an Avenger-class Servant. So why couldn't they determine that this was Gorgon? I know there's this Servant ability to hide their identity. But Gorgon literally had snakes for hair. So it seems like some basic reasoning should have come into play here. In addition, it would have seemed like Merlin should have known something.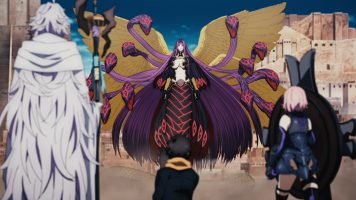 As for Enkidu, that's a more understandable case of mistaken identity. Kingu actually has the form of Enkidu and apparently, Enkidu's powers and some memories. So in this case, the deception makes sense.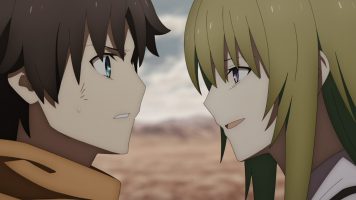 Final Thoughts and Conclusion
In the end, Fate/Grand Order Absolute Demonic Front: Babylonia 08 is a good, action-filled episode. I dislike how the story forced Ushiwakamaru forward just to put her through the grinder, and everyone not recognizing Gorgon is a stretch, but otherwise no real complaints from me.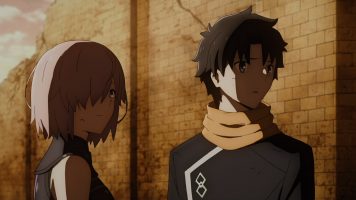 Note: For those interested, I do have some videos on YouTube created for the Fate/Grand Order mobile game. I'm looking to hit 1000 subscribers on YouTube, so click this link to help me reach my goal. 😁 And you can always follow me on Twitch too if you are so inclined since I also stream FGO and Star Wars: Knights of the Old Republic there. 😉