Fate/Grand Order Absolute Demonic Front: Babylonia 15
#FGO_ep7 #FGOBabylonia
Fate/Grand Order -絶対魔獣戦線バビロニア- Episode 15
Fate/Grand Order: Zettai Majū Sensen Babylonia ep. 15
SPOILER Summary/Synopsis
Ana (Medusa) battles Gorgon (Medusa), backed by Istar, Mash, Merlin, and Ritsuka. She manages to defeat Gorgon at the cost of sacrificing her own life. Kingu (Enkidu) arrives and is unhappy. However, Merlin realizes that killing Gorgon allows Kingu's attempt to revive the real Tiamat to proceed. Kingu leaves as Merlin begins to fade. Merlin has a message for Ritsuka and Mash to deliver to Gilgamesh. The two leave, deploying Ishtar to help Uruk, which is now under attack from Laḫmu, the "new humanity".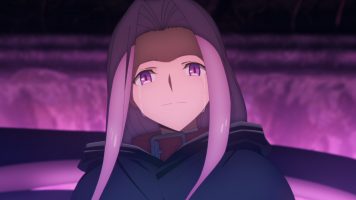 Quetzalcoatl joins the fight as Mash and Ritsuka reach Uruk. The Laḫmu retreat under bizarre circumstances. Ritsuka's party reports to Gilgamesh, who gives orders to the residents of the city. Ritsuka notices Siduri missing. Gilgamesh informs them that she was taken by the Laḫmu. However, Gilgamesh eventually decides to let Ritsuka's party search for her since they aren't officially part of Uruk's armies.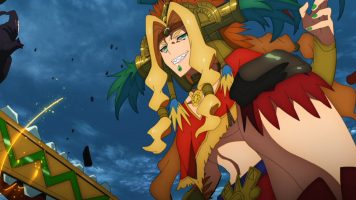 Elsewhere, the Laḫmu make blood sport of the humans. Istar becomes enraged and battles the Laḫmu, as does the rest of the party. One attacks Ritsuka, only to be thwarted by Quetzalcoatl. The stunned Laḫmu makes a sign, which Ritsuka and Ishtar recognize as Siduri's.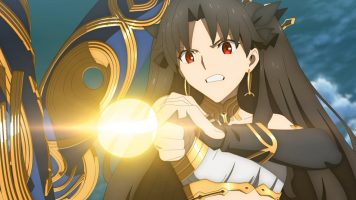 Meanwhile, Mash is fighting a desperate battle and is helped by Kingu. He is irritated that the Laḫmu are engaged in blood sports. Ritsuka's party attempts to convince Kingu that he wasn't created from the same material as the Laḫmu. Kingu doesn't want to hear it, but the Laḫmu turn on him and attack.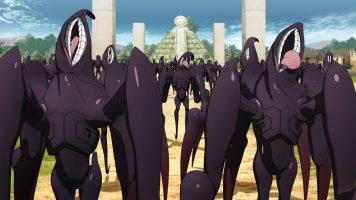 Thoughts/Review
And so we get to the the fracked up stuff TYPE-MOON loves so much in Fate/Grand Order Absolute Demonic Front: Babylonia 15.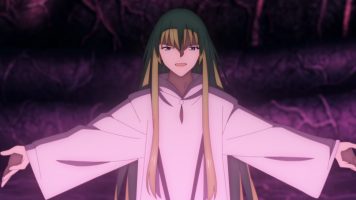 Laḫmu
As I have previously stated in other episode reviews, in the source Fate/Grand Order mobile game, I almost never do the stories. This is primarily due to time constraints. As such, although I gathered that the Laḫmu were the converted humans, I didn't expect to see Siduri there. And I don't know what becomes of her, though somehow, I kinda doubt she gets saved. After all, this is TYPE-MOON we are talking about here. 😅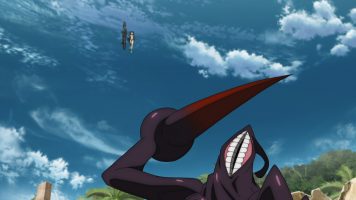 Also, I didn't expect the Laḫmu to turn on Kingu/Enkidu. So it will be interesting to see what becomes of that.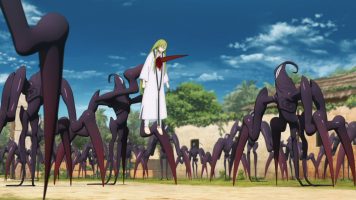 Final Thoughts and Conclusion
Since I'm behind and needing to queue up reviews to cover me through the upcoming Fate/Grand Order event, let me wrap up my review of Fate/Grand Order Absolute Demonic Front: Babylonia 15 with some bullet point thoughts.
What happened to Jaguar Man? I didn't remember her dying or anything in the previous episode. But in my mind, she should have been around for the fight.
Although it didn't surprise me, I was sad that Ana died. Still, her battle with Gorgon seemed somewhat anti-climatic.
I'm not sure if Merlin is dead or not. I didn't expect him to take damage from Tiamat awakening.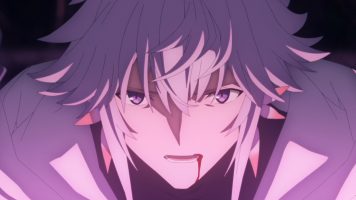 In the end, Fate/Grand Order Absolute Demonic Front: Babylonia 15 was an enjoyable episode. There were a few surprises for me, and one non-surprising element that happened.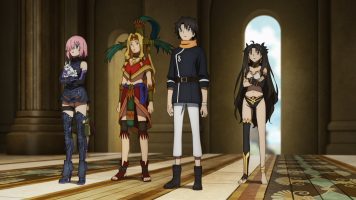 Note: For those interested, I do have some videos on YouTube created for the Fate/Grand Order mobile game. I'm looking to hit 1000 subscribers on YouTube, so click this link to help me reach my goal. 😁