ユーキューホルダー! 魔法先生 ネギま!2 Manga Review
UQ Holder! Mahou Sensei Negima 2
UQ Holder!: Magister Negi Magi! 2 Chapter 168
UQ Holder Chapter 168
SPOILER Summary/Synopsis: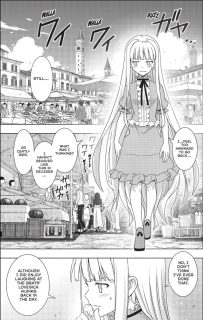 Eva realizes that Sept duped Touta and herself. Since they are stuck naked in the underwater bubble for 20-minutes, they start to chat. Eva becomes self-conscious about being naked in front of Touta. He expresses happiness seeing her smile. Eva takes the time to confess how she had Touta made to defeat Ialda Baoth, the Mage of the Beginning. However, none of this bothers Touta.
Touta asks if Eva remembers him from her youth. However, he makes a remark about her small breasts, leading her to slap him and flee. Eva is frustrated with herself for acting like a junior high school girl. However, her reaction reminds her of her old friends from long ago. She decides that to get her emotions back in check, she returns to her Yukihime form.
She meets back up with Touta. Karin, Kuroumaru, and Kirie decides to spy on them. Meanwhile, Yukihime uses her age-altering magic drug to cause Touta to appear to be a young man. And she gets him new clothing. The two then walk and talk, where she discusses her time with Negi and her former classmates. They find a group of statues dedicated to Negi and company.
After that, the two have dinner and continue to talk. As Touta realizes Yukihime's happiness, he decides to flee. However, Yukihime easily catches him. He's depressed that there was another world where he did not exist and she did not need him. Yukihime comforts him, then returns them to their true forms. She acknowledges remembering him from the past and concedes he was her first love. Nevertheless, because she knew him later as an infant, then raised him as a mother, her feelings are conflicted. But, she needs him here and now. And her happiness derives from her friends of old and her current friends.
Thoughts/Review:
It seems Akamatsu-sensei is beginning to resolve the Eva x Touta thread in UQ Holder Chapter 168. I just hope it ends with Eva out of Touta's harem, but remaining as his friend.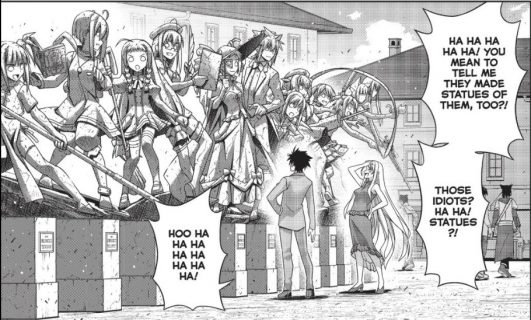 Unnatural Eva
I have to say, it just feels weird to see Eva being the one blushing like a school girl of matters of romance. And it was downright unnatural for her to flee a situation, even when she's naked. I think back to all of Negima!, where Eva basically had no qualms about being naked. And she certainly didn't have any qualms regarding sex.
As to love, I think she did fall in love with Nagi. (Though we can't look too deep there  'cause Eva's time with Ala Rubra clashes with Arika being with the group.) But even then, she wasn't all blushing and such.
Still, I get what Akamatsu-sensei is attempting to do. He's using Eva's blushing and becoming flustered as a way of saying, "Look how Negi and his class of nutty girls (and battle babes) changed Eva for the better." But it is still so weird to see her like this.
No "Eva x Touta" Please!
For this alternate universe, I can buy that Touta was Eva's first love. After all, Touta was about the age that Eva was when she became a shinso vampire. And so when she met Touta in Dana's realm, he was a breath of fresh air for her. He was a beacon of hope for her. And as she said, his words carried her for 200 years.
But her fight for survival, and constant harassment by those attempting to take her life caused her to forget about him for the most part. And then even in this alternate timeline, she fell in love with Nagi, then later Negi. And when Touta returned to her life as an infant, everything changes. That change went further when Eva became his guardian. Of course Touta didn't know Eva then, but as she stated in UQ Holder Chapter 168, this complicated things.
As such, I don't want Eva in Touta's harem. When Touta and UQ Holder save Negi, I want Eva to end up with Negi. Touta has Karen, Kuroumaru, Kirie, and more. So lets avoid the pseudo-incestuous elements and leave Eva out of the harem!
Final Thoughts and Conclusion
Let's wrap up the review of UQ Holder Chapter 168.
I think this is the first time we've seen Touta in adult form. It worked for what it was.
I got a kick out of having Karin, Kuroumaru, and Kirie spying on Eva's and Touta's date. If I get my way about the Touta x Eva thing, I do hope Akamatsu-sensei gives Touta the battle harem.
Also, I have to say that Kuroumaru wanting a photo of young man Touta made me laugh.
Finally, I did like the tribute made to Negima.
In the end, UQ Holder Chapter 168 appears to be about wrapping up the Eva x Touta plot thread. Although it was odd seeing Eva like this, I did like the chapter for what it was.