Fate/Grand Order Absolute Demonic Front: Babylonia 18
#FGO_ep7 #FGOBabylonia
Fate/Grand Order -絶対魔獣戦線バビロニア- Episode 18
Fate/Grand Order: Zettai Majū Sensen Babylonia ep. 18
SPOILER Summary/Synopsis
Kingu observes Uruk as Gilgamesh has a chat with Mash and Ritsuka, making sure they understand they are not responsible for Tiamat. Back at their residence, Ritsuka has a chat with Quetzalcoatl. She confesses to knowing Gorgon wasn't Tiamat. On the roof, Mash has a chat with Ishtar about things. Meanwhile, Kingu has made it to Uruk and wonders why he's here. Gilgamesh confronts him. However, Kingu is literally falling apart. Gilgamesh gives him a Grail, which causes Kingu to recover. With that, Gilgamesh explains that he is doing it out of respect for his old friend Enkidu. Further, Gilgamesh encourages Kingu to take advantage of this second chance at life.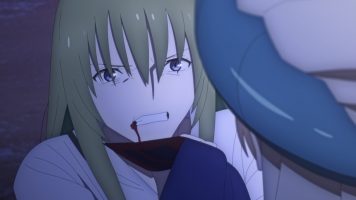 Later, Gilgamesh has a war council where they come up with a plan to slow down Tiamat. The following day, he gives a rousing speech to the survivors in Uruk. Meanwhile, Ritsuka's party goes out to deal with Tiamat. The dark Ushiwakamaru Servant clones intercept. However, the Servant Benkei shows up to redeem himself and protect them from her, allowing Ishtar to deal with other enemies. Quetzalcoatl uses her first Noble Phantasm (Piedra Del Sol) to burn the black mud beneath Tiamat. This causes Tiamat to collapse.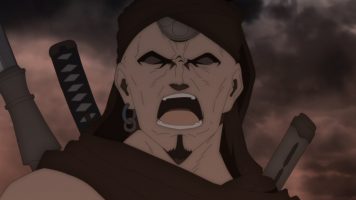 Shockingly, Tiamat alters herself a bit so that she can do the impossible–fly. Ritsuka uses his last Command Spell to send Quetzalcoatl the required mana so she can use her devastating Noble Phantasm attack, Xiuhcoatl. Benkei prevents the Ushiwakamaru Servants from escaping the blast zone. Unfortunately, the damaging attack still was not enough. As such, Ritsuka has new orders for Ishtar and Mash.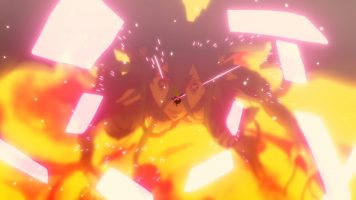 Thoughts/Review
And so we lose another Servant (or three) in Fate/Grand Order Absolute Demonic Front: Babylonia 18. But it was a really good episode.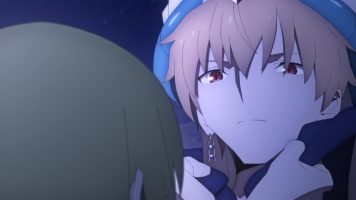 The Unstoppable Enemy
Long ago, I learned something in a writing seminar–keep piling more misfortune onto your heroes to increase the drama.  In the case of Fate/Grand Order Absolute Demonic Front: Babylonia 18, its having Tiamat become an unstoppable force. The stakes were already incredibly high. Our heroes had a plan. But, in the constant "raise the stakes" guide to writing, none of that is good enough. As such, Quetzalcoatl fires her two Noble Phantasms to no avail.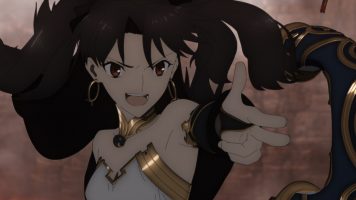 Well, I say to no avail. The truth is, Tiamat suddenly gets new skills to overcome whatever disability Quetzalcoatl dropped on her. Thus we get a textbook example of raising the stakes for our heroes and creating a seemingly unstoppable enemy.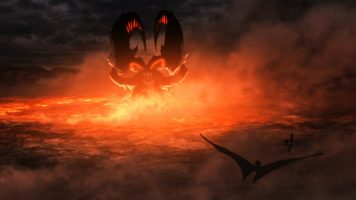 Localization
It still irks me to no end when the official English subtitles decide to insert Spanish for Quetzalcoatl when she speaks no such thing. This is exactly why I despise "localization." It is where an adapter decides they know better than the original Japanese writers on what should or should not be relayed to English audiences. In the adapter's mind, as long as the general thought process is contained, who cares if what they put on screen is accurate or not.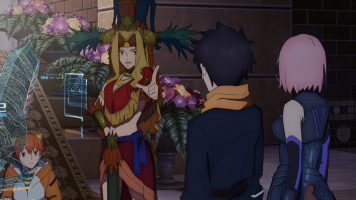 When Quetzalcoatl actually speaks Spanish in the Japanese, then yeah, I want those Spanish terms left in the English text. But when she's not speaking bloody Spanish, don't go inserting it into the text because you, the adapter, are singing, "🎵I am smart, much smarter than you, losers!🎶" Accurate but readable is what I want. That means I don't want your exercise in creative writing to try to "improve" on what the Japanese writers wrote.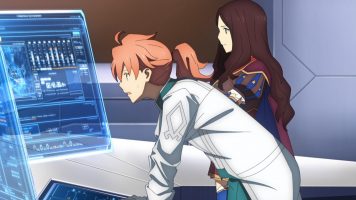 Final Thoughts and Conclusion
Let me wrap up my review of Fate/Grand Order Absolute Demonic Front: Babylonia 18 with some final thoughts.
At least this time, the writers made sure to have a throw away line explaining where Jaguar Man was at.
Since Gilgamesh gave Kingu-Enkidu a Grail, that means we'll see Kingu use Enkidu's Noble Phantasm before all is said and done.
I had completely forgotten about Benkei. Naturally, the writers have him turn up for a deus ex machina moment and a heroic sacrifice.
I didn't expect to see Ushiwakamaru back. I thought they'd killed her. But in the "raising the stakes" game, I guess the writers thought to bring her back one more time was the thing to do. I suppose it is a good thing only three of her were left.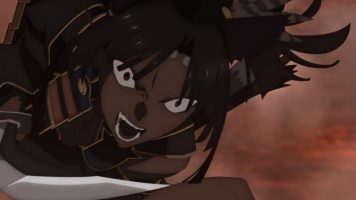 In the end, Fate/Grand Order Absolute Demonic Front: Babylonia 18 was a very good episode, despite my…irritation with the English subtitles.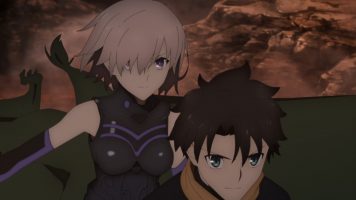 Note: For those interested, I do have some videos on YouTube created for the Fate/Grand Order mobile game. Of course, I'm doing other gaming stuff as well. Nevertheless, I'm looking to hit 1000 subscribers on YouTube, so click this link to help me reach my goal. 😁