My Monster Secret Volume 09 Manga Review
Jitsu wa Watashi wa/実は私は 09
My Monster Secret: "Actually, I am…" 09
–> Buy My Monster Secret Volume 09 from Amazon.com
Man, I cannot believe it has been TWO YEARS since I last read a volume of My Monster Secret. 😅 I know it is hard to believe, but I love this manga a ton. Yet I literally had ten volumes of the series collecting dust when volume 19 came in. As such, I decided to end this crime and get back to reading the bloody series, first taking time to reread the first eight volumes.
NOTICE!!! In the interest of full disclosure, I should mention that I am the adapter for the official English translation of the True Tenchi Muyo! novels, which are also published by Seven Seas.
***SPOILERS***
The Story in Brief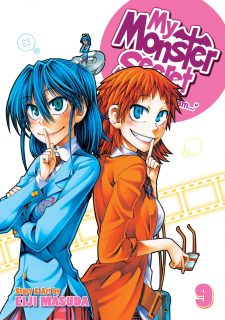 Thanks to Akane's prompting, Nagisa tells Youko she's in love with Asahi. Youko acknowledges her own feelings for Asahi to Nagisa. Akane gets the news, then runs into her future self, who informs her that she does not marry Asahi. Meanwhile, Asahi, Okada, Sakurada, and Shimada head to a maid cafe. However, they are horrified to learn that Akari-sensei is working there part-time.
Nagisa discovers that Akemi is a fierce rival for Asahi's affection. They decide to settle things on the upcoming class trip to the tropics. However, fierce storms caused by Akane and others not acting normal threaten to ground their flight. Fortunately, the weather clears and they make it to the tropics. Once there, Nagisa and Akemi begin their fight over who gets to pursue Asahi.
Meanwhile, Shiho has her fun with making Asahi's nose bleed. Rin comes in to help him. However, when Shiho's mom makes an appearance, Rin allies with her to fend off the Nympho Icon.
Youko's father, Genjirou, is fretting over Youko being in the liberating tropics. Karen is there to try to keep him from doing something stupid. However, Akane is there, stirring the pot. As a result, after multiple failed attempts to fly across the ocean, Genjirou and Karen turn the Shiragami estate into a tropical beach. Genjirou's wife, Touko, is not amused when she comes home.
Finally, Nagisa decides to confess to Asahi, with Akane's help.
Romance Plot: Akemi
Of the three romance plot threads, Akemi's has the biggest surprise in My Monster Secret Volume 09. Akemi already met her future self when she and Asahi went to the future with Rin. However, for this volume, Future Akemi comes to the past and lets Akemi know that she doesn't marry Asahi. So although Rin addresses Akemi as "grandma", it is a familiar relationship, not a family one.
Still, Masuda-sensei doesn't want to completely shut the door on the Akemi x Asahi ship. As such, he introduces the notion that present day Akemi could have a different future than her future self had. I doubt that happens, but it is a way of making folks think "maybe."
And humorously, Akemi gets into a heated rivalry with Nagisa. Yet she doesn't try to knock Youko out of the picture.
Romance Plot: Nagisa
As I mentioned, Nagisa and Akemi get into a fierce rivalry over Asahi in My Monster Secret Volume 09. Most of this is for comedic purposes, but it works quite well. And end the end, she and Akemi reach an accord that allows Nagisa to confess to Asahi unmolested.
On the more interesting side, Nagisa confronts Youko regarding Youko's feelings for Asahi. Further, Nagisa confesses to Youko that she also has feelings for Asahi, despite knowing Youko's own feelings for Asahi. While this technically makes them rivals, it does not interfere with their friendship. I like that. It is pretty brave on Nagisa's part to let Youko know this.
The volume ends with Akane having granted Nagisa's wish to become human-sized so that she can confess to Asahi on the beach. So we'll see how that goes.
Romance Plot: Youko
It was nice finally having Youko confess that she's long had feelings for Asahi. Granted, she only told Nagisa this, but it is a step forward for Youko.
What's amazing is that Youko encourages Nagisa to proceed with her confession to Asahi. And she doesn't let it interfere with her friendship with Nagisa.
Still, Youko has to be a bit more decisive and move forward with her own feelings for Asahi. Yes, she kissed him in the previous volume. However, she has two rivals, so she can't waste time.
Final Thoughts and Conclusion
Let me wrap up my review of My Monster Secret Volume 09 with some final thoughts.
As always, Akane is a master troll. As a result, hilarity ensues. I think her funniest troll moment came from squealing to Touko about Genjirou and Karen's transformation of the Shiragami estate into a tropical resort. 🤣
On the other hand, I believe Akane does genuinely care for her students. As much as she might love to troll them, she does try to guide them, as evidenced by her interactions with Youko and later Nagisa.
It was fun seeing Shiho and Rin working together to battle Shiho's mom.
Finally, it was hilarious seeing Akari-sensei working at the maid cafe. And of course, Akane being there to stir the pot made it funnier.
In the end, My Monster Secret Volume 09 continues with the wacky fun I love so much, even if I neglected the series for two bloody years. 😅