A Certain Scientific Railgun T 07
とある科学の超電磁砲T
SPOILER Summary/Synopsis
Mikoto begins attempting to track down where Imouto might be held. Meanwhile, Saten Wannai, and Maaya deliver Mitsuko to the hospital. Wannai and Maayu's psychometry friend is able to gleam some information to the kitten. Wannai asks Saten to phone Mikoto with the information. She and Maaya leave. Saten realizes she doesn't know Mikoto, but is shocked to find Mikoto's number in her phone.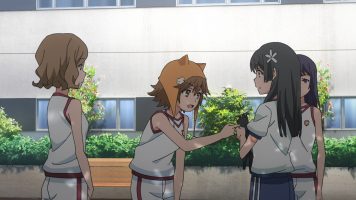 Meanwhile, Baba's contact spots Uiharu with Mikoto's mom and targets them for hostages. Elsewhere, Saten briefs Kuroko about Mitsuko. Kuroko isn't sure about Saten's theory regarding Misaki wiping their memories. Saten calls Mikoto and briefs her. Mikoto agrees to meet with Saten and Mikoto. However, Baba's female contact reveals herself to Mikoto. Further, she shows she has Uiharu as a hostage.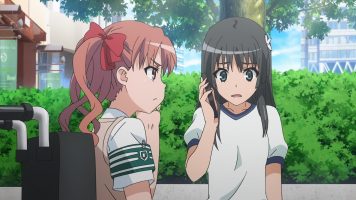 The girl accuses Mikoto of attacking their villas. She wants to know where the Sisters are being hidden at. Mikoto doesn't know what the girl is talking about. As such, the girl reveals she's also holding her mom, Misuzu, hostage. Mikoto attacks, freeing Uiharu. The girl's "twin" moves to kill Misuzu, but Kuroko teleports in and saves her. Mikoto's opponent turns into metal, then melts. Elsewhere, the girl has fled and considers that Mikoto was telling the truth.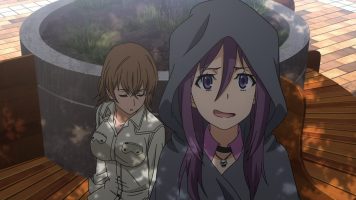 Meanwhile, Kuroko demands to know what is going on. Further, she wonders why Mikoto would entrust her mother to Kuroko. Mikoto attempts to explain, then helps the flustered Kuroko to Judgement HQ. There, Saten joins them and reports that Misuzu and Uiharu will be fine. After discussing things, Mikoto uses her abilities to check Uiharu's computer and finds what she was looking at–a deleted site with Misaki on it.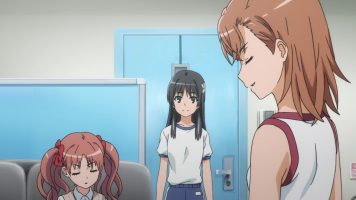 Thoughts/Review
We may have had a delay with this episode, but A Certain Scientific Railgun T 07 was certainly a good one. The episode covered manga chapters 53, 54, and the first couple of pages of chapter 55.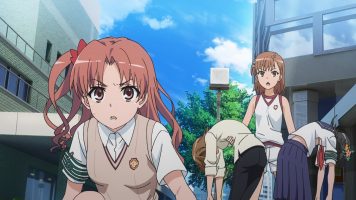 A Faithful Adaptation
While J.C. Staff has certainly made some changes for this series, they kept A Certain Scientific Railgun T 07 pretty accurate to the source manga material. I really appreciate it when anime companies do this. I'm not interested in rewrites, and I only like changes to the source material when said changes are an actual improvement.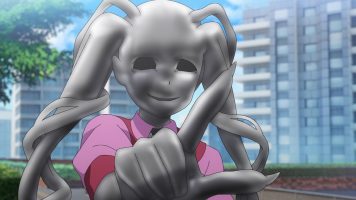 That said, one thing the anime had over the source material was the visualization of the action. For example, when Mikoto rescued Uiharu from her opponent, it is a very cool scene in the anime. The anime does capture some of the same scene stuff shown in the manga, but is able to flesh that out and make it tons cooler.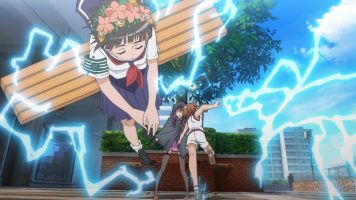 Ditto for Kuroko's rescue of Misuzu.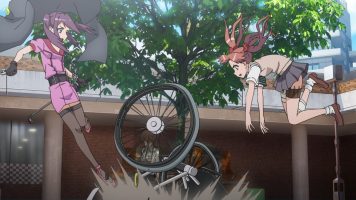 Final Thoughts and Conclusion
I'm running behind, so I'll throw in some final thoughts for A Certain Scientific Railgun T 07.
The official subtitles still hurt my eyes. 😑
Mikoto's opponent did make a good point regarding Mikoto turning a blind eye to the evil going on in Academy City.
I don't think we ever learned the name of the girl who had the power of psychometry.
It was funny hearing Kuroko proclaim she is a "butter side up" girl. Actually, having read the manga, I do believe this is the case. Mikoto is the exception to that rule.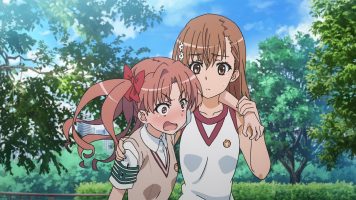 That said, I really enjoyed A Certain Scientific Railgun T 07. I'm glad J.C. Staff kept things accurate. It is just a shame we get such crappy subtitles.