My Monster Secret Volume 13 Manga Review
Jitsu wa Watashi wa/実は私は 13
My Monster Secret: "Actually, I am…" 13
–> Buy My Monster Secret Volume 13 from Amazon.com
Ah yes. While dealing with a broken copyright system on my YouTube channel might fill me with rage, it is nice to have My Monster Secret to read and give me the laughs and fun I need.
NOTICE!!! In the interest of full disclosure, I should mention that I am the adapter for the official English translation of the True Tenchi Muyo! novels, which are also published by Seven Seas.
***SPOILERS***
The Story in Brief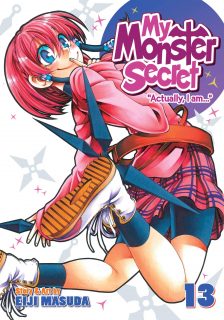 Things get started in My Monster Secret Volume 13 with Akane experiencing a bad toothache. However, she travels across time and space to avoid going to the dentist. This forces Akari-sensei, Karen, Yuka, and other shinobi to give chase. Next, Fuka-chan, the goddess who possesses Mikan's glasses, is desperate to make Mikan happy. But as usual, her efforts come off as bad luck.
New underclassman character MINAGAWA Saki is the class rep at high school. However, her secret is that she's a succubus. Saki is depressed that the power of the Nympho Icon is greater than her own succubus powers. This strangely ends up leading her to battle Youko over sexiness and form a friendship with her.
Akari-sensei encourages Asahi to pick a career path. Youko tells him she thinks they will pick the same path, but doesn't say what she's chosen. Akane grabs Asahi, dresses him in cheap superhero garb, and has him provide advice to students with secrets such as Saki and Yuka. This causes him to decide to become a teacher, which is what Youko wants to be.
Next, Genjirou, as Yumi-sensei, challenges Asahi to a video game. Together with Shirou, the game goes as bad as expected. Later, Akane teases Genjirou for his reaction to Youko and Asahi going to get books. However, Akane goes on the warpath when she learns Akari and Sakurada are going as well. Shirou and Asahi attempt to study together, but they want to make out instead.
Finally, Mikan gets shocking news about Asahi and Youko from a girl with head in a box. When Asahi and Youko have a fight, she helps Asahi get back with Youko.
Asahi x Youko
Masuda-sensei continues to press forward with the Asahi and Youko romance in in My Monster Secret Volume 13. It was interesting that Youko wanted to be a teacher, much like her father had wanted it. However, it was more interesting that even though Asahi didn't know what he wanted to do for a career, Youko sensed it. I liked that she didn't tell him what her career path was until he'd come to his own conclusion. And now they can be teachers together.
Their attempts to study together were humorous. As teenagers with hormones raging, I can easily understand their wanting to make out rather than study. That said, we again were shown a flash of Youko looking at Asahi's neck in a monstrous way. Further, Masuda-sensei ended the chapter with Akane looking concerned or depressed (and she wasn't part of the chapter) while Mikan gets the news that Asahi and Youko don't marry in the future.
I rather doubt we'll see that future. However, it did seem ominous from box-girl. And that news was enough to cause Mikan to work with Nagisa to make sure Asahi and Youko got back together after they had a fight.
Comedic Increase
One nice thing about My Monster Secret Volume 13 was the increase of humor. Naturally, that means that Akane had more of a role in this volume. That's because she's such comedy gold. I laughed pretty hard at her desperate attempts to avoid going to the dentist.
The second story featuring Akane wasn't quite as funny to me, but it was still good. I laughed at the antics of Akane and Genjirou as they stalked Asahi, Youko, Akari, and Sakurada.
The Fuka-chan stories often have moments of big humor. That was true for this volume. When she attempted to bring happiness to Genjirou (as Yumi-sensei) and Touko, somehow the Nympho Icon ended up showing up and making Genjirou's nose spew blood in Touko's face.
Final Thoughts and Conclusion
Let me wrap up my review of My Monster Secret Volume 13 with some final thoughts.
The new succubus character, Saki, didn't do much for me. She's OK, but not that funny to me. I guess Masuda-sensei wan't to go for the irony of a succubus failing at her job.
The shinobi Yuka is apparently also from the future, based on her chat with Rin. There's also a hint of something bad happening from Yuka's words.
As has happened a lot, Akane is also helping her students when she's not trolling them.
In the end, My Monster Secret Volume 13 was a very humorous volume. We get more progress with Youko and Asahi's romance, with a hint of something else. I'm looking forward to seeing where that goes.