Fruits Basket Season 2 02
フルーツバスケット S2 02
Furuba (2019) S2 episode 02
Story Summary/Synopsis
Mayuko-sensei (Mayu) informs her students about the upcoming parent-teacher conference as well as her student's need to fill out their career plan. Kyo, Yuki, Hana-chan, and Uo-chan have lunch with Tohru. Uo-chan and Hana-chan tease Kyo and Yuki about Tohru. Someday later, Kyo escorts Tohru to Kazuma's residence for lunch. He's accidentally burned the food, so Tohru volunteers to make curry. Kazuma and his assistant, Kunimitsu, observe the positive changes in Kyo.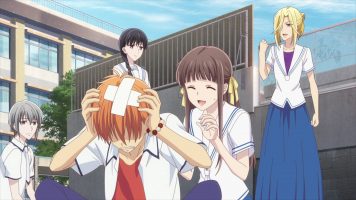 Kazuma gets a call and tells Kyo and Tohru he has to deal with an issue. He meets with Kyo's father, who angrily despises his son. Kyo's father is not happy when he learns that Kazuma has no plans to help him with the tradition to confine the cat zodiac after Kyo graduates from high school. With that, Kazuma returns home to have lunch with Tohru and Kyo.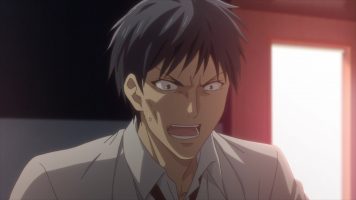 Some evening later, Momiji chats with Tohru as she waits for Yuki to escort her home. As Tohru and Yuki walk home, Yuki speaks of the difficulties for the zodiac when it comes to planning for the future and a career.  At home, Tohru finds Kyo attempting to make soumen. She makes a dipping sauce for him and they eat soumen while chatting. Kyo also mentions the difficulties of the zodiac, especially the cat. He expresses admiration for Tohru.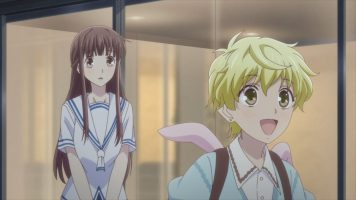 Tohru ends up breaking down as she confesses to her own insecurities over the future. She begins to understand more of what Yuki had started to tell her. Shigure comes in and gives Tohru some good advice. Tohru then goes to Yuki's room to get him to join them for soumen.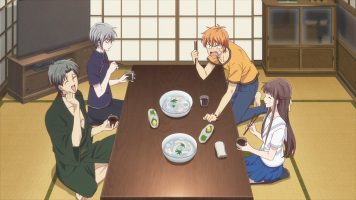 Thoughts/Review
While this episode reformed two separated chapters to make Fruits Basket Season 2 02, it was still a pretty enjoyable trip.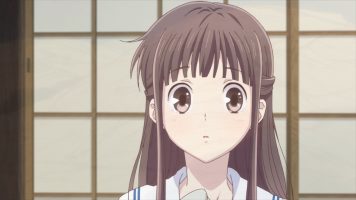 Changes to the Source Material
The material for Fruits Basket Season 2 02 came from manga chapters 46 and 52. There were some changes, mostly dealing with local color.
The scene where Kazuma teases Kyo was from chapter 46, but the context was different in the manga. There, Kyo's at the dojo, pondering his future.
Kazuma's inner monologue while traveling home after his meeting with Kyo's biological father was cut.
A small scene where the cleaning ladies gush and cheer for Momiji is cut.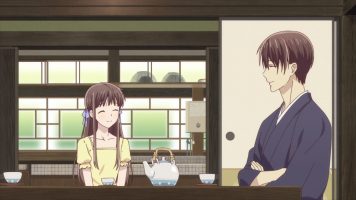 The remainder of the changes were due to the episode shuffling stuff from the two chapters and putting it together to make a consistent narrative. It works, but I'm still of the mindset that says, "So what was wrong with how things were in the manga?" I'm guessing the anime production team feels the need to do this for a better anime flow.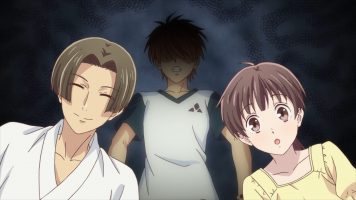 Uo-chan and Hana-chan Fun
Both Hana-chan and Uo-chan are such awesome characters. One thing that really made me laugh in Fruits Basket Season 2 02 was Uo-chan violently kicking over Kyo's desk and getting into a verbal spar with him immediately afterward. That is all in the manga and a fun moment to be sure. But seeing the scene animated made me laugh out loud.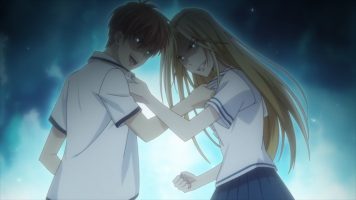 Then when the group is having lunch, I got such a kick out of Uo-chan and Hana-chan looming darkly over Yuki and Kyo's reaction to the idea of marrying Tohru.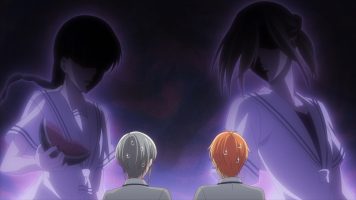 There's also a nice little bit of foreshadowing in this episode regarding Uo-chan.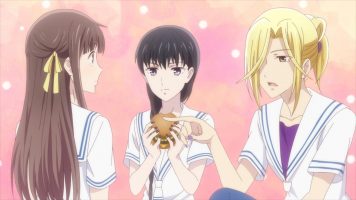 Final Thoughts and Conclusion
As always, I'm insanely busy, so let me wrap up my review of Fruits Basket Season 2 02 with some final thoughts.
Thankfully, nothing has irritated me so far about the official English subtitles used. All of the honorifics are used, including "-dono" and the title "Shisho" (or "Shishou" as it should properly be).
I won't say much because of spoilers, but I will say that I consider this episode to be a marker episode for all characters involved.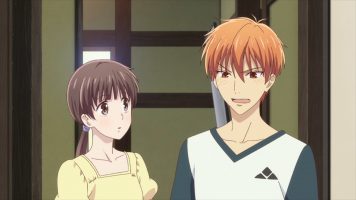 In the end, Fruits Basket Season 2 02 was a fun episode. I may not be keen on restructuring the story, but the presentation in the episode works. And what was lost was only a bit of local color.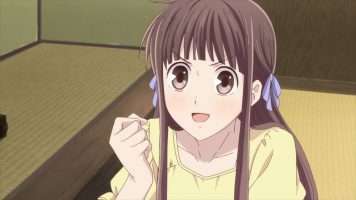 SELF PROMOTION TIME! 😆 Are you on Twitter? Why not give me a follow. You'll see tweets as soon as a blog post gets published. And you can see what other drivel I'm interested in. Here's the link: https://twitter.com/AstroNerdBoy