Princess Connect! Re:Dive 02
プリンセスコネクト!Re:Dive episode 02
SPOILER Summary/Synopsis:
At an inn, Kokkoro gets up to wake up Yuuki, only to find him up and training in the courtyard. Kokkoro and Yuuki have breakfast, where a stranger advises them to start their own guild if they need lodging and such. The two head out, where they find Pecorine dominating a food eating contest. As they chat, the two con artists show up with Pecorine's sword. They flee as soon as she spots them.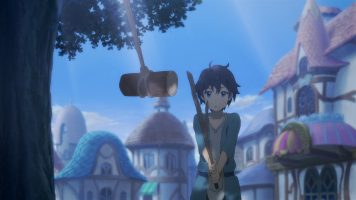 The trio give chase outside the city walls. They encounter an orc, so Pecorine decides to engage it in combat to protect the city. The cat-girl sorceress is controlling the orc. She gives it a power boost, but Pecorine defeats it, punching it into the cat-girl. The trio find the cat-girl, not knowing she caused the problem. They help her, but she finds an excuse to get away, angry with herself and Pecorine using that nickname instead of her real name.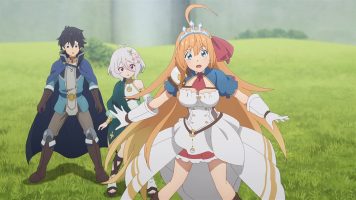 The cat-girl ponders the situation in a tree. She sees the con men walking with Pecorine's sword before getting grabbed by a dragon. As such, she returns to Pecorine, Yuuki, and Kokkoro offering information as thanks for them helping her. The cat-girl, who's name is Karyl, leads them to the dragon's den. There, it sleeps on a mountain of treasure with Pecorine's sword in its mouth and the con men secured in its tail.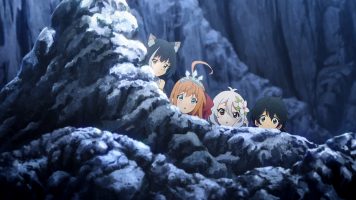 Yuuki has a plan, which they enact. However, Karyl uses her powers to take control of the dragon and give it more power. Despite the wild ride the dragon takes them on, Pecorine still manages to defeat the dragon, thanks to another distraction from Yuuki. And like before, the dragon crashes into Karyl. She reluctantly eats with them before leaving. Meanwhile, Pecorine decides she, Kokkoro, and Yuuki should form a guild.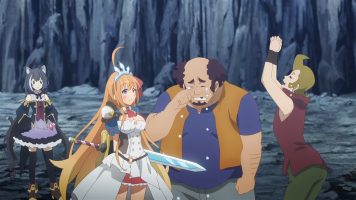 Thoughts/Review:
While not as funny as episode 1, Princess Connect! Re:Dive 02 still had lots of comedy moments. And it ended in an unexpected way.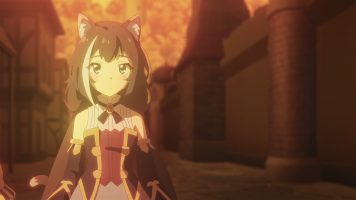 More Comedy
There were a lot of comedy moments in Princess Connect! Re:Dive 02. Some of them were telegraphed a mile away. As such, I didn't laugh out loud over them, but I did enjoy them. For example, when Yuuki was training, I knew he was going to get whacked in the head. And I think this was the only moment Kokkoro gave her trademark x-mouth look. (Update: She did one when Yuuki fell out of the dragon's mouth). So while amusing, I didn't laugh out loud.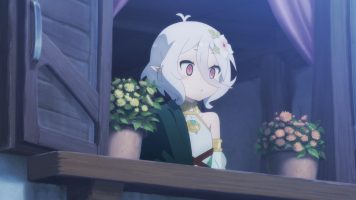 Still, the one bit of comedy that did make me laugh out loud a bit wasn't the fun slapstick humor or the like. It was a subtle moment. After Pecorine failed to get Karyl to eat some of the fried rice they made for her, she's silently eating it while Karyl goes off in a huff. It was the way Pecorine looked, as if to say, "Oh well, your loss. Waste not, want not!" 😂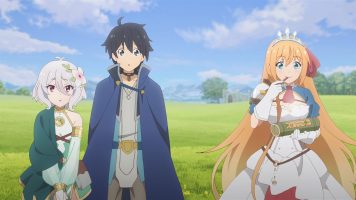 One last thing on the jokes. I'm not sure if the con artists will return or not. But the one "brother" having an afro made me wonder why the Japanese find so much humor in afros.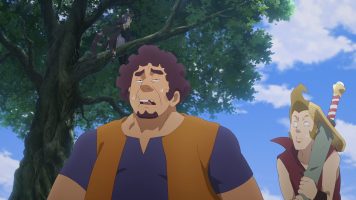 Unexpected Ended
The biggest surprise came from how Princess Connect! Re:Dive 02 ended. It seems that not only will Pecorine, Yuuki, and Kokkoro form a guild together, it will be a culinary guild. Yeah, that came out of left field. 😂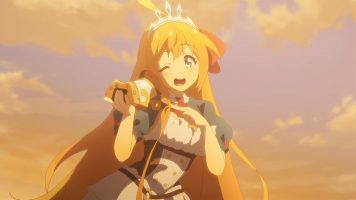 I honestly expected the series to be Kokkoro, Yuuki, Karyl (based on the OP), and Pecorine traveling and such while Yuuki regains his memories. And they'd take jobs and such along the way. But baring that, if they formed a guild so that they had a base of operations, it would again be dealing with monsters or the like. Something akin to what we saw in Fairy Tail and the guild jobs there.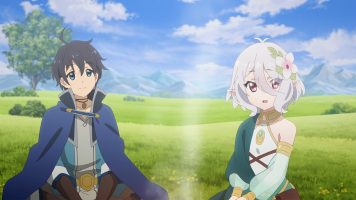 That said, the notion of their guild not being an adventurer's guild, but rather a guild dealing with food is just nuts in a hilarious way. I didn't laugh at the reveal in the episode, but as I think about it now, it cracks me up. So I've no clue what to really expect here since we aren't going where I thought we would.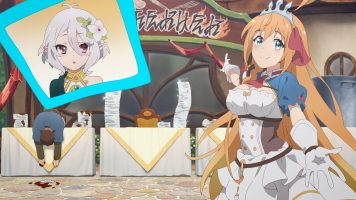 Final Thoughts and Conclusion
Let me wrap up my review of Princess Connect! Re:Dive 02 with some final thoughts.
Although this series isn't totally predictable in what it will do, it does seem like there's a history between Karyl and Pecorine. The cliched notion would be that Pecorine (accidentally) did something that Karyl misunderstood and holds a grudge over. It would explain Karyl's weakening resolve.
As to Pecorine, I knew this wasn't her actual name. I think it should be "Peko-rin" because "peko-peko" is about hunger in Japanese, and Pecorine is always hungry. That aside, since she has "princess powers" and has a magical diadem, she's probably a princess, akin to Amelia in the Slayers franchise.
Is Yuuki the real MC? Or is this the Kokkoro-Pecorine show? 😂😉
Finally, while the dragon had the normal cliched elements, it reminded me of The Hobbit: The Desolation of Smaug and the first episode of  The Slayers. I wouldn't be surprised if this were on purpose.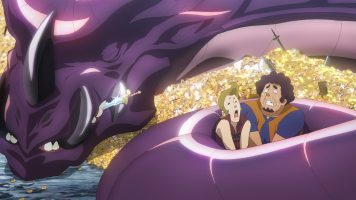 In the end, Princess Connect! Re:Dive 02 was a fun episode. While not as funny to me as the first episode, I still enjoyed it and was caught off guard by how it ended.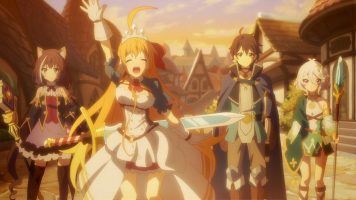 Self Promotion Time! Here's a pathetic attempt to get you to subscribe to my YouTube channel. I only need 1000+ subscribers. 😜 https://www.youtube.com/c/AstroNerdBoy