A Certain Scientific Railgun T 14
とある科学の超電磁砲T ep. 14

SPOILER Summary/Synopsis
Kuroko secures Mitori in handcuffs in the sewers. At the institute, Misaki probes Gensei's mind for answers. Outside, Touma talks Gunha into allowing him to deal with Mikoto, who's surrounded by dark energy. Gunha uses his powers to clear a path for Touma, who races forward. Touma uses his Imagine Breaker, but loses his arm in the process. Mikoto witnesses this from inside herself and is horrified.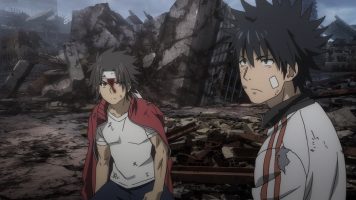 Dragon serpents emerge from what's left of Touma's arm and consume the dark energy before disappearing. Mikoto is freed, so Touma gives her a jacket. He tells her he'll support her to deal with whatever is going on in the city. Mikoto gets a new gym outfit and goes to the hospital to visit Imouto, then Mitsuko. Mikoto apologizes to Mitsuko for getting her into this mess. However, Mitsuko says she did it gladly of her own free will. Further, she's happy she transferred to Tokiwadai.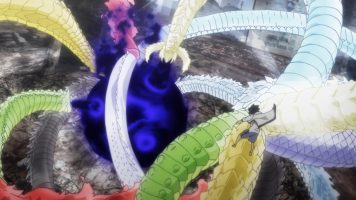 In the sewers, Mitori wakes but no longer cares. She's come upon by Misaki. Meanwhile, Mikoto gets a text from Saten and goes to meet her friends. Mikoto reflects on how Misaki tampered with everyone's memories to protect the knowledge of Exterior from getting out.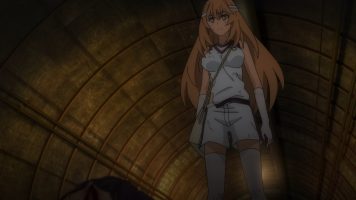 The Daihasei Festival resumes without incident. And the last night of the festival, Mikoto goes to buy everyone drinks. Touma shows up to thank Saten for her help. Mikoto returns and is flustered by Touma being there. Saten and Uiharu realize what's up and stage things so that Mikoto has to dance with Touma.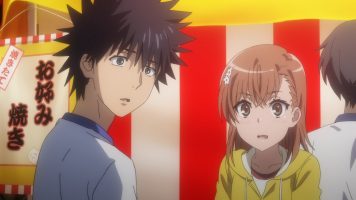 Thoughts/Review
And so we return to the messed up world of Academy City in A Certain Scientific Railgun T 14. And a good episode it was.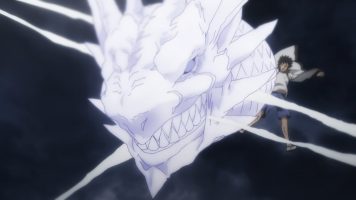 Changes to the Source Manga Story
For the most part, A Certain Scientific Railgun T 14 was a fairly accurate adaptation for chapters 67, 69, and a bit from 68. But other than some story shuffling, what got changed?
The source manga didn't show Mikoto visiting Imouto. However, it should have so this addition to the anime makes things better.
Mikoto didn't get a text from Saten in the manga. But it does help to explain how Mikoto knew were to find her old friends.
The reunion between Mikoto and her friends is padded a bit for comedy sake.
Israel's flag is removed from the anime.
Kuroko and Saten remarking on evens is not in the manga.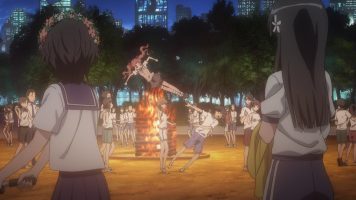 Normally, I am not a fan of reshuffling story stuff from the source material. However, I've been OK with things to date in this series. And for A Certain Scientific Railgun T 14, it made sense to skip the materials from chapter 68. I won't spoil anything, but while the stuff in chapter 68 is good, it would have broken the narrative. It was fine for the manga, but in the anime, it made sense to punt it to the next episode.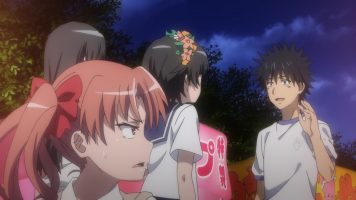 Mitsuko
I have to admit, Mikoto's visit to Mitsuko in A Certain Scientific Railgun T 14 carried a lot more impact in the anime than the manga. And there's a reason for that. When the Railgun series began to be adapted as an anime, the anime folks immediately included Mitsuko into the mix. However, unlike her manga character, the anime version was a shallow, cliched, ojousama rival for Mikoto. I hated that with passion, especially after I saw her proper introduction in the source manga.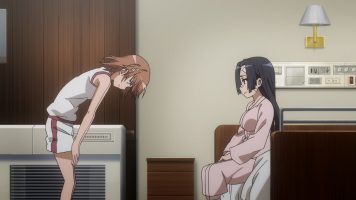 Thankfully, J.C. Staff eventually corrected this stupidity, howbeit reluctantly. Considering that Mitsuko and Mikoto were NEVER rivals in the manga, it was stupid for them to be rivals in the anime. Misaki was Mikoto's only true rival.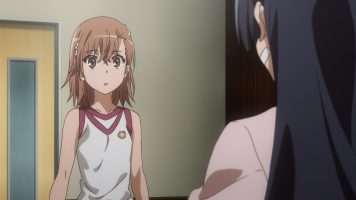 Anyway, those days are gone and J.C. Staff did a beautiful job with the scene depicting Mikoto visiting Mitsuko in the hospital. While I liked the scene in the manga, the anime made it really hit home with me. And that's what a good adaptation should do–accentuate moments and make them better.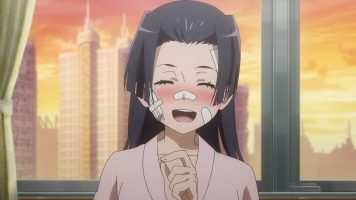 Final Thoughts and Conclusion
Let me wrap up my review of A Certain Scientific Railgun T 14 with some final thoughts.
I swear, seeing "Sissy" on screen for "Oneesama" still makes my eyes bleed. 🤬
The dragons coming out of Touma may be the biggest deus ex machina moment ever. However, it was a pretty cool scene, so I let that pass in the manga and now in the anime. That said, it still is odd to me that no one really talked about that afterward.
A blushing Mikoto is fine. 😁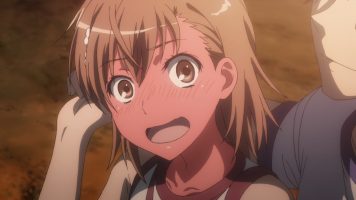 In the end, A Certain Scientific Railgun T 14 was a well done adaptation of the source material. Shifting chapter 68's material to the next episode helps the anime story flow much better.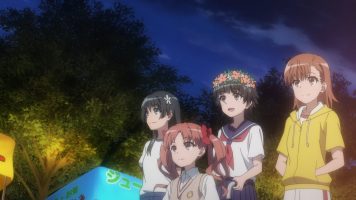 Self Promotion Time: I'm still trying to grow my tiny YouTube channel, where I'm doing stuff for games like Fate/Grand Order, Marvel Strike Force, and PC games like Might & Magic X: Legacy. So if you'd like, head on over and subscribe. 😁
YouTube Link: https://www.youtube.com/c/AstroNerdBoy