Princess Connect! Re:Dive 06
プリンセスコネクト!Re:Dive episode 06
SPOILER Summary/Synopsis:
Karyl returns from the Twilight Caravan clinic, where she appears to be 30% improved. However, she immediately crashes in bed. The next morning, Pecorine has breakfast ready. Karyl is now freaked about her experiences with Twilight Caravan. Pecorine has a quest to help harvest spices in Targum Village. Karyl doesn't want to go, but gets guilted into coming.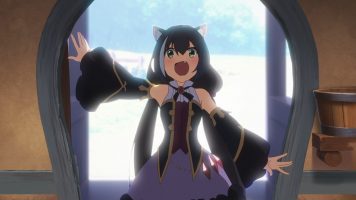 The guildmates travel for a day to their first campsite. Karyl is determined not to eat bugs, so she fishes a small pond without success. However, Pecorine has nailed a large bird, which she slow roasts in a hole in the ground. Afterward, everyone, save Kokkoro, eat the fruit Pecorine brought and get drunk. The next morning, Kokkoro is helping the hungover Karyl when she sees Yuuki being carried off by a beast-man.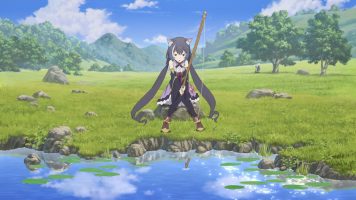 The beast-man flees into the woods, but gets peppered with arrows and dies. Yuuki wakes up to see a piece of wood with a face on it, apparently talking to him. In fact, an elf named Aoi is throwing her voice. She mistakes Yuuki as another lonely person and is happy to have a companion. However, she becomes timid when the rest of Gourmet Guild show up.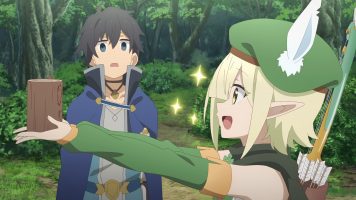 Aoi leads them from behind to reach Targum Village. They are greeted by an elf named Misato, whom Aoi hides behind. The third of their Forestier guild is Hatsune. Misato says that the Elizabeth Park guild is coming. Kokkoro remembers meeting the llama Rima, from that guild.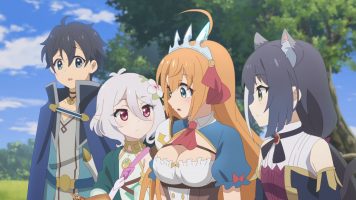 Meanwhile, Elizabeth Park guild members Rima, Mahiru, Shiori, and Rin are traveling through the woods. They are attacked by shadow clone versions of themselves. A human named Christina launches an attack, killing the shadow clones of Rima, Mahiru, and Rin. Shiori, who appears to be Hatsune's sister,  is attacked by her shadow clone and absorbed.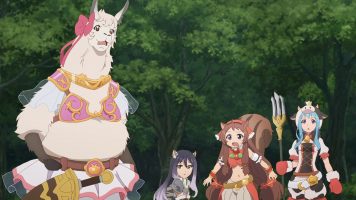 Thoughts/Review:
There was humor in Princess Connect! Re:Dive 06, but there was also an interesting tale as well.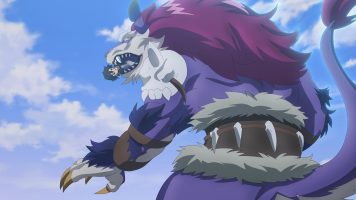 Guild Quest
I wasn't surprised that the first quest Gourmet Guild would do was something food related. I've never harvested spices on a large scale. So in my mind, I wondered if it was as tedious as picking peas/beans/tomatoes/corn/etc. 😅 I'm going to guess it is, but after the spices are harvested and cleaned, that should be it. No long hours of shelling peas or shucking corn. 😂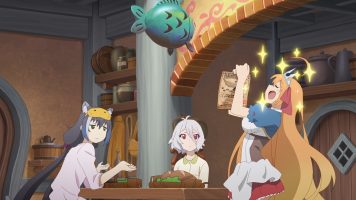 Some of the humor in Princess Connect! Re:Dive 06 came from their camping while on the quest. I guess eating bugs is going to be an ongoing gag item. And to be honest, I don't mind. 😁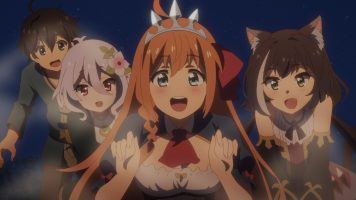 Another returning gag is having some monster trying to carry Yuuki off during the quest. However, we didn't get to see Pecorine go nuts. Instead, the timid elf Aoi save Yuuki. Initially, I thought she was living alone in the woods with no friends. But she is part of the Forestier guild, who's farm Gourmet were going to assist. Still, I couldn't help but feel badly for Aoi.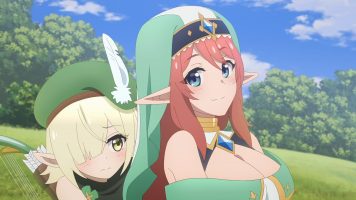 A Second Story
The real surprise in Princess Connect! Re:Dive 06 is that there was a secondary story. The Gourmet guild quest will just end up intersecting this new story. That aside, it seems someone or something is creating shadow clones of people in the woods. And that trouble is what the farming guild Elizabeth Park ran into.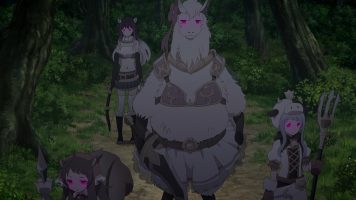 The human warrior babe Christina is the one who had words with Karyl early in the series. She does seem impressively powerful, yet at the same time seems to only be interested in fighting. We'll see what becomes of her.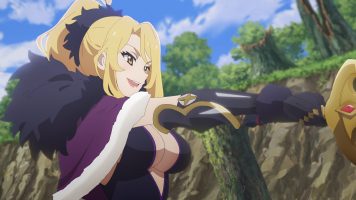 That aside, there was one story element that came up that keeps rattling around in my head. Hatsune is an elf and a member of Forestier. Hatsune is all excited to meet her sister, who's in the beast farming guild Elizabeth Park. Her sister is apparently Shiori, who's a catgirl.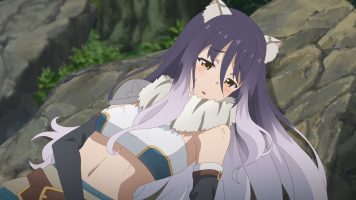 The Japanese play fast and loose with the family honorific titles. So Shiori and Hatsune may have grown up in the same village. Or maybe one (or both) are adopted and thus are sisters, just not in the blood-sense. Hopefully, we get an answer. I guess this stood out to me since one is an elf and one is a beast race.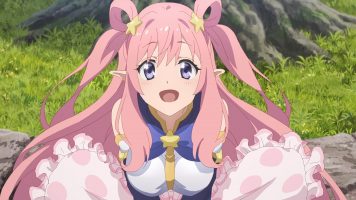 Final Thoughts and Conclusion
Let me wrap up my review of Princess Connect! Re:Dive 06 before I pass out. 😅
It still annoys me that the Cruncyroll subtitles don't use Japanese honorifics in the subtitles.
I still get a kick out of Rima looking like a llama walking on its hindlegs. I wonder why she can only look humanoid beast-girl when she eats a magic apple.
The biggest laugh in the episode came from Hatsune sleep-flying.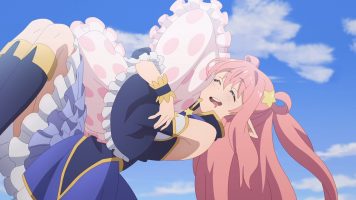 In the end, Princess Connect! Re:Dive 06 was a fun tale. It had moments of humor, and adventure, and a secondary story that was actually pretty interesting. Can't wait to see what happens.
Self Promotion Time! If you are on Twitter, you can give me a follow there. It is the quickest way to get in touch with me. And I tend to post game, anime, manga, humor, food, or some other thing I happen to be interested in. Here's the link: https://twitter.com/AstroNerdBoy