UQ Holder 172 Delayed
Hey gang!
This is actually old news, but I've been so busy of late, I missed this news drop back on April 14, 2020. Basically, Bessatsu Shounen Magazine , the magazine in which the monthly UQ Holder is published, was forced to be delayed due to the insanity going on in the world. So while I was looking for spoilers (and getting flung into some "lovely girl Kuroumaru" hentai as a result of someone flooding the message board I look for spoilers in 😅), I was actually wasting my time.
We now have official word that the June 2020 issue of Bessatsu Shounen Magazine will be a June/July release and will come out on June 9, 2020.
みなさま、今月は #別冊少年マガジン の発売がありません。次号は6・7月合併号 6月9日(火)発売です!お楽しみに!

緊急事態宣言にともなう漫画雑誌の刊行に関するお知らせ
→ https://t.co/c2brtBbsZG https://t.co/4QjBuRmEQt

— 別冊少年マガジン【公式】 (@BETSUMAGAnews) May 7, 2020
As such, we can expect to see UQ Holder 172 show up at this time. While I can't say for sure, it is possible that it could be a bigger chapter. We'll have to wait and see what happens.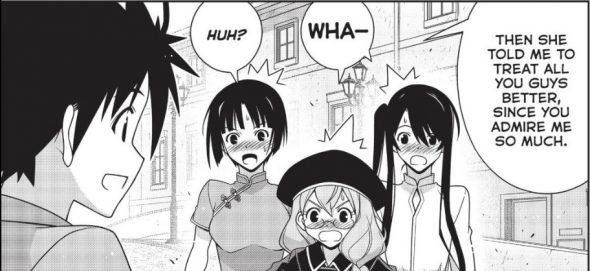 Anyway, I'll keep my eyes open for spoilers come first of June while trying to steer clear of any Kuroumaru hentai. 😂
Update (3-June-2020): Spoiler info! https://anime.astronerdboy.com/2020/06/uq-holder-chapter-172-spoiler-info.html