Fruits Basket Season 2 05
フルーツバスケット S2 05
Furuba (2019) S2 episode 05
Story Summary/Synopsis
Kureno goes to a convenience store and meets Uo-chan. Meanwhile, school ends for summer break. Uo-chan mentions meeting a guy she liked at the convenience store. A little later, Momiji invites Tohru, Kyo, Yuki, and Haru to a department store. Inside, there is a haunted house attraction. Though Tohru is scared, she decides to face her fears. Since she is freaking out about everything inside, Haru tells a sad tale about one of the scary undead samurai, which causes her and Momiji to cry.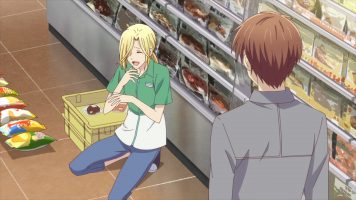 Meanwhile, Uo-chan takes a break from her restaurant job and runs into Kureno. He invites her to lunch. However, his dismissive remarks about being being out the night he met her angers her. She storms out, so he goes after her. He apologizes and makes up with her before leaving.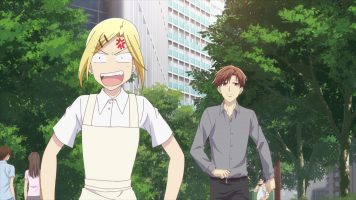 That evening, Uo meets up with Hana and her little brother Megumi at a monjayaki restaurant. Tohru makes dinner for Momiji and Haru as well as Yuki, Kyo, and Shigure. Kureno goes to the Sohma Estate and meets with Akito.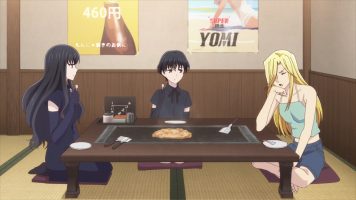 Thoughts/Review
Well, it is time for me to pound out a review of Fruits Basket Season 2 05. I'm going to guess if you've never read the manga, everything will be fine. But if you've read the manga like I have, it is another disappointing adaptation that removes too much of the heart of the source manga.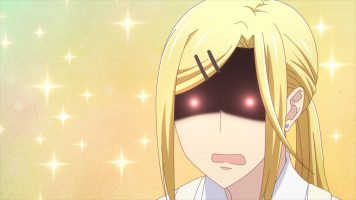 Changes to the Source Material
In order to construct Fruits Basket Season 2 05, chapter 50 and most of chapter 48 are used.
The scene where Uo-chan, Hana-chan, and Tohru discuss things in class after school took place during summer break at Uo-chan's restaurant job. Hana-chan's brother Megumi was there as well.
The scene at the monjayaki also had Tohru there in the manga. And their discussion wasn't about Kureno having an affair, but rather the age difference. And this is where Tohru speaks of the age difference between her mom and dad.
While the anime does have Hana and Uo promise to crash Tohru's first date, all the conversation around the topic of Tohru dating and its impact on Hana-chan is lost.
The aftermath of the dinner at Shigure's house is cut. This is where Tohru and Momiji speak of summer plans.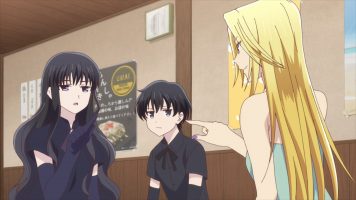 The final scene of chapter 48 is one that I'm going to guess will be inserted into another episode. I won't spoil that.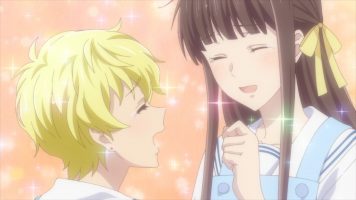 Thoughts on the Changes
I didn't like the setting change for Uo-chan, Hana-chan, and Tohru's discussion in Fruits Basket Season 2 05. But this is what we are left with, thanks to randomly changing the presentation of the story 'cause "reasons." In the anime, it is just a scene in the context of them talking after school. It conveys what it is supposed to, but that's it.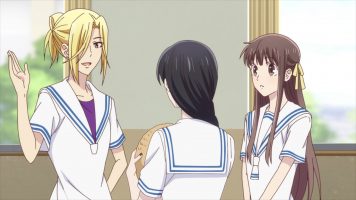 Whereas in the manga, having Tohru, Hana-chan, and Megumi visit Uo-chan at her restaurant job does two things. First, it lets us see Uo working as a waitress. Second, there's a humorous bit where Megumi suggests they stalk Uo's convenience store job for this guy she's been gushing over for a time. All of that flavor is lost for "just the facts and move on."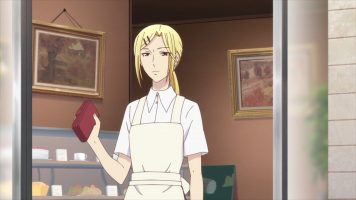 As such, we are only left with Uo taking a break and finding Kureno. But then at the monjayaki restaurant that Hana, Megumi, and Uo were at, we don't get Tohru. Why? 'Cause TMS is doing these things out of order. And so the whole lovely manga story with Uo, Hana, Tohru, and Megumi having a basic day of it gets flushed for a pale imitation that conveys story facts without much of the story heart.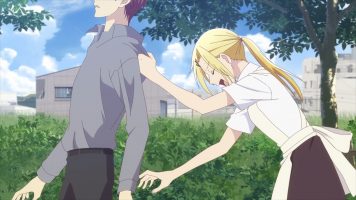 Finally, because Tohru wasn't present at the monjayaki restaurant, there wasn't a reason for Megumi to ask his sister if she were lonely. Uo, Hana, and Tohru were discussing Tohru eventually finding a guy and getting married. And since Uo-chan is infatuated with Kureno, that combination prompted Megumi to ask his question. In the anime, the question came from left field.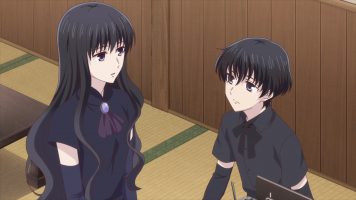 Final Thoughts and Conclusion
In the end, Fruits Basket Season 2 05 conveyed the story elements it needed to produce. However, as a long time fan of the manga, it is disheartening to see so much of the flavor of the manga's story discarded in TMS's attempt to restructure things for their own purposes.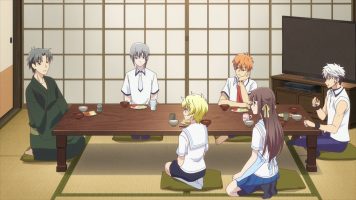 Self Promotion Time! 😆 If you'd like to hear me ramble as I play games, do give me a follow on Twitch. I try to stream every Monday and Friday night. And if I can find free time again, I'll start streaming on Wednesday nights again. Click the link to see my countdown app on Twitch for when my next stream is scheduled. https://www.twitch.tv/astronerdboy