Tonikaku Cawaii Chapter 118
Tonikaku Kawaii Fly Me to the Moon 118
トニカクカワイイ 118
Spoiler Summary/Synopsis:
Tsukasa finds herself worried about Nasa's new teaching job at a girl's high school. Logically, she knows Nasa would never cheat on her. However, she feels a bit lonely.
Meanwhile at said girl's high school, Usa asks Nasa if Tsukasa might get lonely since he's working here. Nasa rejects this as he believes Tsukasa won't feel jealous. However, Usa feels otherwise. She looks for Kaguya as an example, but she's gone. Kurenai thinks Kaguya returned home through the bamboo forest.
Nasa finds the idea of a jealous Tsukasa a cute one. In town, he finds her sneaking into an alley. He follows her and teases her about being lonely. She denies it and accuses him of wanting to flirt with high school girls. He starts flirting with her when Usa and Kurenai show up.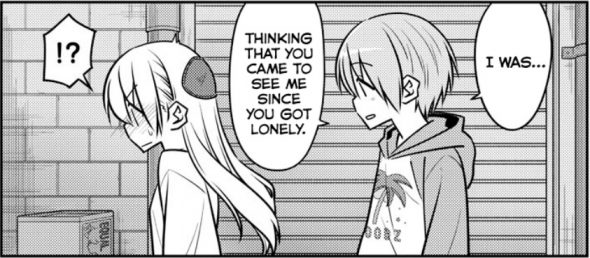 Nasa returns to school while Tsukasa goes home via the bamboo forest. She passes Kaguya, who asks if the long journey is over. A stunned Tsukasa turns, but Kaguya is gone.
Thoughts/Review:
And just like that, Hata-sensei brought major plot to Tonikaku Cawaii Chapter 118. Could this be the beginning of the end?
Tsukasa and Kaguya
I have to say, I didn't expect for Tsukasa to encounter Kaguya as she did in Tonikaku Cawaii Chapter 118. Tsukasa had been dealing with her own uncertainty now that Nasa has a job around high school girls. So having Kaguya encounter Tsukasa didn't seem to be in the cards.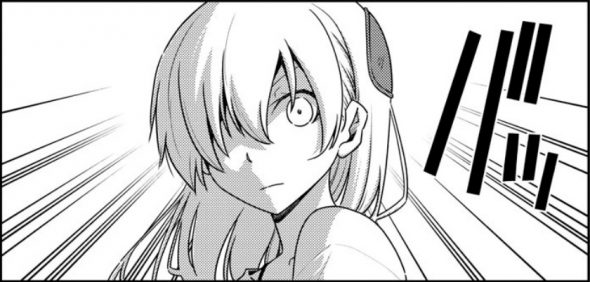 That said, Hata-sensei loves to do the unexpected, which is perfectly fine. By having Kaguya and Tsukasa meet in the bamboo forest, it drops a major bombshell and reminds us that there is a actual story plot. But it raises a lot of questions.
Is the bamboo forest real or supernatural? I'm going to guess the former, though it could have a supernatural connection.
Are Kaguya and Tsukasa the same person? Or are they related in some way? Clearly, Kaguya knew Tsukasa. Tsukasa's stunned look afterward suggests she knew Kaguya.
Does this mean the manga is coming to an end? The chapter's title, "The End of a Journey" has an ominous tone to it.
Final Thoughts and Conclusion
In the end, Tonikaku Cawaii Chapter 118 started as a chapter where Tsukasa dealt with her jealous and lonely feelings. It then turned into something much more intense. I'm looking forward to seeing where this goes from here.