Princess Connect! Re:Dive 10
プリンセスコネクト!Re:Dive episode 10
SPOILER Summary/Synopsis:
Now that the beach vacation is over, Pecorine heads into town to do some shopping. Kokkoro and Yuuki go to town to give a souvenir to the restaurant master. However, when the pair arrive, they discover the master has been possessed and is obsessed with pudding. Yuuki senses a presence. Shinobu from the Diabolos Guild appears and praises him for sensing the ghost, Miyako. It is Miyako who has caused the master to obsess over pudding.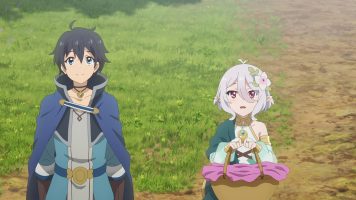 Shinobu asks Kokkoro and Yuuki to come to their guild house. Within a crystal is their guild leader, the vampire Ilya Ornstein. When she emerges from her crystal, the curse on her turns her into a weak, little girl. She does not sense any power in Yuuki, but when Ilya's minions attack her, Yuuki helps her flee. His innate power activates, causing Ilya to regain adult form. However, this doesn't last long.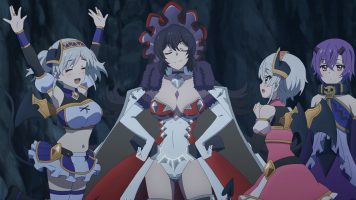 During the excitement, Yuuki accidentally destroys Miyako's pudding. As such, she demands Kokkoro and Yuuki fix this. They take her and Shinobu to Gourmet Guild house to try to make pudding. However, Miyako is not liking it. Meanwhile, Pecorine helps Charlie's mom work her vegetable stand in the market. Afterward, she comes home to find Miyako has turned Kokkoro, Karyl, and Yuuki into puddings. Pecorine makes an awesome pudding that nearly causes Miyako to go to heaven. But when Miyako discovers bugs were used in its creation, she crashes back to earth.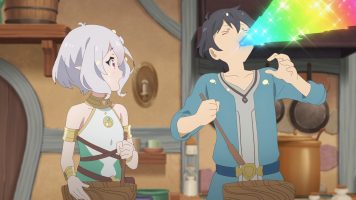 Thoughts/Review
I actually got to watch Princess Connect! Re:Dive 10 in the hotel the other day. And now I get to write about it. And that's not as easy as it sounds.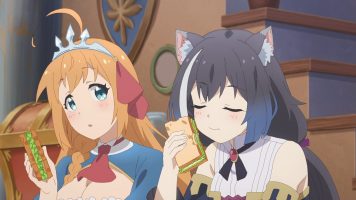 Yet Another Guild
One of the things this series suffers from is the need to get as many characters from the original game as possible. As such, Princess Connect! Re:Dive 10 brings in yet another guild of babes as service to fans. This time, it was the Diabolos Guild. And it had to be done in two tales. And even that wasn't enough to fill the episode.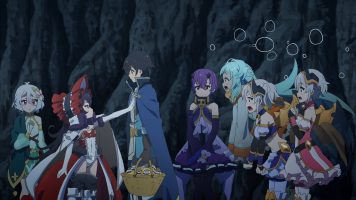 About half of the episode was dedicated to Miyako's desire for pudding. This was mildly amusing, more so at the end. Miyako possessed Master because she objected to his bug obsession. And then she discovers Pecorine's "best pudding ever" apparently was made with bugs. It was predictable, but as I said, mildly amusing.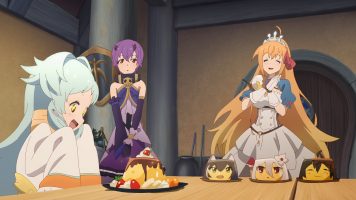 The part of the episode dedicated to Ilya was highly predictable in terms of Ilya's condition. I knew the moment she stepped out of the crystal, she was going to turn into a child. I didn't think about Yuuki's powers temporarily giving Ilya a restoration. But Yuuki bores me as a character so…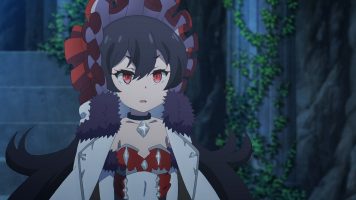 Pecorine to the Rescue
Pecorine didn't get a lot of screen time in Princess Connect! Re:Dive 10, but she still had a major presence. For starters, she help's Charlie's mother run her vegetable stand. Sadly, nothing here was funny to me. It is a shame too 'cause it is a waste of Pecorine time. But, she did her good deed for the day.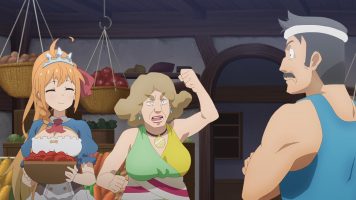 Pecorine's arrival to save the others from being eaten as pudding wasn't anything I didn't expect. Yeah, it was mildly amusing that she used bugs in her pudding, but it still felt like a waste of Pecorine awesomeness.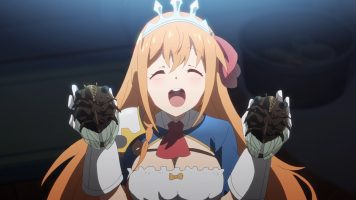 Final Thoughts and Conclusion
In the end, Princess Connect! Re:Dive 10 was just filler and average filler at that. Kinda disappointing to tell the truth.