D-Frag! Volume 12
ディーふらぐ!
D-Fragments 12
–> Purchase D-Frag! Volume 12 from Amazon.com
There have been a lot of things ticking me off of late. So I needs some laughs or even chuckles, which D-Frag! Volume 12 provided.
NOTICE!!! In the interest of full disclosure, I should mention that I am the adapter for the official English translation of the True Tenchi Muyo! novels, which are also published by Seven Seas.
***SPOILERS***
The Story, in Brief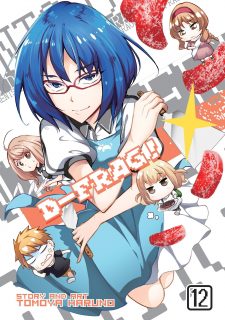 Kenji gets drafted to help the girls (Roka, Tsutsuji, Takao) with their shopping. They run into Hata, who wants Kenji to come to her school's bazaar. Takao wants to come, so Hata challenges her and loses. Hata stubbornly refuses to give in, but a teacher from her school eventually arrives to drag her off.
On the day of the bazaar, Roka is tempted to sell her entry ticket after learning what scalpers will pay for it. Takao is forced to wear a sash declaring her the Legendary Boob Crusher because of Hata's loss. Hata arrives to put her plan in motion, but Roka is distracted by seeing Funabori manning a crepe stand. Eventually, Hata gets them to agree to her game, thanks to Sean Connery-sensei, whereby they have to use a giant card for a stamp rally.
The first contest sees Sakura, Tama, and Chitose join the fray to fight in a female sumo match. Next, they have to challenge Tamagawa, who's family are known for their famous beef. They manage to beat her, but the clock is running against them. Kenji breaks their giant card into pieces, allowing his group to take a section and get the stamp. Takao is happy to be paired with Kenji and Roka.
Kenji, Roka, and Takao have to face Hata for red-light/green-light game. Kenji avoids a loss by using Takao as a weapon, giving her a minor laceration on the forehead. After obtaining all of the stamps, Kenji gets his prize. As such, Kenji and friends celebrate their win at a restaurant. However, Noe lets it slip that Roka and Takao are living with them.
An Unexpected Direction
Since Roka, Tsutsuji, and Takao are living with Kenji, I expected Haruno-sensei to do more home hijinks in D-Frag! Volume 12. Instead, Hata returns for her own rematch. For some reason, I can't help but like Hata in this volume. I don't remember liking her back when she was first introduced. But she managed to make me laugh in this volume. That started with her freaking out at seeing Takao take Kenji's hand. Then for the volume release, we got an omake image showing her enraged and using a drainage pipe to escape the upper floor room she was in.
Haruno-sensei also figures out a way to bring in other characters to the fun. Tama and Chitose are more of a minor presence. But I always like seeing them. And Chitose seems to be back to normal. While Chitose and Tama are there as normal visitors, I had to chuckle a bit at Funabori actually manning another school's crepe stand. She isn't a natural fit to bring into stories, so Sensei finds ways to do it.
Plot-wise for the Living with Kazama arc, Noe lets out the bag and now all of the other girls in Kenji's orbit are aware of it. The humor aspects are killed because of Funabori. She's part of the harem of girls that likes Kenji, so Takao and Roka living with Kenji is a hard blow for her.
Omake
Takao-mama and the Takao family are again the stars of the omake chapter in D-Frag! Volume 12. The story is set the morning after Takao goes to Kenji's home. Takao-mama again trolls her two oldest daughters about this, which made me laugh. But, the daughters managed to get something back. Regardless, I've come to enjoy the Takao family omake chapters quite a lot.
The other omake stuff are 4-pannel comic strips featuring Funabori. These were apparently done in a rather quick fashion as they don't have the normal polish Haruno-sensei's art usually has.
Final Thoughts and Conclusion
In the end, D-Frag! Volume 12 was a fun and humorous chapter that saw Hata's return. In addition, the volume provided a means for the other girls in Kenji's orbit to learn about his living with Roka and Takao. Good times.