My Senpai is Annoying Volume 1
先輩がうざい後輩の話
  Senpai ga Uzai Kouhai no Hanashi 1
–> Purchase My Senpai is Annoying Volume 1 from Amazon.com
I follow a number of manga-ka and Japanese artist on Twitter. As such, I'm often introduced to new manga-ka or artists thanks to their retweets. Such was the case with Senpai ga Uzai Kouhai no Hanashi. I loved the art and story of this manga, which was published on Twitter/Pixiv. So I immediately began to follow Shiromanta-sensei on Twitter. And now, I can read the official release of My Senpai is Annoying Volume 1 in English.
NOTICE!!! In the interest of full disclosure, I should mention that I am the adapter for the official English translation of the True Tenchi Muyo! novels, which are also published by Seven Seas.
***SPOILERS***
The Story, in Brief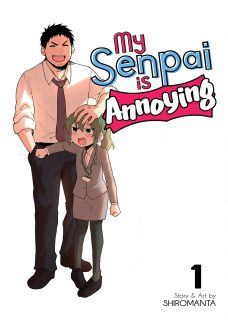 The story of My Senpai is Annoying Volume 1 is about a short, young looking office lady named IGARASHI Futaba. She's also a tsundere. Her senpai at work, TAKEDA Harumi, is a tall, muscular man who's a self-described "middle-aged man". Futaba finds him annoying because he's loud, big, and he pats her on the head. Despite this, she becomes attracted to him, even though she denies it. However, Harumi doesn't notice and kind of sees her like a daughter.
Also at their office are SAKURAI Touko, who's a popular, 20-something office lady. She likes KAZAMA Souta, a 20-something salaryman who doesn't believe someone as hot as Touko would be interested in him. Finally, there's Futaba's best friend from school, KUROBE Natsumi.
The stories are mostly slice of life tales of Futaba and Harumi doing things together, both in and out of work. Examples of this are Futaba coming by Harumi's house when he was sick. Later, Harumi returns the favor when Futaba gets sick. They two exchange Christmas presents, go to a shrine at New Years, etc. Natsumi is worked in to force Futaba to deal with her growing feelings for her Senpai.
The remaining stories are about Touko and Souta and their kinda budding romance.
A Delightful Manga
The primary way to catch my eye for a manga is to have good artwork. Shiromanta-sensei succeeds on this level. Indeed, for My Senpai is Annoying Volume 1, Sensei actually went back and redid some of his early chapters (which are a max of four pages each). As such, the volume looks quite good in the art department. More on that in a bit.
As to the story, I'm not into tsundere characters per se, but I do tend to like a lot of them. Futaba is a cute, fun, tsundere character. She has a complex about being mistaken as a junior high school girl. So when Harumi mistakes her as such, he gets off on the wrong foot with her. But because he genuinely cares about her, she warms up to him and becomes attracted to him.
The "side stories" featuring Touko and Souta are fun as well. Initially, they were just co-workers of Futaba and Harumi. But then Shiromanta-sensei decided to have a burgeoning romance between them.
While I certainly love this slice of life manga title, I suspect that there will never be actual progress in either of the two romance storylines. Hopefully, I'm proven wrong.
Seven Seas
The Twins translated and adapted My Senpai is Annoying Volume 1. As such, you know the title is in good hands. No complaints on the adaptation front.
Seven Seas goes the extra mile by printing this volume in color. As such, it matches what Shiromanta-sensei did for Twitter/Pixiv, though possibly with some additional improvements. It isn't "full color" as sometimes Sensei only used color to highlight certain things. While I highly approve of Seven Seas retaining the color, some of the pages in print are darker than they were in digital form.
Also included at the end of the volume are Sensei's omake chapter where Sensei takes the form of a fat, western ghost image.
Final Thoughts and Conclusion
In the end, My Senpai is Annoying Volume 1 starts a lovely manga series. I enjoy all of the characters here and the stories as well. And Seven Seas doing a good job on the release makes things all the better.