UQ Holder Chapter 176 SPOILER Info
Here is some SPOILER info for the upcoming UQ Holder Chapter 176. This is courtesy of the French publisher Pika Edition.  (My review of the chapter will come on either the 8th or 9th, depending on when Crunchyroll publishes the chapter and my work schedule.)
So without further ado, let's see what Pika Edition has to say.
Tôta a perdu la mémoire ! Il ne lui reste plus que des bribes de ce qui s'est passé il y a 43 ans : l'attentat terroriste sur la station orbitale causé par Baal et sa bande, suite auquel il a perdu de vue tous ses compagnons. À présent qu'il se souvient de qui il est, il décide de reprendre sa vie en main.
And in English…
Tôta lost his memory! He only has bits and pieces of what happened 43 years ago: the terrorist attack on the orbital station caused by Ba'al and his gang, after which he lost sight of all his companions. Now that he remembers who he is, he decides to take charge of his life.
So not a whole lot of info to go on there, other than Ba'al being the one behind the attack. But we still don't know why Mage of the Beginning didn't do her thing in all those years.
No spoiler images have appeared. I'll keep an eye open for them though.
Update: Here are spoiler images, courtesy of Bookwalker.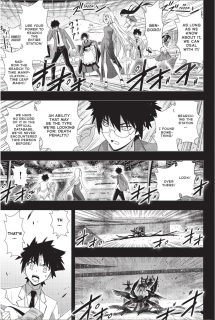 So now we get flashback to see what happened decades earlier.