Yashahime: Princess Half-Demon 02
半妖の夜叉姫 02
Hanyou no Yashahime episode 02
SPOILER Summary/Synopsis:
A 4-year old Towa and her twin sister Setsuna are sleeping in the forest when a fire rages through. The two are accidentally separated and a vortex pulls Towa from the Feudal Era to the present day. She's found by an adult HIGURASHI Souta, who realizes she's from the past. Souta adopts Towa into his family. Ten years later, Towa has a reputation as a fighter, and wears male clothing to make fighting easier. Thugs challenge her on the way to school, but she easily defeats them.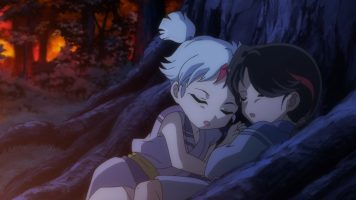 Back in the Feudal Era, youkai hunters have located the bounty hunter, part youkai girl named Moroha. Hisui, riding Kirara and wielding Hiraikotsu, challenges her. However, his uncle, Kohaku, stops him. Setsuna, a hanyou youkai hunter, gets behind Moroha. As such, Moroha attacks. However, their fight is interrupted when a centipede youkai attacks. She demands the Rainbow Pearls and manages to fend off Moroha to steal the red pearl.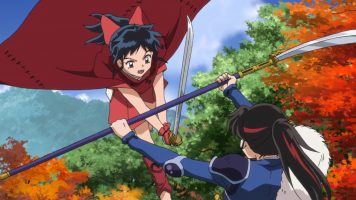 Back in present day, Towa is stunned she hasn't been expelled. She heads to a roof to work on her sword, but smells her young, non-blood sister in trouble. The thugs have captured her little sister (Mei), her grandmother, and her great grandfather. Mei doesn't want Towa to fight, but Towa has had enough. She frees her family after defeating all of the thugs.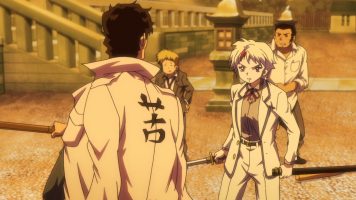 Back in the Feudal Era, the youkai hunters are fleeing the centipede youkai. Setsuna attempts to stand her ground, but the youkai takes the Gold Rainbow Pearl from Setsuna's right eye. A vortex opens at the tree behind Moroha, causing Setsuna, the youkai, and Moroha to be sent to the modern era. Towa recognizes her twin sister and attacks the youkai. However, her sword breaks in the process.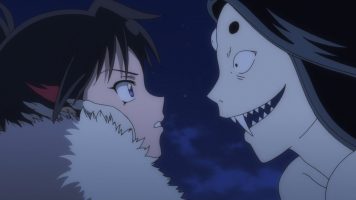 Thoughts/Review:
Things get off to an interesting start in Yashahime: Princess Half-Demon 02. But we now have proper character introductions for the three lead girls.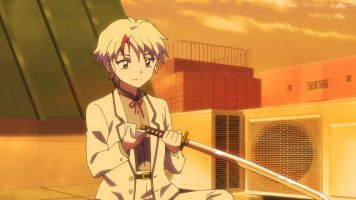 What I Liked
One of the things I like about Yashahime: Princess Half-Demon 02 is the advancement in time. I fear that the series will probably follow Takahashi-sensei's notion of keeping the status quo, as happened with Inuyasha. However, seeing Kagome's brother as an adult, or Sango's youngest kid as a teenager was something I appreciated greatly.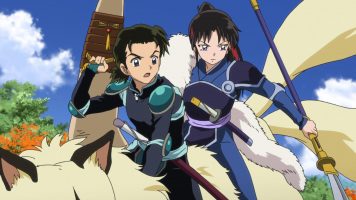 It is clear that these Rainbow Pearls are going to be like the Shikon no Tama was in Inuyasha. I don't mind this, providing we get an explanation as to what these Rainbow Pearls actually are. That said, I had to smile when the female, centipede youkai appeared. Unlike the one who showed up at the beginning of Inuyasha, the one in Yashahime has three eyes and a tougher skin.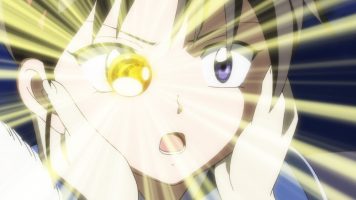 Towa. Setsuna, and Moroha
I'm glad that Yashahime: Princess Half-Demon 02 addressed the butch look of Towa right from the start. She's always being attacked, and male clothing allows her to fight better. Not sure how she's supposed to get away wearing a dandy, butler's uniform to an all girl's school, so I call BS there. However, considering her youkai blood, I can understand were Towa is coming from, even if part of her is interested in feminine clothing.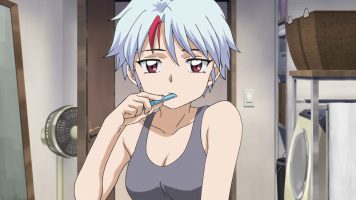 The other element I call BS on is these punks who apparently continuously attempt to defeat Towa.  I guess these bozos are so stupid, in addition to eating pain like candy, they can't help themselves. Sure, there are those who want to knock down the current King of the Hill, but at this point, Towa's reign is not in doubt, thus these constant attempts to best her stupid at best.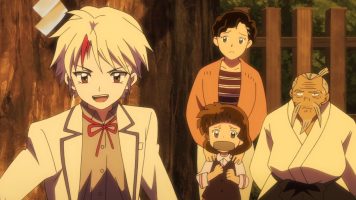 As to Setsuna and Moroha, I did like their first meeting. It is interesting that even at 1/4 youkai, Moroha seems to have inherited a lot of abilities from her father and mother. In my mind, Setsuna should be more powerful than Moroha, since Setsuna is 1/2 youkai. I guess these Rainbow Pearls infuse make up for power gaps.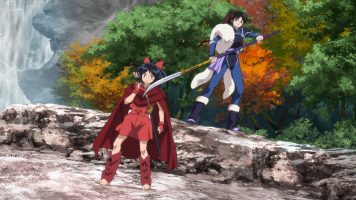 Final Thoughts and Conclusion
It is 3am as I write this, and I need to get back to bed. As such, let me wrap up my review of Yashahime: Princess Half-Demon 02 with some final thoughts.
Setsuna and Towa are seemingly orphaned at the age of 4. Where the heck are Sesshoumaru and their mother (who's hopefully Rin)?
What happened to Inuyasha and Kagome?
Where is Souta's wife?
While I liked seeing Kagome's mom and grandfather, I felt they should have looked older.
Did Kazuma from Yu Yu Hakusho appear in this episode?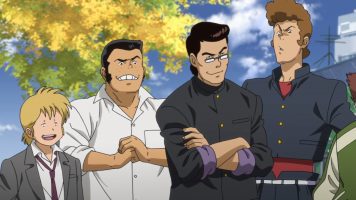 In the end, Yashahime: Princess Half-Demon 02 was an enjoyable episode. I had a few, small complaints, but nothing major.