TONIKAWA: Over The Moon For You 02
Tonikaku Cawaii: Fly Me to the Moon 02
Tonikaku Kawaii/トニカクカワイイ
SPOILER Summary/Synopsis:
Nasa lays in his small, single bed and wonders if he can make it work so that he and Tsukasa can share it. Tsukasa enters the room and says it wouldn't be possible. She has brought her suitcase, but since she doesn't want Nasa sleeping on the floor, she offers to get a room. Nasa rejects this, and the two head to Don Qui, which is open all night. Nasa tells Tsukasa that she can pick anything she wants.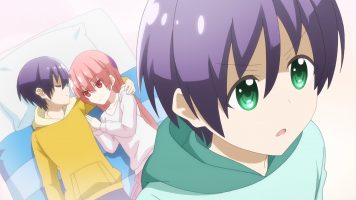 Tsukasa picks the bedding for her first present from Nasa. She offers him a chance to try out the futon, but he declines. Tsukasa notes that Nasa doesn't have a bathroom or other items she needs. As such, the two head out to a convenience store to pick up additional items. Tsukasa changes into her new pajamas and goes to bed in the new futon. She quickly falls asleep.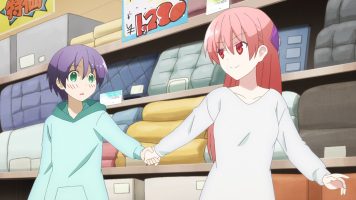 Nasa lays in his bed observing his wife's restless sleep. He decides to cover her up again, but elects not to sneak a hug or kiss. After he returns to bed, Tsukasa gets up and gets some water. Then she sleep-steals Nasa's blanket and lays on the futon. The next morning, she's confused by things. After getting dressed, Tsukasa decides to address her husband as "Nasa-kun" and Nasa decides to address his wife as "Tsukasa-chan". She's embarrassed by this.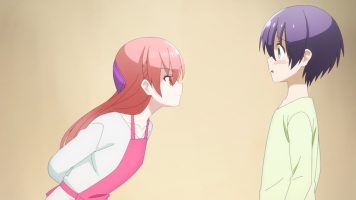 Thoughts/Review:
I really do enjoy the Tonikaku Cawaii manga series. As such, I'm really glad that TONIKAWA: Over The Moon For You 02 helps really bring Nasa and Tsukasa's first night together to life.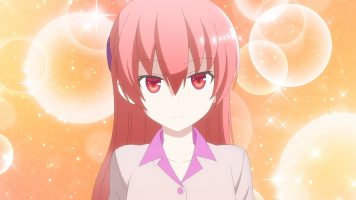 Modifications to the Source Material
Chapters 5, 6, 7, and parts of chapter 8 were used to create TONIKAWA: Over The Moon For You 02. The anime episode was pretty faithfully adapted, but there were some modifications.
The anime adaptation removed the name "Bezos" (Amazon.com's CEO) and just went with generic CEOs. Maybe one of them was supposed to be Bezos. The other was some Japanese person I didn't know. Regardless, this is a minor modification and not a big deal.
The "name" conversation at the end of the episode didn't happen first thing in the manga. Nasa and Tsukasa have breakfast first before having the "how shall I address you" conversation. That said, moving it to before their first breakfast isn't a problem. In fact, it might make more sense.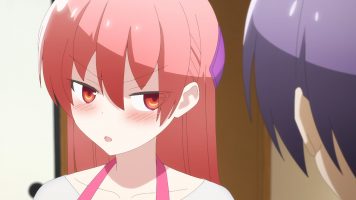 I always like it when an anime adaptation attempts to be as faithful as possible. And so far, TONIKAWA is doing just that for the Tonikaku Cawaii manga.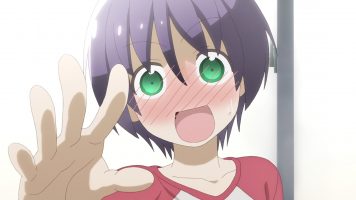 Viz/Crunchyroll Adaptation
When it came to the first volume of the (Tonikaku Cawaii) Fly Me to the Moon manga from Viz, there were some issues I had with the adaptation. (Click here for the review.) Since Viz has licensed the anime adaptation, I presume they are the ones in charge of the subtitles, which FUNimation, Crunchyroll, and Hulu are using.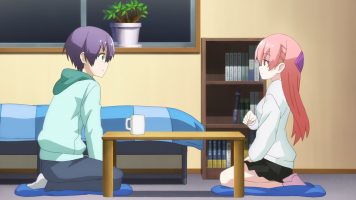 Weirdly enough, I think the anime adaptation is better than the manga adaptation. For example, I mentioned in my review of volume 1 that since the Japanese mentioned the name "Sendou-kun", I would have retained the name, then added a bit to denote this character came from Slam Dunk. But Viz just noted Slam Dunk and dropped the name for the manga. However, for TONIKAWA: Over The Moon For You 02. the adaptation actually did exactly what I felt was the correct adaptation method.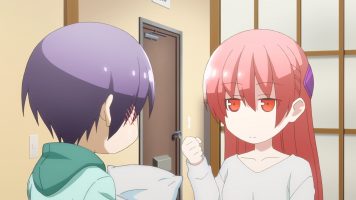 I noticed that throughout the episode, the subtitles were a bit more accurate with what was said on screen. And what the Japanese were saying was mostly straight from the manga. So kudos to whomever is adapting the anime.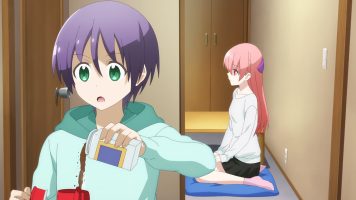 The First Night
As to the story of TONIKAWA: Over The Moon For You 02, I loved it. I couldn't believe how much the anime adaptation of Nasa and Tsukasa's first night together had me smiling so much, and laughing at other times. In my opinion, a good anime adaptation should surpass the original, and I give Seven Arcs credit for really working hard to do this.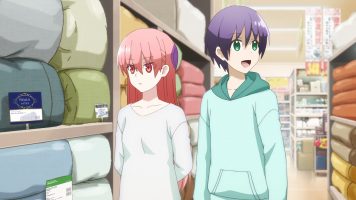 That aside, a fellow reviewer mentioned his feeling that this anime series is a big campaign to encourage Japanese people to get married and have babies. I hadn't thought about this when I read the manga. But I can see his point. The series really is a message that says, "See? Marriage is fine. And you can hold hands as much as you want when you are married!" 😂 I am a sucker for the wholesome romance stuff.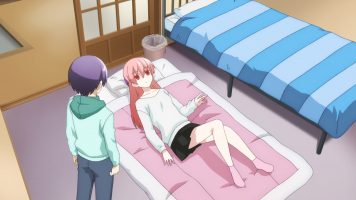 Final Thoughts and Conclusion
In the end, TONIKAWA: Over The Moon For You 02 is a really good adaptation of the source material that kept a smile on my face the whole time. And it even provided me with some laughs despite the fact that I knew what joke was coming. I'm loving the series so far.