Yashahime: Princess Half-Demon 05
半妖の夜叉姫 05
Hanyou no Yashahime episode 05
SPOILER Summary/Synopsis:
Setsuna, Moroha, and Towa's arrival in the Feudal Era is noted by the 4-eyed owl youkai Yotsume, who reports it to another youkai woman named Kyuki. She orders Yotsume to notify the youkai Jakotsumaru, who's father Tokotsu was apparently slain by Moroha. Meanwhile, the youkai hunters are investigating an apparent bone-eating youkai, similar to what they've faced in the past.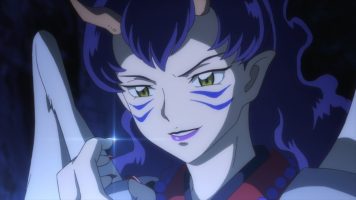 Setsuna is assigned to this mystery and is joined by Towa. Elsewhere, Moroha attempts to sell youkai remains to the corpse dealer (Shikabane), Jyubei. Moroha apparently owes a lot of money to Jyubei. However, Jyubei will purchase Tokotsu's head for a great sum. He sends kodaneki (young racoon dog) youkai Takechiyo to make sure Moroha doesn't try to pull a fast one.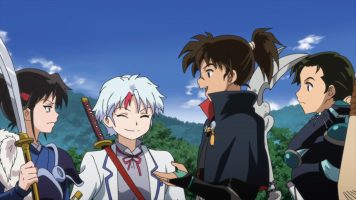 Elsewhere, Setsuna and Towa confront Jakotsumaru, who escapes. This leads the pair to run into Moroha, who's also on the trail. Moroha decides to use them to her advantage. In the meantime, the flea youkai Myouga briefs them on the youkai group known as the Four Perils. Tokotsu is a member, but also is a subject of Kirinmaru, whom the girls had previously refused to become involved with.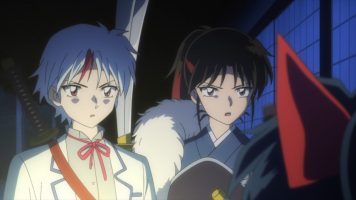 The group confront Jakotsumaru and the reviving Tokotsu, whom Moroha has no memory of defeating. Moroha surprises Jakotsumaru in combat by revealing she has spiritual and youkai powers. However, to defeat her enemies, Moroha is forced to use a lip balm used by her grandmother, Izayoi. This allows Moroha to become Beniyasha and open up her youkai powers. She defeats Jakotsumaru before passing out. Setsuna and Towa finish off Tokotsu, but destroy the head, meaning Moroha gets no bounty.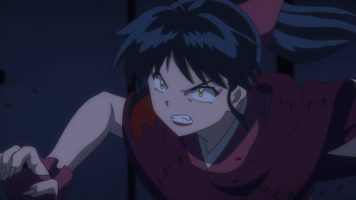 Thoughts/Review:
Moroha is certainly the best part of Yashahime: Princess Half-Demon 05, and is now the best part of the series in general.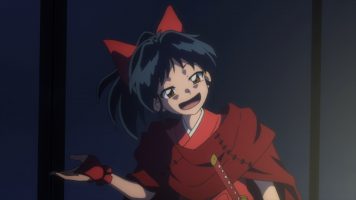 Moroha, aka Beniyasha!
When this series first came out, I was not sure about Moroha's character. However, Yashahime: Princess Half-Demon 05 cemented her as the best character in the series. She's devious in a good way. We see this in her scheme to get Towa and Setsuna to help her, even though she's clearly going to try to keep the whole bounty. We also see it when she stole the Red Rainbow Pearl from Tokotsu.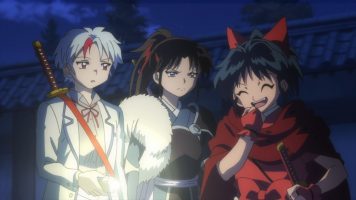 I also can't help but like how cheerful Moroha is. Sometimes, "happy-go-lucky" character types annoy me. Here, I like how she doesn't sweat the unimportant details. Indeed, I wish I had an attitude where I didn't get lost in worrying about the problem and just went about with the solution. And not only that, but perform the solution in a positive fashion, rather than a negative one, which seems to happen a lot with me. 😅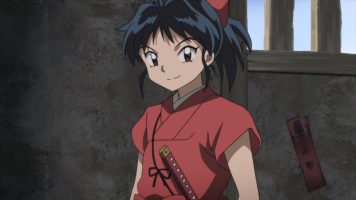 I did enjoy seeing Moroha use some of Inuyasha's powers. I'm glad that her powers are limited though. Since she can only access them using the rouge on her lips (that apparently came from her grandmother), and it wipes her out for a day upon using them, I have no problem with her briefly being OP. As far as I'm concerned, she avoids the Mary Sue trap.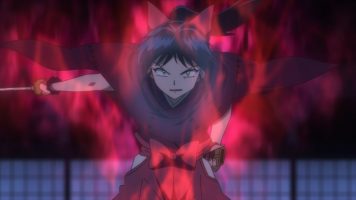 Final Thoughts and Conclusion
I'm wasted from lack of sleep, so let me wrap up my review of Yashahime: Princess Half-Demon 05 with some final thoughts.
I was happy to see Myouga return, voiced by the same seiyuu he had in Inuyasha. It is interesting that while Moroha had an initial reaction to Myouga, she seems way more tolerant of him than her father was.
If Moroha wasn't given the Red Rainbow Pearl, how'd Setsuna and Towa get Rainbow Pearls?
Why does Moroha owe money to Jyuubei (the more correct spelling is used here)?
While I like the life lessons Towa and Setsuna are learning from each other, I don't think they are as strong as they could be.
Finally, gotta love how all the action stops so that the MCs can banter about whatever. Seriously, I laugh out loud whenever the villains take 5 just so the MCs can provide additional exposition, or make some point or other. I realize this is a shounen anime series, but still…😅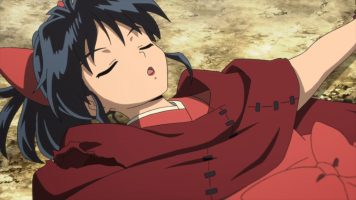 In the end, Yashahime: Princess Half-Demon 05 was a fun episode, allowing us to focus on Moroha. Despite certain issues I have, I am interested in the story.