TONIKAWA: Over The Moon For You 07
Tonikaku Cawaii: Fly Me to the Moon 07
Tonikaku Kawaii/トニカクカワイイ
SPOILER Summary/Synopsis:
At the bus stop service area, Chitose is sure that some small problem will cause Tsukasa to blow up and leave Nasa. Once inside, Nasa wants to have some gyudon. Tsukasa chides him for going for something he can get at home. She decides to try the lime udon she saw on a TV show. However, it isn't as visually appealing or tasty as she'd hoped. Nasa grabs some photos of Tsukasa attempting to eat the lime, which annoys her. However, she's abated when Nasa tells her to pick something for him to eat. She chooses a bread shop and gets to enjoy a local melon-pan with her husband.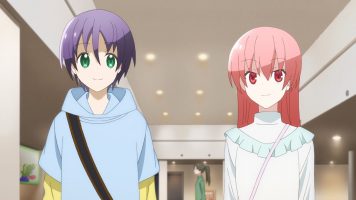 Nasa heads to the bathroom, so Chitose takes the opportunity to confront Tsukasa. Nasa returns, but since a crew from the TV show is interviewing people, Tsukasa grabs Nasa and they split. They make it to Kyoto, where Nasa is disappointed Tsukasa is uninterested in the historical places of the city. But, she agrees to wear a kimono and go with him. Chitose again confronts the couple, so Nasa decides to spend time with Chitose to convince her.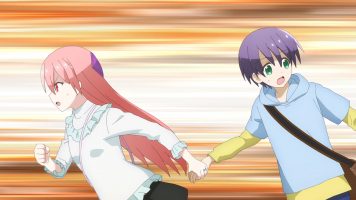 Tsukasa goes off with Charlotte and Aurora while Nasa escorts Chitose around the sites of Kyoto. Chitose becomes frustrated because she realizes Nasa is just the type Tsukasa would fall for. Meanwhile, Charlotte and Aurora prod Tsukasa to tell them why she married Nasa. Afterward, Chitose decides to go home with her maids, allowing Nasa and Tsukasa to continue their journey.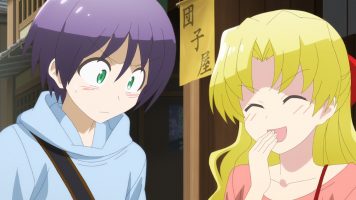 Thoughts/Review:
One of the nice things about watching TONIKAWA: Over The Moon For You 07 is that I'm reminded of elements from the manga story that I'd forgotten. Also, it is so much fun seeing Chitose again.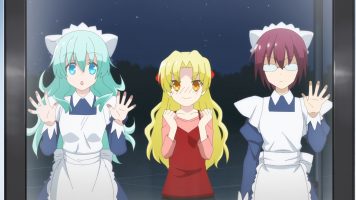 Modifications to the Source Material
In order to create TONIKAWA: Over The Moon For You 07, chapters 23, 24, 25, and 26 from the source Tonikaku Cawaii (Tonikaku Kawaii: Fly Me to the Moon) were used. There were very few modifications.
The Adam and Eve imagery used in Nasa's thought dialog about marriage wasn't used in the manga. But his thoughts were the same.
The first page of chapter 25, which shows Nasa and Chitose on their "date" is cut from the anime. It was done in the manga to throw the audience for a loop, so I understand why narratively it didn't fit in the anime.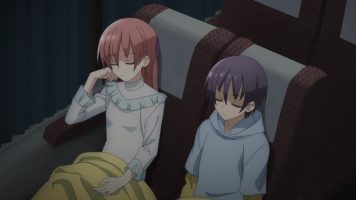 Beyond that, the anime was a spot-on adaptation. I really appreciate that.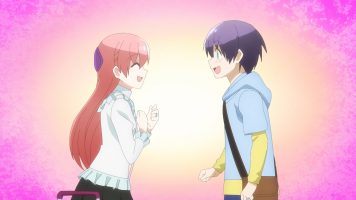 Remembering Things
One thing TONIKAWA: Over The Moon For You 07 is that it allowed me to remember things I'd kinda forgotten. The first thing was Tsukasa's age. She's supposed to be 16 here, but she appears to have been "16" for quite a few years now. Thus the belief that Tsukasa is immortal.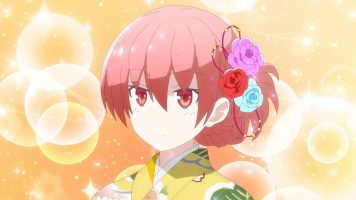 Next, I'd forgotten that Hata-sensei used the "I'm about to tell you something, but an interruption will happen" plot device to avoid educating Nasa on who or what Tsukasa truly is. Chitose clearly knows the truth of Tsukasa, but circumstances in the story made sure she didn't reveal said information to Nasa.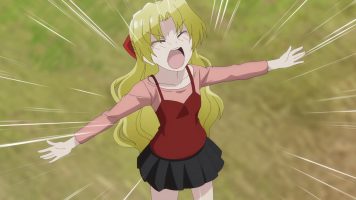 Food!
Lime udon is an actual thing in Japan. It has never been something I've been interested in. Still, I couldn't help but get a kick out of Tsukasa trying it because she saw it on TV. Then there's the joke about the actual food product looking like rubbish compared to the advertised product.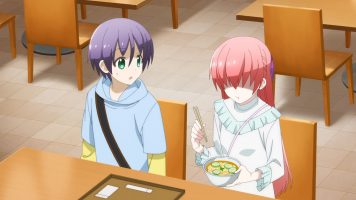 Seeing the melon-pan made me a bit sad. I used to get some from a Japanese grocery store in a town I used to live it. It had to be frozen to get it from Japan, but it was better than nothing. Haven't had any in years.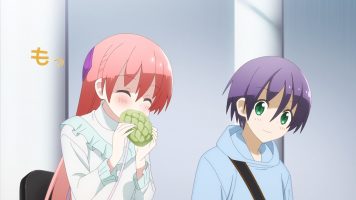 Finally, meat sushi. Yes, this is a thing. The Japanese restaurant that I go to in my current town sells kobe beef rolls, which falls under that "meat sushi" label. They are insanely expensive, but man, they are just amazingly good. And yeah, the beef is cooked.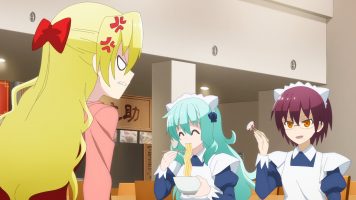 Final Thoughts and Conclusion
My chest is rumbling, it is late at night, and I'm massively behind on anime. So let me wrap up my review of TONIKAWA: Over The Moon For You 07. In the end, I really enjoyed seeing Nasa and Tsukasa's honeymoon trip properly adapted from the source manga.