TONIKAWA: Over The Moon For You 08
Tonikaku Cawaii: Fly Me to the Moon 08
Tonikaku Kawaii/トニカクカワイイ
SPOILER Summary/Synopsis:
Tsukasa and Nasa arrive at Nasa's parents home. There, Tsukasa finds Nasa's parents to be even more nervous about the meeting than she is. Nasa's father, Enishi, sends Nasa to take a bath so Enishi can have a private talk with Tsukasa. That night, Nasa is happy to be sleeping on the same level as Tsukasa, but finds that the arm pillow fantasy is pretty painful in reality.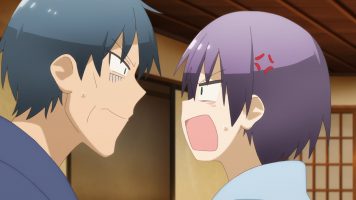 The next morning, Enishi shows Tsukasa his study. He's surprised Tsukasa can read on of the very old books in the library, which is written in old script. After breakfast, Tsukasa and Nasa take in the sights at Nara. Tsukasa takes lots of pictures and videos as she's determined to make these old, boring places interesting now that she's with Nasa. Nasa is surprised that she knows so much about history, despite not being interested in it.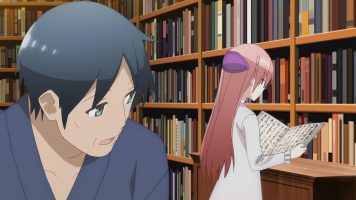 That evening, the couple say goodbye to Nasa's parents. They return home, only to find their apartment has burned to the ground in their absence.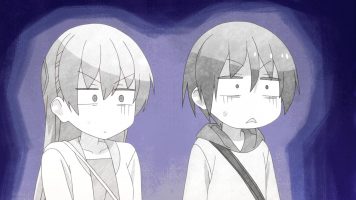 Thoughts/Review:
Time constraints suck, and that causes TONIKAWA: Over The Moon For You 08 to not be as good as it could have been.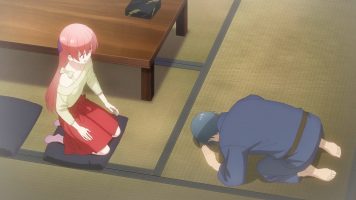 Modifications to the Source Material
For the adaptation of TONIKAWA: Over The Moon For You 08 most of (Tonikaku Cawaii) Fly Me to the Moon chapter 27, most of chapter 28, most of chapter 29, and most of chapter 30 were used.
Nasa's monologue in the bath is anime original.
The anime skips the conversation between Tsukasa and Nasa's father to jump straight after that. The scene was played as a flashback.
Also, the anime skips Nasa's parents discussing their son's marriage so that Tsukasa's bath seems like it took 1 second. Cutting that out makes Nasa's father's joke have next to no impact.
The entire scene where Nasa's dad shows Tsukasa his katana is cut.
Much of Tsukasa's historical commentary in Nara is cut. As such, it makes Nasa's remarks on his wife's historical knowledge to be less impactful.
Sakuya's cameo (Hayate the Combat Butler) is cut.
The stuff about Tsukasa taking photos for Nasa's parents is an anime original item.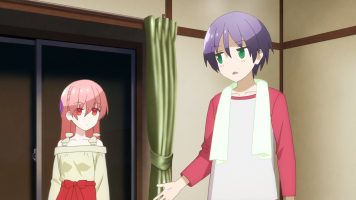 The episode has removed a lot of references hinting at Tsukasa's immortality, and it pissed me off a great deal. But not only that, by cutting the stuff showing how Tsukasa expertly handles a katana, there's ZERO setup for a future event where she needs to use a sword.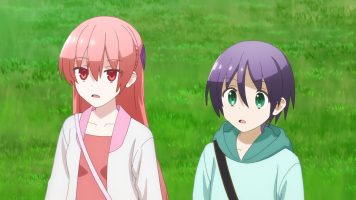 I get that there was too much content to contain in a single episode, but not enough to warrant two episode. Maybe in the BD/DVD release, most of this cut content can be restored.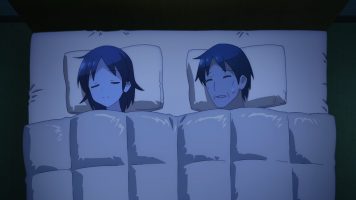 Final Thoughts and Conclusion
I'm insanely behind, so let me wrap up things with some final thoughts. Outside of the cut content, I did enjoy TONIKAWA: Over The Moon For You 08. I like how Tsukasa and Nasa's relationship continues to grow. Further, I get a kick out of how certain fantasy elements, like the arm pillow, aren't as much fun in reality.