ユーキューホルダー! 魔法先生 ネギま!2 Manga Review
UQ Holder! Mahou Sensei Negima 2
UQ Holder!: Magister Negi Magi! 2 Chapter 180
UQ Holder Chapter 180
SPOILER Summary/Synopsis: 
Ba'al's minion Fleurety and her forces continue to attack the UQ Holder battleship. Jinbee, Kuroumaru, and Touta face hoards of demonic monsters. Kuroumaru helps get Touta and the sealed Santa to a safe location to free Santa. Kuroumaru then launches to attack the enemy to buy them time.
Elsewhere, Juuzou battles Ikkuu. It seems that Ikkuu is defeating Juuzou by using his nanomachines to prevent Juuzou from regenerating. However, Juuzou has cut the nanomachines and thus is able to regenerate while damaging Ikkuu. Elsewhere, Gengorou battles the converted Sept.
Meanwhile, Touta releases Santa, who's instantly aware of the situation. He uses his knowledge of Sayoko's virus to counter Ikkuu's take over of the ship. Ikkuu sees that Gengorou has defeated Sept. Further, Santa's efforts allow the battleship to fight off the enemy and escape to Japan.
Touta gets a call from his school friend Nikumaru. Touta wants to meet him, so Touta's escorted by Kuroumaru, Santa, and Jinbee. The group return to Touta's hometown where the 60 year old Nikumaru and Nowa waiting in the old graveyard.
After chatting for a while, Touta apologizes for not keeping his promise to save the world. They let him know that Touta saved the world 45 years ago. Further, they show him a video showing his old friends as well as Mizore and Shinobu when they had a coming of age party.
Thoughts/Review:
Real life kept me from reading UQ Holder Chapter 180 for a while. But I've finally managed to read it and now time for some thoughts.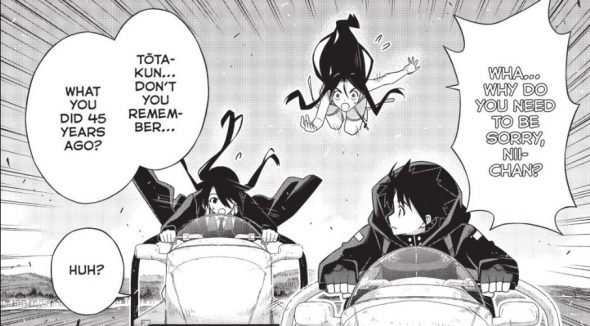 Not Feeling Jazzed
Maybe it is because I'm so tired, but UQ Holder Chapter 180 didn't really jazz me. The massive combat on the battleship felt by the numbers. Yeah, I liked seeing a graceful Kuroumaru doing her thing. I was glad to see Santa restored, even if only to do his deus ex machina thing.
I remember in Negima, the fights against the "demonic hoard" felt like they had impact. Now, it is merely going through the motions. It isn't that I'm uninterested in the fight. It just that it felt like an obligatory thing. And maybe that's a result of the monthly format on top of my exhaustion.
Returning Home
I did not expect for Touta to return "home" in UQ Holder Chapter 180. That aside, I did like seeing the country place where Touta and Yukihime spent some time. And I appreciated the reunion of two of Touta's now old (but not elderly) friends.
Akamatsu-sensei used this reunion to indicate that Touta did something to save the world 45 years ago. What Touta did is unknown. Will we get to see this, or just be told of this Super Touta moment? Do I even care? 😅
I did like seeing Mizore and Shinobu again, via the video footage from their college years.
Final Thoughts and Conclusion
Since I'm so desperately far behind, let me wrap up my poor review of UQ Holder Chapter 180 with some final thoughts.
I figured Santa would be in a bad way since he was sealed. But instead, sealing Santa just felt like a way to add a bit more peril for UQ Holder so that they could unseal him and let him deus ex machina.
Nikitis was sliced up and unable to regenerate. So how did he suddenly get better? I suppose it was Ikkuu fleeing, but I didn't get that from the chapter.
Who is this friend of Yukihime's in Japan whom Nikitis was reluctant to go to for help?
In the end, UQ Holder Chapter 180 was OK for what it was. The combat didn't do anything for me, and while I appreciated going to see Touta's now old classmates, nothing about the chapter really jazzed me.