Tonikaku Cawaii Chapter 136
Tonikaku Kawaii Fly Me to the Moon 136
トニカクカワイイ 136
Spoiler Summary/Synopsis:
Kaname takes a turn at trolling Tsukasa for not verbally expressing her love for Nasa. Kaname's classmate, Kazumiya, pops in. He has a crush on Kaname, and comes by the bathhouse because she invited him. Kaname seems oblivious to his affection for her and decides to use him as an example for Tsukasa.
First, she comes right out and says she loves him to show Tsukasa how to do it. This caused Kazumiya to have a reaction. But because Kaname is oblivious, Tsukasa feels bad for Kazumiya. Kaname shows off her "one shot kill" on Kazumiya, practically killing him. That aside, Kaname gives Tsukasa coupons for free ice cream from a local convenience store.
That night, Tsukasa and Nasa head to the store. Tsukasa quizzes Nasa as to what flavor of ice cream she wants, and he answers correctly. Tsukasa also knows what flavor Nasa purchased. She thinks she sees an opportunity to tell her husband she loves him, but Nasa inadvertently thwarts her.
The two share their ice cream. Nasa uses the opportunity to steal a kiss from Tsukasa. As such, she pays him back with a kiss, finally managing to tell him she loves him.
Thoughts/Review:
The master troll returns in Tonikaku Cawaii Chapter 136 to hopefully wrap up this "Say 'I love you'" arc.
Kaname and Kazumiya
Kaname is a master troll. As such, she's able to pick up where Aya left off to prod Tsukasa into a situation whereby she can tell Nasa she loves him. However, there's nothing new about what Kaname does here. She even provides Tsukasa with a coupon for free ice cream so that Tsukasa and Nasa can have a little date.
That said, where things get fun is her using Kazumiya to provide examples of how to express one's love for a guy. While Kaname is very smart, I honestly don't believe she's aware of Kazumiya's feelings for her. We'll see if Hata-sensei follows this romance or not.

Married Couple Advancement
I was amused at how Nasa and Tsukasa knew each other's choice in ice cream without seeing the purchase made. That is part of being married–learning more about your partner's tastes and such. As such, it was a cute moment.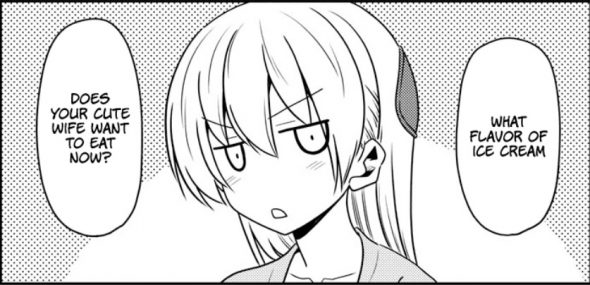 That aside, it seems that Tonikaku Cawaii Chapter 136 is where the "will Tsukasa tell her husband she loves him" arc ends. I've appreciated how Nasa is all go when it comes to the PG-rated quality time with Tsukasa. And he does that in this chapter. But at least, Tsukasa finally returned the favor.
Final Thoughts and Conclusion
In the end, Tonikaku Cawaii Chapter 136 is a fun chapter. I hope we see more Kaname x Kazumiya stuff in the future.