Back to the Vaults: Azumanga Daioh (Manga Review)
あずまんが大王
Back in my early days of anime fandom, Azumanga Daioh was an anime title that I was steered to. I loved it and bought the ADV box set. However, I lamented the fact that the source manga material was never properly adapted. That changed in 2009 when Yen Press published an omnibus version (click link to see it on Amazon.com) of the original four manga volumes. Naturally, I purchased the book and wrote a review of it back then. (Read it here.)
Fast forward to August 2021. I was finally going on my annual road trip and wanted something to read. Since I had not read Azumanga Daioh in a few years, it felt like a good time to reread this bit of manga goodness and see how it does 11+ years later.
The Story, in Brief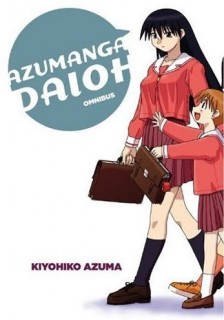 Azumanga Daioh tells the story of five (later six) high school girls, starting from their first year and ending with their third year. MIHAMA Chiyo ("Chiyo-chan") is a rich genius who skips from the 5th grade to high school. KASUGA Ayumu ("Osaka") is a transfer student from Osaka, who often has strange thoughts and observations, and often falls asleep in class. Sakaki ("Sakaki-san") is a shy, tall, athletic girl with a love of cute things, especially cats. They don't love her.
TAKINO Tomo ("Tomo-chan") is a hyper girl with bad grades and a dream of being like Fujiko from Lupin III. She enjoys teasing her friends, especially her best friend MIZUHARA Koyomi ("Yomi"), whom Tomo has been classmates with since elementary school. Yomi is studious, wears glasses, and worries about her weight.
Kagura is an athletic girl with poor grades who joins the cabal in her second year of high school when Yukari-sensei snags her to enhance her class's athletic abilities. Finally, there's Kaori ("Kaorin"), who has an unrequited yuri crush on the "cool" Sakaki-san. However, she has drawn the unwanted attention of Kimura-sensei. Kaorin usually doesn't hang out with the girls though.
On the teacher side, there's TANIZAKI Yukari-sensei ("Yukari-chan"/"Yukari-sensei"), the girl's homeroom teacher all three years of high school. She's an English teacher who can have wild mood swings. Her best friend from high school is KUROSAWA Minamo-sensei ("Nyamo"/"Kurosawa-sensei"). Yukari always competes with Nyamo during the sports festivals. Finally, there's Kimura-sensei, who has a beautiful wife and daughter. However, he's a creepy, lewd  teacher, who who likes Kaorin the most, but has a strong love of high school girls.
That's Right, No Plot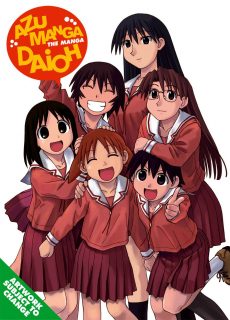 If you were wondering why there were story details above, that's because there's no plot. Beyond the fact that the girls journey through high school, the various comic strips are just little, humorous glimpses into this journey. Azuma-sensei breaks the chapters down by months. Then each month has a series of comic strips showing what the girls or their teachers might be doing during that month.
Because the series follows the journey through high school, some of the traditional Japanese high school tropes are touched. For example, there's the yearly culture festival, were classes do different things like cafes, haunted houses, etc. Then there are the yearly sports festivals, whereby the classes compete. And this is where Yukari-sensei goes hilariously nuts in her desperation to show up her best friend (and school PE coach) Nyamo.
The fact that there's no plot is not a detriment to the manga. Its the often amusing journey with these interesting characters that's important. And after reading Azumanga Daioh for the umpteenth time (I used to reread it a lot more back in the day), I find I actually enjoy the journey even more. However, I do admit that as I get older and have had classmates die over the years, the ending where the girls graduate becomes more sentimental to me.
Not All Comic Strips
While the majority of Azumanga Daioh are the 4-koma comic strips, Azuma-sensei did do the occasional, proper manga chapter. Who knows what prompted him to do this, other than maybe it was a better way to tell some slice of life element that the comic strip format could not. Some of the notable proper manga chapters are Osaka getting hiccups, Chiyo-chan covering a day in her life, and when Maya travels from Okinawa to the mainland to find Sakaki-san.
There are some hybrid moments too. Since each chapter was actually a month in the year, filled with comic strips, sometimes Asuma-sensei might start a chapter or end one with some proper manga pages.
Kimura-sensei
If there is one aspect to Azumanga Daioh that might put folks off, it is the character of Kimura-sensei. You can't call him a "pedo" since he's not interested in prepubescent girls, but that doesn't make him any less creepy in his obsession with high school girls. Thankfully, the manga isn't as bad as the anime in terms of Kimura-sensei's screen time, but he's still an icky presence. Indeed, within the confines of the manga, I wonder how the other teachers put up with him so much.
Still, after all of these years, I find myself amused by some of the jokes surrounding Kimura-sensei, even if the character creeps me out. And the phrase "Mai waifu" originated from Azumanga Daioh, when Kimura-sensei identified his wife from a photo of her and their daughter. Sadly, Yen Press turned this into "my wife", but that was better than what ADV originally did, which was use the term "Mein wife". 🙄
Note: The image at the left is from a scanlation, using the correct terminology. Click the image to see the full sized version.
Final Thought and Conclusion
If you want to read my thoughts about the Yen Press release (which is pretty good), do check out my original review of the Azumanga Daioh release (click here). Otherwise, Azumanga Daioh is such a lovely manga, which (mostly) lovely characters, and humorous gags galore. It is one of those manga series that I will never grow tired of reading. I highly recommend folks pick it up and read it for themselves.