ユーキューホルダー! 魔法先生 ネギま!2 Manga Review
UQ Holder! Mahou Sensei Negima 2
UQ Holder!: Magister Negi Magi! 2 Chapter 187
UQ Holder Chapter 187
SPOILER Summary/Synopsis: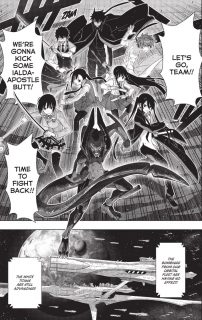 Touta, Gengorou, and Juuzou return to the battle, the moment just before they were killed. This allows them to kill Asuna, Yue, and Nodoka, who turn things over to Touta. UQ Holder regroups to prepare for the next attack. Meanwhile on Earth, White Titan units are dispatched to cripple Earth's defenses. Fate knows this can't be the work of the Mage of the Beginning. Nikitis surmises it is Ba'al, and he's right.
Ba'al has spent the last 40 years enacting his own plan that doesn't require Ialda's CE spell, allowing him to use his own version. These White Titans, ancient tech from Venus, start obliterating humans on Earth to send them to CE. Back on Pluto, UQ Holder continues to battle, making easy work of the demonic hoards. Fate gets a message through, briefing Touta on new developments in order to bring him back.
Ikku attacks Fate on Earth while Ialda descends to force the members of UQ Holder down. Touta, who's in pure Magia Erebea form, manages to stand. This breaks her hold and allows the other members of UQ Holder to rise. Fate defeats the android Ikku, but of course this does not kill him. Santa arrives, determined to beat some sense into Ikku.
Thoughts/Review:
Egad! I'm ashamed to admit it, but I had completely forgotten that UQ Holder Chapter 187 had published. I guess that means that my interest in the series has majorly dropped of late. 😅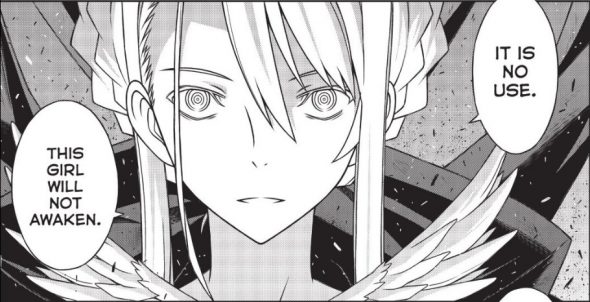 Much Ado About Nothing
UQ Holder Chapter 187 is supposed to represent the rising climax of the series. But to be honest, nothing really jazzed me about the chapter beyond the idea that maybe Santa will get some time to kick bottom.
Asuna, Yue, and Nodoka were dispatched instantly, which was the point, but it felt so anti-climatic. And then all of UQ Holder's actions on Pluto just felt like going through the shounen action motions. Akamatsu-sensei dedicated four pages, focusing on a pair of UQ Holder folks at Pluto, kicking bottom. Yeah, the moments look cool, but maybe I'm just getting too old for this. 😅
The attacks on Earth by the crazed Ba'al and the White Titans don't feel like much, even though this is a catastrophic event that is happening. I cannot get into the moment because there's nothing really to get me there. I guess it is true — UQ Holder works best as a weekly series, not a monthly.
That aside, I was interested to see Santa get involved at the end with a battle with Ikku. But as to the fight with Eva-Ialda vs. Touta, I'm kinda like, "Meh!" Yeah, I want Eva saved, but I want Nagi and Negi  saved too. We'll see where all that goes.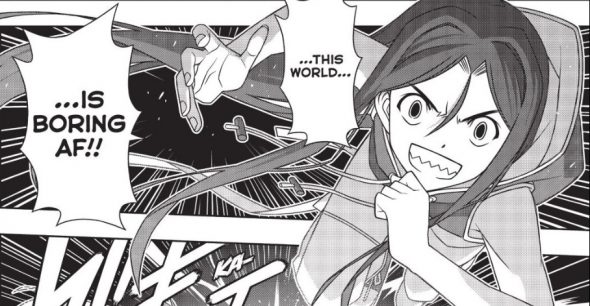 Final Thoughts and Conclusion
In the end, UQ Holder Chapter 187 felt like it was going through the shounen action moments without any weight or drama. As such, other than Santa's appearance at the end, I just wasn't jazzed about things, no matter how cool they looked.