Back to the Vaults: Azumanga Daioh (The Animation…Again!)
あずまんが大王
One of the early "Back to the Vaults" pieces I did back in 2007 was for the Azumanga Daioh anime. Since I had just read the source Azumanga Daioh manga, it occurred to me that I had never watched the anime adaptation immediately afterward to get a comparison. So I thought I would return to the vaults an additional time for this excellent anime series.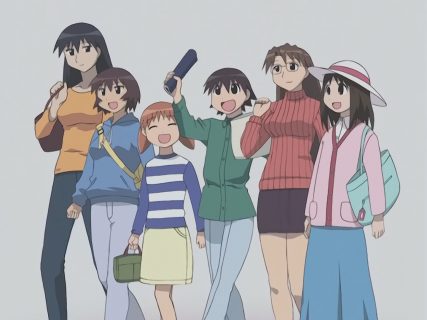 The Story, in Brief
MIHAMA Chiyo ("Chiyo-chan") is a rich genius who skips from the 5th grade to high school. Her homeroom teacher is TANIZAKI Yukari-sensei ("Yukari-chan"/"Yukari-sensei"), who has wide mood swings, depending on events. In Chiyo-chan's class is Sakaki-san, a tall, shy girl who loves cute things, especially cats. But cats don't like her. She and Chiyo-chan become good friends, more so since Sakaki-san gets along with Chiyo-chan's dog, Tadakichi-san.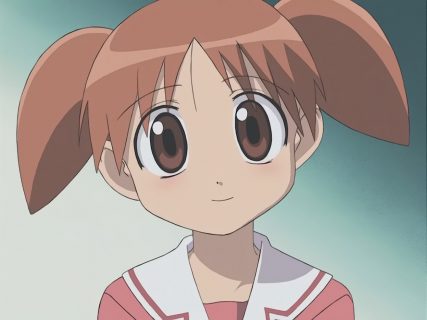 Also in Chiyo-chan's class is MIZUHARA Koyomi ("Yomi"), a studious girl in glasses who worries about her weight. Her hyper, childhood friend AKINO Tomo ("Tomo-chan") is also in the class, taking opportunities to tease Chiyo-chan and others. Joining the class is transfer student KASUGA Ayumu ("Osaka"), who comes in from Osaka. She has a slow nature and a unique way of seeing things. Rounding out the class in the first year is Kaori ("Kaorin"), who has an unrequited yuri crush Sakaki-san. She transfers to another class in the third year.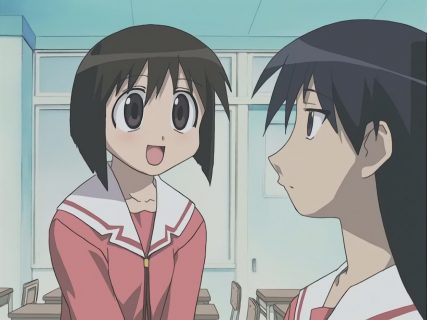 In the second year of the girl's high school journey, Yukari-sensei snags Kagura, who's very athletic and part of the swim team. She considers Sakaki-san an athletic rival, but quickly becomes part of the group. KUROSAWA Minamo-sensei's ("Nyamo"/"Kurosawa-sensei") class is where Kagura came from Nyamo and Yukari have been friends from high school. But Yukari often wants to show her up.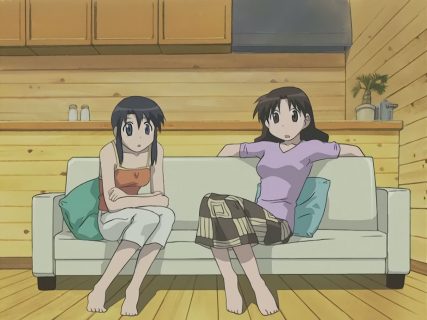 Finally, there's the slack-jawed Kimura-sensei, and the only featured male character. Kimura-sensei has a creepy obsession with high school girls. However, he's married to a beautiful woman and has a cute kid.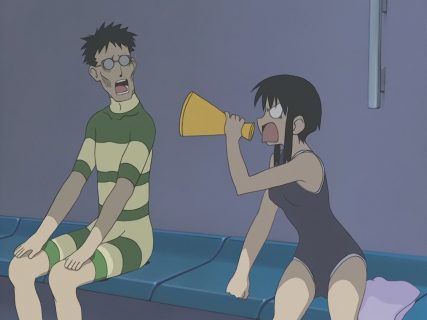 The story then covers the day to day activities over the three year high school period of these girls and their teachers.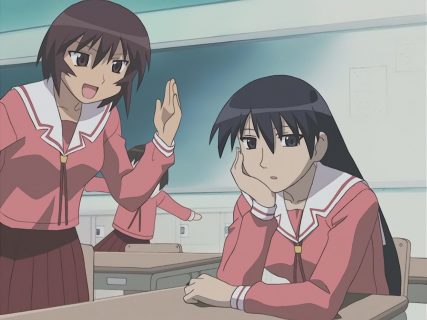 Loosely Based on a Manga
It may be surprising to some, but Azumanga Daioh anime series is only loosely based on the manga of the same title. (Read my look back at the manga here.) Since the source manga was mostly done in a 4-koma comic strip form, the anime adaptation did what it could to mimic this by producing 130 5-minute shorts that were broadcast on weekdays. These shorts were given their own titles. On the weekend, the five shorts of the week were combined into a single episode, which is what we have on disc today.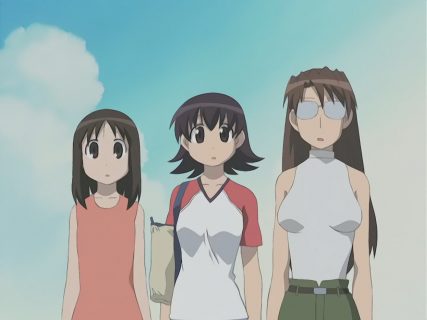 However, the comic strip form meant that the anime adaptation took a lot of liberties. Certain key moments were adapted for the anime. But I'd say that maybe two-thirds of the anime is original material. The remaining third took what was in the source manga, but then shaped it to better fit an anime form. As such, the anime does a bit more character exploration. And Kaorin gets a lot more screen time than she did in the manga.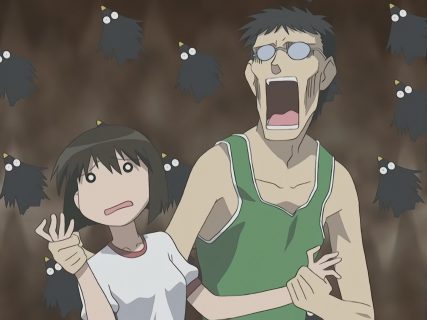 Normally, I get pretty tetchy about an anime adaptation of a manga that "goes too far off the reservation". In my opinion, the mangaka wrote the story and should know best. And most of the time, when the anime adaptation changes things, it is for the worst. However, I give the anime adaptation of Azumanga Daioh a pass in this regard.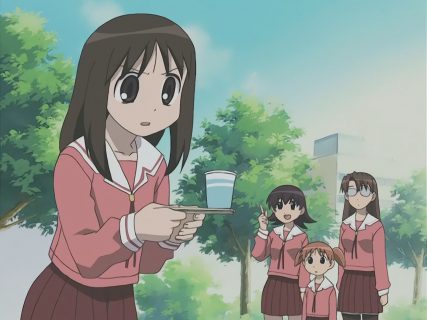 I won't lie and say there aren't some changes that I'm thinking, "OK, why'd that have to change?" Or some drag moments that are clearly designed to fill time with nothingness. But Azumanga Daioh is a rare adaptation that doesn't suffer from the changes and new materials added in the anime. The additional character stuff is pretty nice. And it adds more humor at times. So I am able to separate the manga from the anime and enjoy both equally.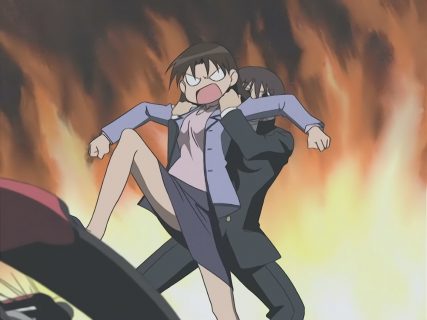 Azuma-sensei Didn't Like?
There is still a belief that Azuma-sensei, the creator of the manga, did not like the anime adaptation of Azumanga Daioh. He would deny this a couple of times in interviews. But did mention that there shouldn't be two folks in charge of an anime. To me, I suspect this means himself and director NISHIKIORI Hiroshi-san.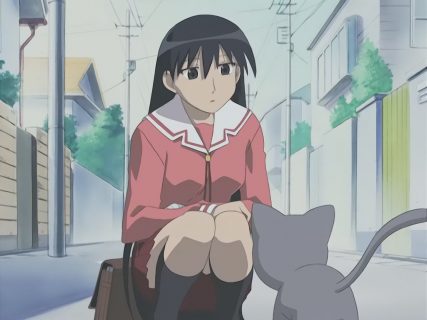 Still, I think Azuma-sensei was just being diplomatic. He will not allow an anime adaptation of Yotsuba&! to happen. His stated reason is that it would be too difficult to adapt. But Yotsuba&! is also a slice of life series, but unlike Azumanga Daioh, it is traditional manga story telling, sometimes across multiple chapters. That's perfect for adaptation.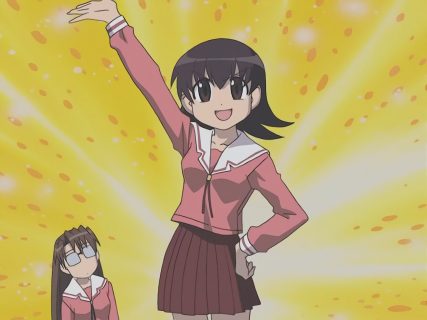 Considering how mangaka are understandably attached to their creations, an anime adaptation making radical changes can be irritating or worse. So despite Azuma-sensei's denials, I believe he was displeased with the anime adaptation. And thus decided that the only way to preserve his future creations is to deny giving out the rights to an anime adaption.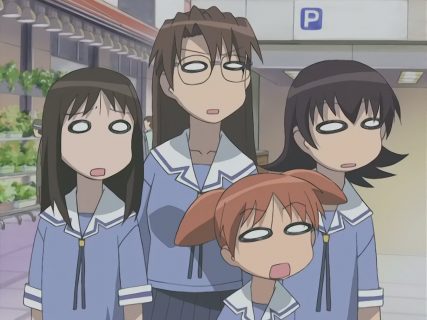 Final Thoughts and Conclusion
Sadly, the anime adaptation for Azumanga Daioh is out of print. You can pick up DVD copies here and there, but for a new copy, expect to pay over $100 (in the U.S.). As of this article being published, the series can be legally streamed on VRV or on HIDIVE. (I don't know anything about either service, so I cannot vouch for them, nor am I affiliated with them.) But as with all streaming, it can disappear at a moments notice, which is why physical media will always be better than digital media.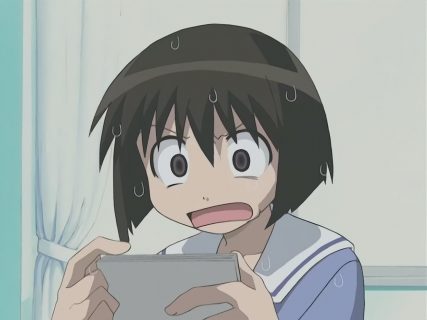 That said, if you have never watched the anime, I highly recommend it. It is a most excellent, slice of life, comedy series that I could watch again and again.