Yashahime: Princess Half-Demon 12
半妖の夜叉姫 12
Hanyou no Yashahime episode 12
SPOILER Summary/Synopsis:
Setsuna and Towa are assigned to dispatch a human turned youkai named Nikosen. At the same time, Moroha is looking to score a bounty by collecting Nikosen's head. However, the girls are unaware that Nikosen is prepared for them, having orders from Konton to dispatch them. As the trio walk up the mountain path, Towa's youkai abilities begin to wane. She passes out, forcing Setsuna to get her to safety.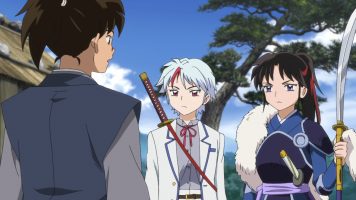 Nikosen forces Moroha to retreat. As such, she borrows a youkai hunter respirator from Setsuna so she can return to the battle in the toxic air. Moroha manages to behead Nikosen, but the head flies off and defies Moroha's arrows. Setsuna takes off after him, leaving Towa with Moroha. Towa turns into a human as the torso of Nikosen confronts them and grows a new head.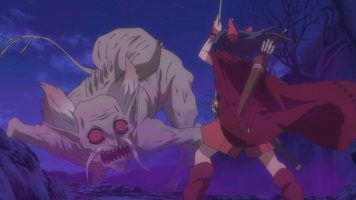 Nikosen destroys the rope bridge Moroha and Towa are on. They fall to the river below, where Moroha gets Towa to a nearby cave. There, she consults the flea youkai, Myoga. Moroha sets up a barrier at the cave's entrance to mask them from Nikosen. Meanwhile, the youkai hunters bombard the base of the mountain with flaming ordnance fired from catapults. This weakens the barrier enough for Nikosen to find Moroha and Towa.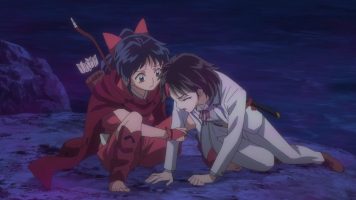 Nikosen petrifies the two girls when Setsuna arrives. Her attack frees the girls, but Nikosen is otherwise unharmed. As such, Nikosen defeats Setsuna, but before he can eat her, a restored Towa easily kills Nikosen. The battle over, Konton, who'd observed from his cave residence, now knows the hanyou new moon weakness.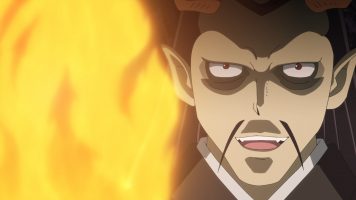 Thoughts/Review:
Heh. Well, Yashahime: Princess Half-Demon 12 reminded me that the series is basically going to go through shounen trope elements that originated in Inuyasha. But unlike that series, Yashahime isn't doing it as well.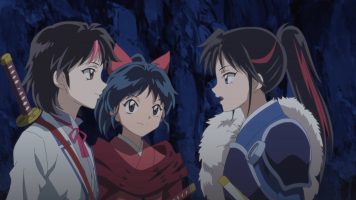 Old Inuyasha Plot Device
The "New Moon" problem for hanyou originated in the Inuyasha series. There, Inuyasha, being a hanyou, had to hide out on New Moon nights as he'd become fully human for the night. So when the writers wanted to introduce this weakness in Yashahime: Princess Half-Demon 12, they had a problem. Moroha is 1/4 youkai, 3/4 human and she'd never experienced a problem during New Moon. Likewise Setsuna, who is hanyou, has never had a problem.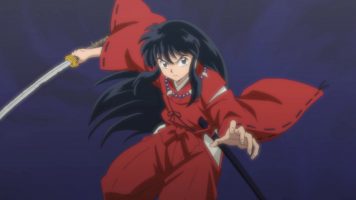 Further to that, Towa never experienced this in the modern world. As such, the writers try to paper over these inconveniences to bringing back this old plot device. I call "BS" on the explanations as they felt like reaching. Plus, it highlights the problems with the episodic, youkai of the week, story format that's going on. Yes, there were ties to the main plot (Konton), but that was limited at best.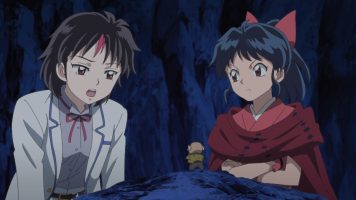 Towa's Still a Mary Sue
One of the things Yashahime: Princess Half-Demon 12 also reminded of was just how much of a Mary Sue character Towa is. I recall complaining before that Setsuna and Moroha are understandably powerful. But without training, Towa shouldn't be able to constantly show-up the other girls. Yet that's what she does time and time again.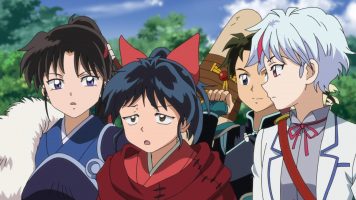 In this episode, the human Towa manages to go from human to hanyou in mere seconds (it took a long time for her to go from hanyou to full human) so that she could effortlessly kill Nikosen. Setsuna, who's the skilled youkai hunter, should have been the one to kill Nikosen. Had Towa just regained enough power to get off a distracting attack to let Setsuna do her duty, I'd be cool with it. But alas, the writers all have a thing for Towa, so Towa gets to be Mary Sue all over the place. 😑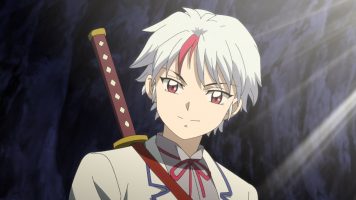 Moroha Rocks
The best character of this series continues to be Moroha. I actually laughed in Yashahime: Princess Half-Demon 12 when she tried to make a business deal with Nikosen. In her mind, if Nikosen can just keep growing new heads, then why not let Moroha keep beheading him to cash in on it? Nikosen's "what the heck are you talking about" reaction further added to the humor of the moment.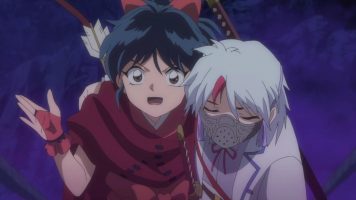 I do wish the writers would clue us in on why Moroha is so in debt. But if they did that, she'd probably steal the show. And apparently, we can't take the spotlight from Towa.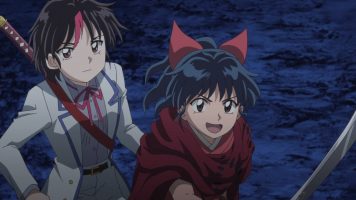 Final Thoughts and Conclusion
In the end, Yashahime: Princess Half-Demon 12 was an OK episode that tries to cash in on a plot device from Inuyasha. But outside of some fun with Moroha, the episode is just going through the paces to keep propping up Towa.