Lupin the Third Part 6 – 00
Lupin III Part 6 00
ルパン三世 PART6
SPOILER Summary/Synopsis:
Lupin, Jigen, and Goemon are in a jail cell. Jigen laments how the world is today. He thinks back to their last job, where cops using high tech plastic guns and drones manages to capture the trio while Fujiko escaped. Goemon gets angry with Jigen's contemplation of quitting the gang. Lupin breaks up their argument to get them to escape. However, as they escape jail, Jigen is still depress.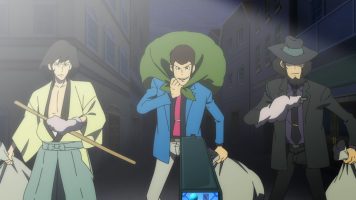 Jigen goes to a pub for a drink. Zenigata joins him, telling Jigen he's off duty. He wants to know where Lupin is, but Jigen denies knowing. Since Zenigata won't arrest him, Jigen takes off, leaving the high tech pistol for Zenigata. Meanwhile, Lupin, Goemon, and Fujiko are waiting for Jigen to show up so they can party. Goemon isn't sure Jigen will show. However, Lupin is confident and sure enough, Jigen arrives.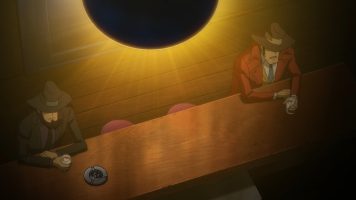 With the party on, Goemon eyes Jigen. Lupin shows off the good liquor from 1971. When Lupin leaves to go to the bathroom, Jigen and Goemon have a chat about Jigen possibly quitting. Jigen doesn't answer and instead, joins Fujiko on the deck outside. They have a chat where Fujiko invites Jigen to partner with her. He finds the idea amusing. Meanwhile, Goemon confronts Lupin about Jigen. Lupin honestly tells Goemon that no matter what Jigen decides, he'll accept it.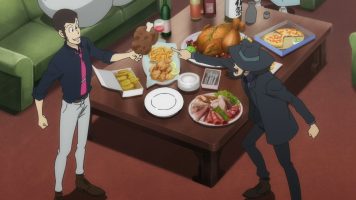 Zenigata shows up with local law enforcement to arrest the gang. Lupin takes the bottle of good stuff as they make their escape. Jigen stays behind to cover the others' escape, making Lupin promise not to drink the good stuff without him. Jigen shows why he's so good with his Magnum as he prevents Zenigata from going after Lupin. Meanwhile, Lupin changes from his blue jacket to a green one, looking forward to sharing a drink with his friend.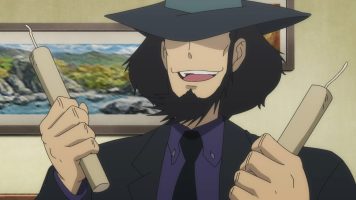 Thoughts/Review:
With Lupin the Third Part 6 – 00, the last of the original Lupin III seiyuu departs the series. And as farewells go, Jigen's seiyuu KOBAYASHI Kiyoshi-san got a good one.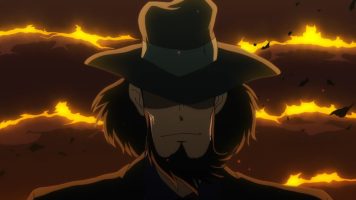 A Fond Farewell

In some of my more recent reviews of Lupin III titles, I noted that Jigen's seiyuu Kobayashi-san, was sounding pretty old. And at the age of 88 (as I write this), that elderly voice is quite understandable. In that light, one of the things Lupin the Third Part 6 – 00 does is acknowledge Kobayashi-san's age without making it explicit. Jigen is referred to as an "old man" a few times in the episode.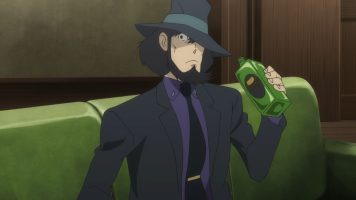 Having this prequel episode centered around Jigen and his plans to leave Lupin's gang also gave weight to Kobayashi-san's retirement from voicing Jigen. The double meaning in Jigen's dialog was so clear, yet fit so well with the story that was lain out.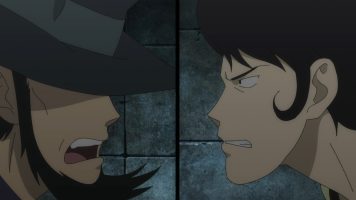 That said, the part that caused me to lose my composure was when Lupin brought out the bottle of "good stuff" booze, dated 1971. That was the year that Lupin III Part 1 first aired. Then when Jigen made Lupin promise not to drink it without him, I may have gotten a little misty-eyed. And I won't deny that as Lupin looked over the sunset, changed jackets, and spoke of drinking with Jigen again, I did lose it a bit. I thought it was such a wonderful farewell moment.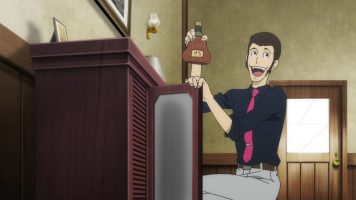 Final Thoughts and Conclusion
I know I really didn't speak to the story of Lupin the Third Part 6 – 00 too much. But that's because it was well constructed to both be a Jigen character episode and a farewell to Kobayashi-san. And the writers made sure that all of the core characters got some meaningful, one-on-one time with Jigen. I thought that was brilliant.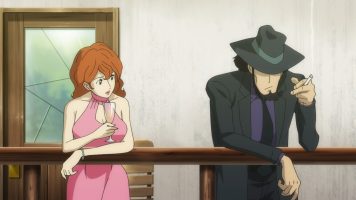 As such, Lupin the Third Part 6 – 00 succeeds in both in getting this new Lupin III series rolling, and allows Kobayashi-san to have a wonderful, touching, farewell episode. Hopefully, ŌTSUKA Akio-san will will Kobayashi-san's shoes and do Jigen justice.