Tonikaku Cawaii Chapter 158.1
Tonikaku Kawaii Fly Me to the Moon 158.1
トニカクカワイイ 158.1
Spoiler Summary/Synopsis:
During the mid 1940s, Tsukasa leads the young. amnesiac, orphaned girl on a walk through the country. Tsukasa gives the girl the name Tokiko, explaining her reasoning behind 時 (Toki — Time) and 子 (kō — Child). Tokiko is impressed with how much thought Tsukasa put into her name.
In the present, Tsukasa visits the funeral home where Tokiko's private wake is to be held. Charlotte greets Tsukasa at the door. She explains that Tokiko wanted the wake and funeral to be private, then after her death is publicly announced, a separate service will be held. Charlotte escorts Tsukasa to the casket and leaves her to have a private moment.
Tsukasa acknowledges out loud that although Tokiko told her not to come, she wanted to do so anyway. That aside, Tsukasa thanks Tokiko for several decades of peace in Tsukasa's life. She has one final question she wants to ask, but says one final thanks and leaves. Charlotte reports this to Chitose when she arrives.
And somewhat depressed Tsukasa walks home and sees a watermelon. She recalls when she first served Tokiko watermelon from Tsukasa's garden. During this time, Tsukasa lets down her guard reveals her strong desire to get to the moon after 1400 years. To that, the young Tokiko vows to make Tsukasa's dream come true.
Thoughts/Review:
Man, I have to give props to Hata-sensei for continuing to give us such wonderful backstory material in Tonikaku Cawaii Chapter 158.1 of Tsukasa and Tokiko.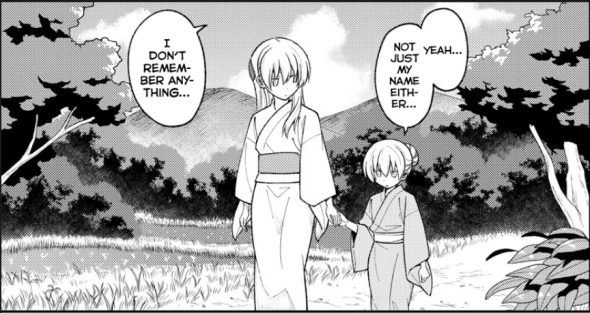 More Tsukasa and Tokiko Backstory
I really love that Hata-sensei has given us so much lovely backstory between Tsukasa and Tokiko. Tonikaku Cawaii Chapter 158.1 may have been the most heart warming of the lot. (And they've all been good.) If I had to guess, Tsukasa is taking Tokiko to her countryside residence to get away from the war. And since Tsukasa had decided to adopt the war-orphaned child with no memories, it makes sense for Tsukasa to give her a name.
One of the fun elements here is that we see elements of Tokiko's personality that are there in late life. When Tokiko first hears this is the name Tsukasa has chosen for her, she's not impressed. But after hearing Tsukasa's explanation, she is impressed, though she gives a slightly impertinent remark about it. That was a nice touch.
Later in the chapter, the chapter shows us the moment Tsukasa first gives Tokiko watermelon. Here, we learn that Tsukasa brought watermelon seeds from Ērānshahr (Middle Persia, now part of Iran) some time in the past.
Finally, it was a casual thought spoken aloud by Tsukasa that put Tokiko on the path to NASA and the moon landings.  I wonder if this had something to do with the question Tsukasa wanted to ask Tokiko.
The Visit
I'm glad Tsukasa decided to pay her last respects to Tokiko in Tonikaku Cawaii Chapter 158.1. I would have understood if she didn't.  However, after all of this lovely backstory we've gotten about Tsukasa and Tokiko, it is nice that Tsukasa came despite Tokiko's wishes. And, it was lovely hearing Tsukasa voice her appreciation for what Tokiko brought to her life — peace.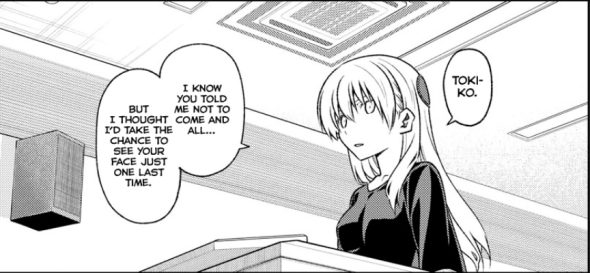 Eventually, I would like Hata-sensei to further delve into Tsukasa's past. And even more stories of Tokiko and Tsukasa would be fine by me. Still, knowing what I know, it was touching to see the loss of Tokiko really hit her. I wonder how she handled the deaths of others near her in the past.
Final Thoughts and Conclusion
Let me wrap up my review of  Tonikaku Cawaii Chapter 158.1 with some final thoughts.
It is interesting to see how Charlotte remained her normal, chipper self at first. But after Tsukasa left, Tsukasa's sadness apparently affected Charlotte. I'd kinda like to see how she joined Tokiko's household.
Speaking of maids, Aurora's absence surprised me.
Having seen how Chitose and Tsukasa initially met, her appearance in this chapter had a different weight to it. I don't expect Hata-sensei to take away her comedic role in the series. However, I do expect that Chitose will continue to have more gravitas henceforth.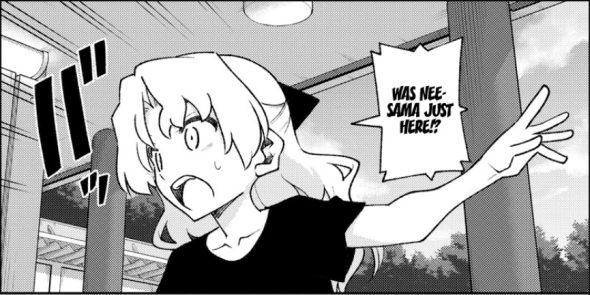 In the end, Tonikaku Cawaii Chapter 158.1 continued to give us more lovely backstory for Tsukasa and Tokiko, with a touching interlude in the present.