My Senpai is Annoying 06
Senpai ga Uzai Kōhai no Hanashi 06
先輩がうざい後輩の話 Episode 06
SPOILER Summary/Synopsis:
Futaba's grandfather sends her a text, displaying the dolls he has on display for Hinamatsuri. Sakurai takes a picture of Futaba with Takeda. She uses an app to make them appear as hina dolls and sends it to Ojiichan. As a result, Ojiichan gets upset at seeing Takeda. Sometime later, Futaba and Takeda discover they have the same birthday, so they buy each other flowers. Ojiichan drives up on his motorcycle to give Futaba flowers. He gets angry when he sees Takeda.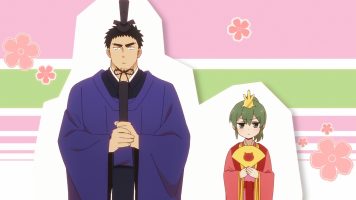 The trio go to a restaurant, where Takeda and Ojiichan get drunk. As such, Ojiichan spends the night at Futaba's place. The next day, Futaba meets Natsumi so that Natsumi can buy Futaba some cake for her birthday.  While eating, Ojiichan sends Futaba a text that she does not answer. As such, Ojiichan wanders the city until he ends up at fishing center (concrete pools, stocked with fish). Takeda is there, so the two compete over fishing.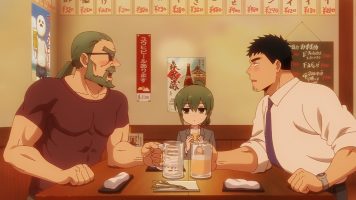 Ojiichan then goes to a batting cage. However, Takeda is there, so the two compete over home runs hit. Later, the ramen restaurant owner enlists Takeda to help the community effort to pick up trash. Ojiichan wanders by and gets drafted, leading to another competition. Afterward, the two have a beer. Ojiichan opens up on raising Futaba. He also lets Takeda know that Futaba has been living on her own since she started high school.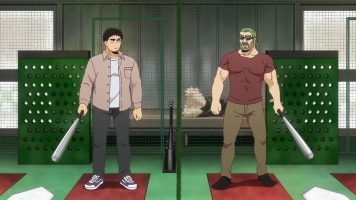 Sometime later at work, Kazama gives Sakurai macarons for White Day. Futaba is suffering from allergies, so Takeda gives her some medicines and some candy. The two go for lunch, but on the way, Takeda needs to pee. In the bathroom, he encounters Ojiichan. Takeda invites him to join them for lunch. Outside, they find some punks picking on Futaba, so they "take out the trash".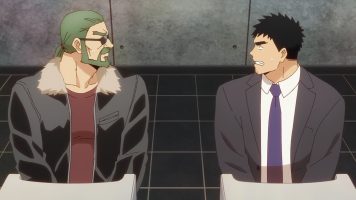 Thoughts/Review:
Time for Futaba's grandfather to take center stage in My Senpai is Annoying 06.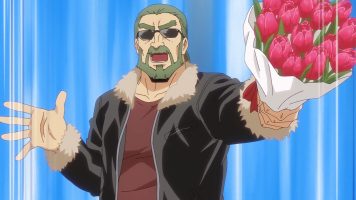 Ojiichan vs Takeda
Takeda and Futaba's grandfather (I'm just calling him Ojiichan, since he has no name) constantly running into each other all over the city in My Senpai is Annoying 06 made me laugh. They really are quite a lot alike in terms of their personal interests. The two like to drink, fish, and swing the bat in the batting cage. They both are civic minded in how they helped to pick up trash near the river.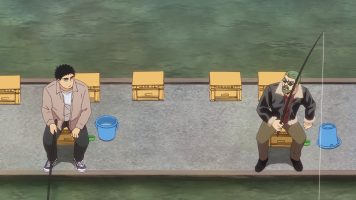 Of course the biggest thing they have in common is Futaba. Both feel very protective of Futaba. Further, both want to see her happy and such. For Ojiichan, passing the torch to a potential husband for Futaba is a difficult thing. Thus the conflict. Of course, Takeda isn't looking at Futaba in that way (at least that I can tell), so it made sense for him to be the one to de-escalate things when the time came.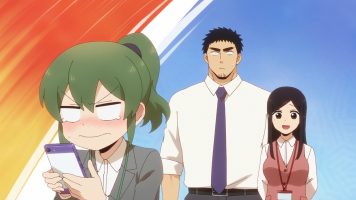 The biggest laugh for me came at the end when Takeda and Ojiichan teamed up to deal with the punks who were jacking with Futaba. So yay there.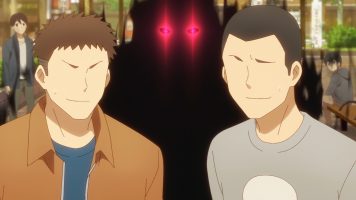 Final Thoughts and Conclusion
Work has me tied up something fierce, so let me wrap up my review of My Senpai is Annoying 06.
The Sakura x Kazama romance gets touched with him giving her macarons. I wouldn't mind the anime going beyond where the manga has gone. Alas, I don't think that will happen though.
Natsumi gets an extended cameo, which is cool. Naturally, we get the cliched Japanese strawberry shortcake 'cause that's pretty much the only cake anyone wants in anime or manga. 😅
I know that "fishing centers" do exist in cities in Japan. They are all different. Since most anime locations set in Japan are based on real places, I wonder if the place Takeda and Ojiichan fished is real. I couldn't find examples of a fishing pond place with so many rectangular, concrete fishing ponds.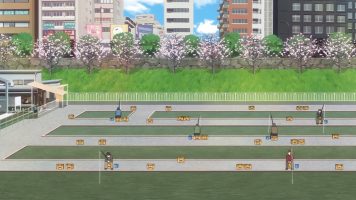 In the end, My Senpai is Annoying 06 is just another fun, wholesome, slice of life anime episode.