ユーキューホルダー! 魔法先生 ネギま!2 Manga Review
UQ Holder! Mahou Sensei Negima 2
UQ Holder!: Magister Negi Magi! 2 Chapter 189
UQ Holder Chapter 189
SPOILER Summary/Synopsis: 
UQ Holder and the forces working with Fate begin their attack on Ba'al's forces. To that end, UQ Holder members open the path for the attack fighter squadrons. Touta ultimately arrives at the structure under the World Tree, where Ba'al is. He uses his Magia Erebea to smash Ba'al's barrier. As such, Ba'al panics and opens up a magic channel to Pluto to tap into the Mage of the Beginning's resources.
Dynamis shows up and puts an end to Ba'al. The roots of the World Tree glow as the members of Negi's Ala Alba defeat UQ Holder. Ialda emerges, stopping Touta. She removes a key Eva planted in him. The others have the other keys Eva implanted in them. These keys were pieces of Eva's soul, which prevented the Mage of the Beginning from fully assimilating Eva. Fate witnesses Ialda activate the perfected Cosmo Entelekheia.
Meanwhile, as Touta dies for the final time, he ponders the suffering of folks he knew in life. With Negi's artifact, he considers bringing Eva back as Yukihime. However, his thoughts to go his friends from school, Afro, Mizore, and Shinobu. Ialda immediately senses it when Touta summons his grandfather, Negi Springfield. He tells Negi that it would be pointless to bring Yukihime back to a dead world. The only way to truly save it is by working with his grandfather.
Thoughts/Review:
Well, I'm not surprised to see Negi return in UQ Holder Chapter 189. After all, in order to have a proper good ending, not only does Negi and the members of Ala Alba need to be saved, but also Nagi.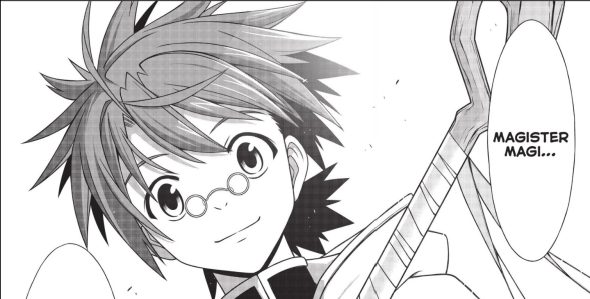 The Final Fight
Other than evoke the final space battle in Star Wars (with the fighters approaching Charon) and Star Wars: Return of the Jedi (entering the "tunnel" that lead to the structure under the world tree), there was nothing much to say about the initial attack in UQ Holder Chapter 189. OK, some of the core UQ Holder folks get a "I'm kicking arse" moment. Big deal. Why? Cause a moment is all that's there.
After Touta easily takes down Ba'al's barrier, suddenly, the Ala Alba folks are there with Ialda. Ba'al is gone. (Though as a shinso, is he truly dead?) All of the allied fighters are defeated. All of UQ Holder are all but dead. And Touta is given a fatal blow. As such, there's no tension or anything. It is just things that happen.
Touta uses Negi's artifact to restore Negi from Ialda. Still not sure how that works, or how Negi will end up being the one to save the world. I guess if Negi brought Eva back, as was his original plan, he'd just do the do with her and not save the world. Who knows.
Still, we longtime fans want there to be a way to save Negi and Nagi, as well as Eva and Ala Alba. As such, we have now saved Negi. Now to save the rest.
Final Thoughts and Conclusion
In the end, UQ Holder Chapter 189 fast forwards to get us to the end quickly. The Mack Daddy, Negi Springfield, returns. We'll see where things go from there. Otherwise, there wasn't much to the chapter.