Yashahime: Princess Half-Demon 29
半妖の夜叉姫 弐の章 05
Hanyou no Yashahime: Sengoku Otogizoushi episode 29
SPOILER Summary/Synopsis:
Rion shows the yashahime the Kyoyokon root. She requests that the yashahime slay her father, Kirinmaru. Rion explains that 600 years ago, she was killed. However, her father made it so that Rion could not pass to the afterlife. Further, Rion wants to stop her father from ending the world by moving the Windmill of Time.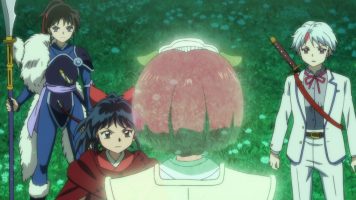 Rion requests Setsuna cut the red fate thread that she believes connects her to her father. Setsuna attempts this, but cuts a Dream Butterfly instead. As a result, Kirinmaru sends Rion's incorporeal body into a doll representation in the cave. Rion used her youkai power to transform the doll, bones, and grave soil into a physical body.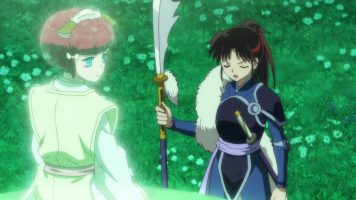 Rion uses the Kyoyokon to drop the barrier around Mount Musubi. She then changes the Kyuyokon into a flute and plays it. Rion then hands the "Star-Slicer Flute" (Hoshikiri no Fue) to Towa. She requests the yashahime take her with them, and they agree. However, a youkai spirit beast (youreijyu) attacks them. Rion asks Towa to play the flute. She does and it becomes the legendary Zanseiken sword.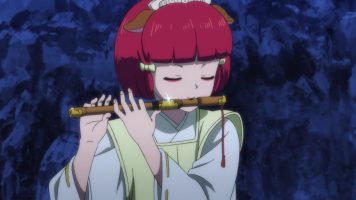 Rion explains that Zanseiken pairs with Kirinmaru's Bakuseiken. It was made by the god Amatsumikaboshi. With it, Towa easily defeats the youkai. They leave the cave. Sesshoumaru waits for them outside. He asks if Setsuna has learned to use some of Yukari no Tachikiri's powers. Since she has not, he believes she lacks resolve.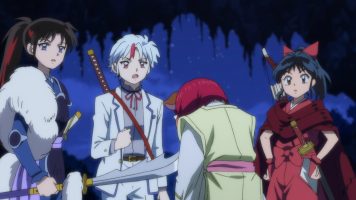 The Dream Butterfly emerges from Setsuna. Since Setsuna is determined to save her mother, Sesshoumaru kills the butterfly, allowing her to sleep. He inquires if Moroha met Inuyasha, then leaves. The group then meet Riku, who's been killing youkai. Riku takes charge of Rion. Towa uses Riku to deliver a message to Kirinmaru. Setsuna falls asleep for the first time in years.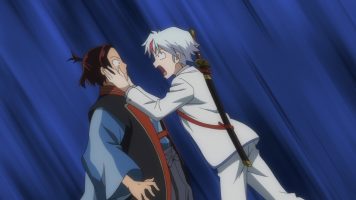 Thoughts/Review:
Well, I gotta say that despite Towa getting to be Mary Sue again, Yashahime: Princess Half-Demon 29 was a pretty good episode.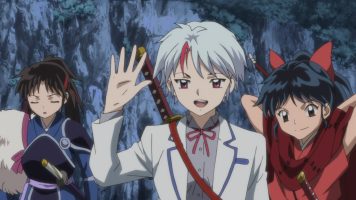 Mary Sue Gets a Sword
I really hate how the writers of this series keep insisting on making Towa a Mary Sue character. As such, Towa became Mary Sue to overcome the rubbish-looking youkai spirit beast in Yashahime: Princess Half-Demon 29. I was hoping it would take all three yashahime to overcome it, but no, Towa must slay the beast solo 'cause "reasons."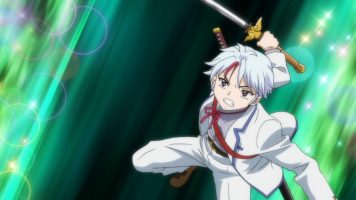 I guess we can look forward to Towa playing the Hoshikiri no Fue in the future, and not just to have it transform into her new sword, Zanseiken. And no doubt Towa will use it to do more powerful things, if this follows normal shounen tropes.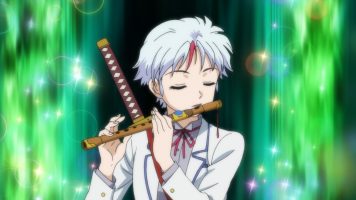 Rion
I have to admit that I'm a bit surprised by Rion. I kept expecting her to be another opponent for the yashahime. However, it seems that she is as innocent as she appears. I suppose that she becomes the new Kikyou, considering how she's technically undead. She too wants her father dead just to prevent him from destroying the world she loves.
Riku taking charge of Rion makes sense to me. He's an outcast now, and since Rion has made herself an outcast, and they know each other, then he may as well protect Rion. That frees up the yashahime from having to do this. And it also prevents Kirinmaru from going after Rion and the yashahime at the same time.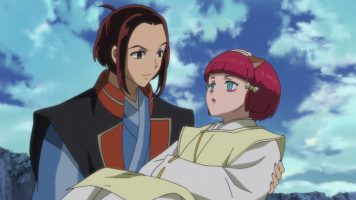 Beyond giving Towa the flute/sword, I do wonder how Rion fits into the story from here on. Will she engage in combat with her father? Will she try to be properly killed so she can pass on? I'm not sure.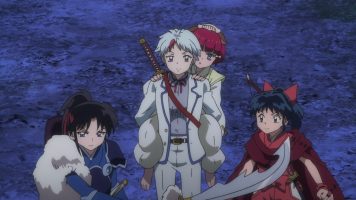 Sesshoumaru's Motivation
I really loved Sesshoumaru showing up in Yashahime: Princess Half-Demon 29. Seriously, he comes out and without even greeting his daughters (whom we know he loves), just asks Setsuna if she's even begun to master her new naginata. Since she has not, he questions her resolve. She says she has it, so now he basically puts her on the clock to motivate her.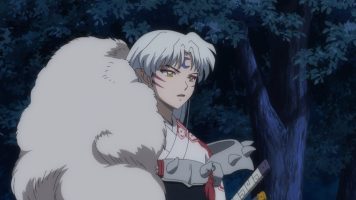 Good grief. I know Sesshoumaru loves his wife as well. He helped set up the whole system by which Rin stayed alive and the curse on her kept at bay. He was (and still is) willing to slay Zero, just to end Rin's suffering. But by killing the Dream Butterfly, Zero's curse goes active again (though perhaps slower than if she weren't sealed in the Tree of Ages).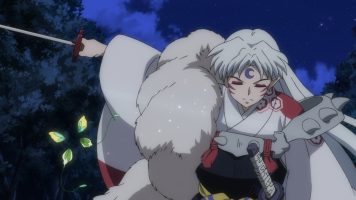 Despite this, I got the feeling that Sesshoumaru killed the Dream Butterfly to help Setsuna, beyond putting a motivating countdown clock on her keester. He gave Setsuna the hard choice, and I think she was okay with what her father did. But Setsuna's lack of sleep might be hindering her efforts, thus Sesshoumaru mentioning that she'll now be able to sleep, though there's no time for it.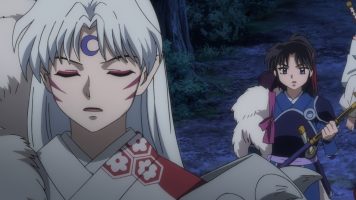 I wouldn't want a father has hard as Sesshoumaru is, but at the same time, I do respect him and his methods.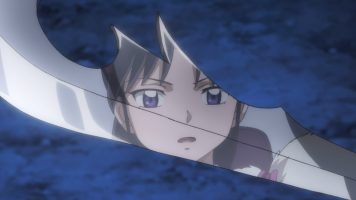 Final Thoughts and Conclusion
Let me wrap up my review of Yashahime: Princess Half-Demon 29 with some final thoughts.
I felt kinda bad for Rin. If the Dream Butterfly was providing Rin with Setsuna's dreams, then it had to be a nice way for Rin to keep in touch with her daughter(s). Now, that avenue is cut off from her. I really hope they lift the curse on her before season's end.
It was interesting that Sesshoumaru checked with his niece on whether she saw Inuyasha or not. Since Moroha confirmed this, and Sesshoumaru flew off, I guess this was his way of showing brotherly concern for Inuyasha.
I'm kind of amused by Riku's infatuation with Towa. Yet at the same time, I would kinda like to see this advanced to a proper romance story. The writers have been toying with it. So let's move it forward!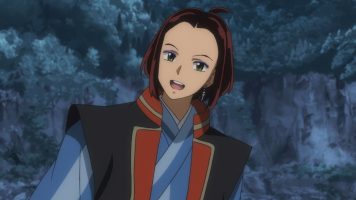 In the end, despite Towa getting to be Mary Sue again, I really enjoyed Yashahime: Princess Half-Demon 29.