Lupin the Third Part 6 – 11
Lupin III Part 6 11
ルパン三世 PART6
SPOILER Summary/Synopsis:
The Raven assassin kills a property speculator named Alex Jenkinson. Holmes drops in on the crime scene along with Lily. Her Baker Street Irregulars report that Fujiko had been meeting with Alex. Nearby, Lupin and Fujiko observe this and return to their hideout. There, Lupin attempts to piece together the connections between Alex and Lord Faulkner.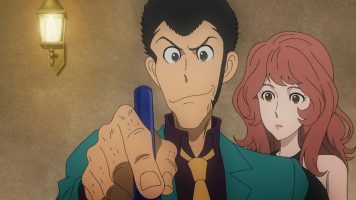 At Sherlock Holmes's residence, he briefs Inspectors Zenigata and Lestrade on the same subject. Holmes reveals that he had the movie poster half analyzed, but found nothing of interest. As such, Holmes puts out a reward for Lupin's half of the poster.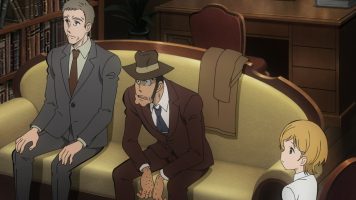 That night, Lupin's hideout comes under siege. Lupin blames Holmes as the gang, sans Fujiko who's already left, flee. Meanwhile, Holmes has some kind of attack and is rushed to the hospital by Lestrade, Lily in tow. However, Holmes has Lestrade stop at the place where Lily's dad was murdered, triggering a response from her.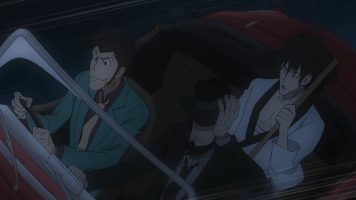 Lupin escapes the gunners and eludes the police trap Zenigata has arranged. At the same time in France, Albert makes plans to return to England. By morning, Holmes has arranged to gain access to Lord Faulkner's Black Room. Lupin is waiting there. They are soon joined by Lily and Zenigata.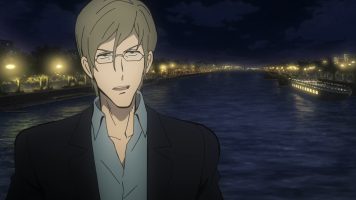 Holmes and Lupin have worked out that the poster was a decoy. Lord Faulkner's hours through the year corresponded to the sunrise/sunset. As such, his job was to prevent sunlight from entering the room. Lupin remove the curtains, causing the walls to activate. The area within the picture frame explodes.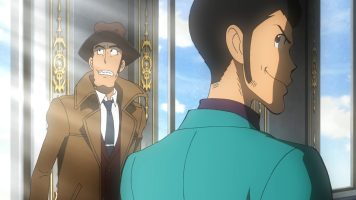 Albert arrives in London to see the news on the explosion. Zenigata, having escaped the blast, reports to Lestrade.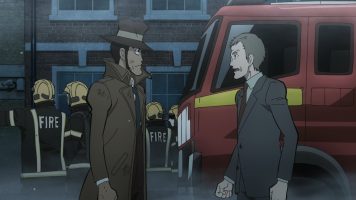 Thoughts/Review:
Well, it is about time we get back to the plot. And Lupin the Third Part 6 – 11 does that for sure.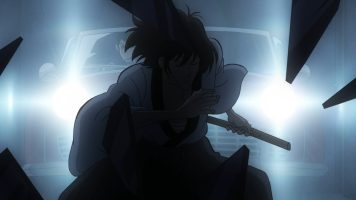 Plot Progression
Because this series decided to star the plot, then wander all over for a while before returning to the plot, it is difficult to keep track of things. However, I think there was some plot progression in Lupin the Third Part 6 – 11. And obviously, more will follow in the next episode, since both were released back to back.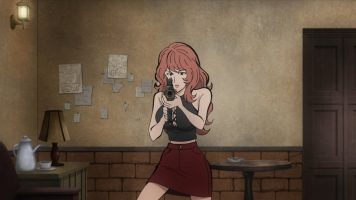 That aside, there are things that make no sense to me. First being why would Holmes send thugs out to assail Lupin's hideout? Was it just to flush Lupin out and possibly into Zenigata's trap? I doubt that, so I don't know what Holmes's purpose was here. Further, Holmes and Lupin weren't at odds in Faulkner's office.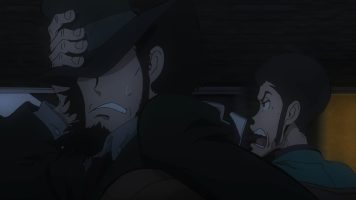 That leads me to Lord Faulkner himself. The sense I get is that there was always a bomb in that darkened room. But for what purpose? And how did Zenigata escape?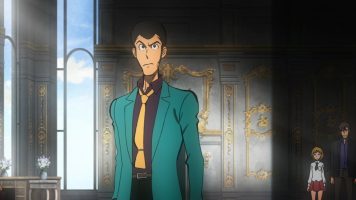 Lestrade the Assassin?
I can't take credit for this theory, but I've heard folks speculate that Lestrade is the Raven assassin who showed up again in Lupin the Third Part 6 – 11. I suspect this theory is a correct one. As a member of Scotland Yard, Lestrade would have made the perfect assassin to kill Lord Faulkner at Scotland Yard's facility.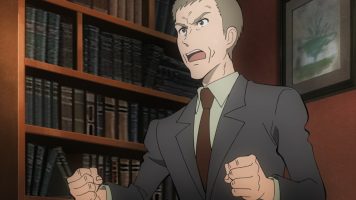 Further, it could account for his keen interest in Lily. He doesn't want to kill her, but needs to know if she remembers anything.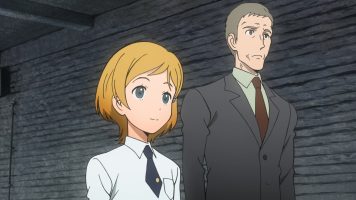 And finally, as a high level cop, Lestrade would make the perfect Raven operative and assassin. But we'll see if this theory pans out or not. I kinda hope it doesn't. Blame that on the more modern Holmes series as well as the Jeremy Brett Sherlock Holmes series of the 1980s and 90s.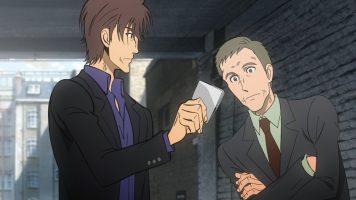 Final Thoughts and Conclusion
Let me wrap up my review of Lupin the Third Part 6 – 11 with some final thoughts.
Albert's role in this series is little more than the odd cameo. I would have rather had Rebecca back for cameos than Albert.
Does Holmes have some kind of medical condition? Or is he just faking?
I'm as still in the dark about Raven and its treasure as I ever was.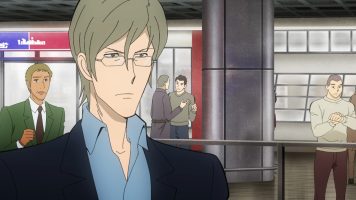 In the end, Lupin the Third Part 6 – 11 is an interesting episode. The plot does move forward, but a ton remains unanswered.