My Senpai is Annoying 12
Senpai ga Uzai Kōhai no Hanashi 12
先輩がうざい後輩の話 Episode 12
SPOILER Summary/Synopsis:
Takeda gets praised at an office meeting for his work. Futaba is happy for her senpai. Mona catches her beaming in the bathroom. Futaba has to play off what Mona saw. However, the encounter has Futaba flustered. Takeda gets busy, so Futaba goes to lunch with Natsumi. She too teases Futaba a bit over Takeda.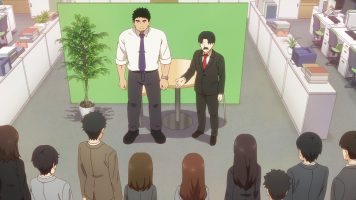 The next day, Takeda gas to deal with a problem, meaning he can't give a presentation to a client. Futaba volunteers and the boss approves. As such, Takeda sends Futaba to do the presentation. It is a big success, so Futaba goes to lunch alone. When she returns to the office, Takeda is surrounded by girls in the office, thanks to his recent success.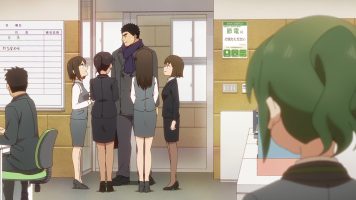 Futaba gets a little jealous of this. However, when she learns he turned down an opportunity to party with the girls, she encourages him to do so. After work, Futaba tries to contact Natsumi to meet up for dinner. However, she's out running with Yuuto and doesn't get the call. As such, Futaba heads to an izakaya that she's been to with Takeda to drink and have some food alone.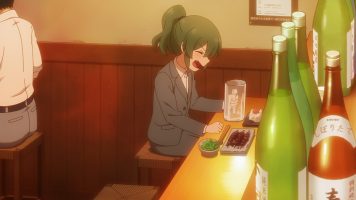 After a while, Futaba recalls her first day at the office. She remembers meeting Takeda, who thought she was a junior high school girl. Futaba is insulted, more so when she learns Takeda is to be her senpai. However, their boss will not change pairing Futaba with Takeda.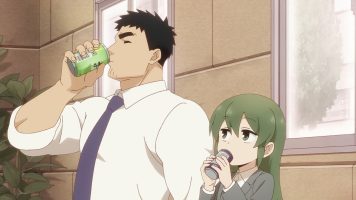 Back in the present, a drunk male patron thinks Futaba is a kid. Takeda arrives and sets him straight. The two drink, eat, and talk before heading home late. Sometime later, it is raining. Futaba forgot her umbrella and has to share with Takeda.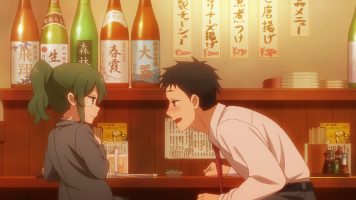 Thoughts/Review:
And so the series ends with My Senpai is Annoying 12. But the manga carries on.
Futaba and Takeda Apart
The main focus of My Senpai is Annoying 12 is Futaba having to do things without Takeda by her side. We get to see Futaba genuinely proud of her senpai's accomplishments. Yet her tsundere nature means that anytime someone sees her beaming with pride, she gets all flustered. And she gets jealous when she sees how popular Takeda is with the other office ladies.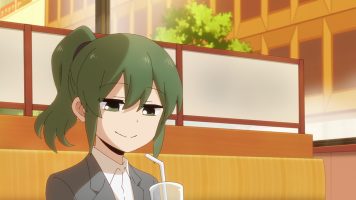 Because of Takeda's growing success, Futaba has to take on more responsibilities. She proves she's up to the challenge. But then after her solo mission, she finds herself eating lunch alone and without Takeda for the first time. Later, after she encourages Takeda to go drinking with the girls, she's again along, eating, drinking, and thinking of Takeda.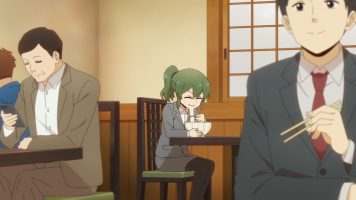 While we are given access to Futaba's thoughts of loneliness and such, we aren't given this access to Takeda. However, the fact that he not only cut the party with the girls short, but also knew where Futaba would be speaks volumes to me. And unlike Futaba, Takeda will actually speak what's in his heart, at least to a degree. He missed hanging out with his kouhai.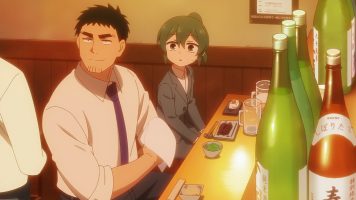 Futaba's and Takeda's relationship is really good grounds for an actual, romantic relationship, culminating in marriage. When Takeda annoys her, Futaba will say something. Other than discussing any possible romantic feelings, they are fairly open with one another. The only other drawback, aside from the lack of acknowledgement of romance by the couple, is that they work together. I was always told, "Never get your money and your honey from the same place."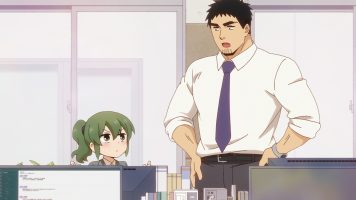 Final Thoughts and Conclusion
Let me wrap up my review of My Senpai is Annoying 12 with some final thoughts. (I'm behind, not for work, but because I've been playing Minecraft. 😅 Video on YouTube.)
Kazama and Sakurai get cameos. And as expected, no progress in their relationship.
Yuuto and Natsumi get cameos. And as expected, less progress in their relationship. I'll talk about this more in my series review piece.
I enjoyed seeing Futaba's first day at the office. I think this story was in the manga.
It was cute seeing Takeda and Futaba under the umbrella together. That's one of those Japanese things to indicate a couple is in love. But alas, that's as far as they'll get. If any of the couples in the manga advance beyond the point they are at now in the anime adaptation, that will mean the manga's end is nigh.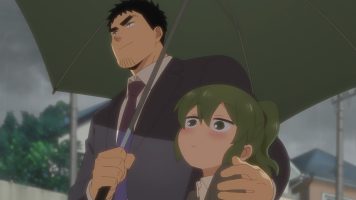 In the end, My Senpai is Annoying 12 was an enjoyable episode, whereby we see Futaba and Takeda having to spend time apart and missing each other as a result.